Most people are shocked and appalled when I reveal that I, a beauty editor, fully embrace the baby bottles of shampoo, conditioner, body wash, and lotion found in hotels. It's not that I don't have go-to formulas worthy of decanting into smaller vials, it's that I can't deal with the possibility of spillage. (Also, I'm pretty low maintenance…but mostly just lazy.) There is one product, however, that I will not compromise no matter how short or long my trip: face wash. Whether you're staying at the Four Seasons or the Holiday Inn, those little squares of bar soap sitting on the side of the sink don't cut it—they leave skin feeling dry and tight. Plus, there's a lot to be said for really washing away the day at the end of the night—especially if you're slathering on sunscreen. Sure, wipes are great and all, but I like an old-fashioned wash that gets down to the nitty-gritty. Plus, who doesn't love a little exfoliating action or a luxurious lather on holiday?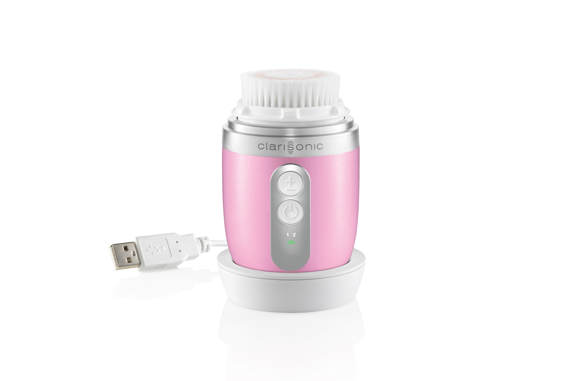 Photo: Courtesy of Clarisonic
At first glance, H20 Plus Elements On The Move Cleansing Stick looks like deodorant, but this pearl- and coconut oil-infused solid foams when it comes in contact with a wet complexion. Even better: You don't need a washcloth or even your fingers—simply glide this stick across your face in circular motions and rinse. For more intense sloughing, simply add water to Farmacy's New Day Exfoliating Grains to form a paste that gently resurfaces via rice bran and cranberry seeds, and soothes care of green tea, white willow bark, carrot, and marshmallow. Need to make room in your bag? Ditch the bottle altogether and reach for Kleenex's ultra-slim Exfoliating Cushions or Feather and Bone's individually packaged Gems. Ole Henriksen's Power Bright system is based on the pro's most popular spa service and offers a full experience on the go with three portable pods containing a mask, vitamin C concentrate, and Pure Truth Melting Cleanser that leave skin glowing. For those who appreciate a classic, toss Joanna Vargas' Miracle Bar in your bag and use the charcoal soap to detoxify both face and body. Regardless of which formula you try, I highly recommend using it in tandem with the compact Clarisonic Mia Fit, which delivers just as much sonic power as the original almost double its size. Lesson learned: The best things really do come in small, spill-proof packages.
Shop all ten TSA-friendly face washes in the slideshow above.
Photo: Angelo Pennetta for Love, Spring/Summer 2010
0 Comment