Mother Nature wasn't exactly kind this season. A snowstorm put a stop to any and all peacocking during New York fashion week, while a near-constant drizzle and gray sky loomed over PFW. Despite the weather, however, Fall 2017 had no shortage of bright spots thanks to the candy colored hair spotted on both the catwalk and the streets.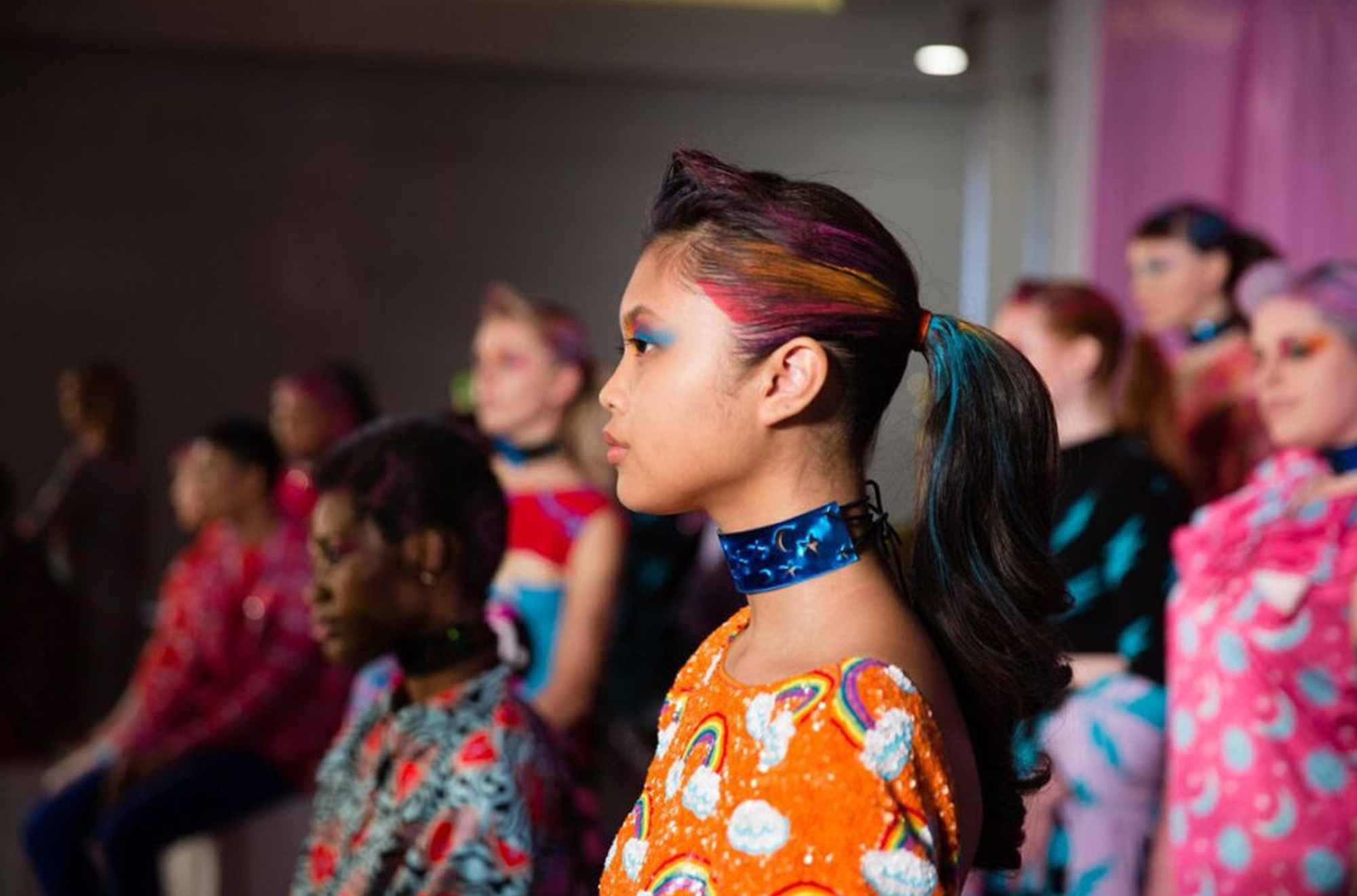 Hayley Elsaesser Fall 2017
Photo: Jessica Earnshaw
Newcomer to the NYFW calendar, Hayley Elsaesser, kicked things off by transforming Milk Studios into Ponyville to present her Déjà Moon collection created in collaboration with one of the most whimsical musings of our childhood: My Little Pony. While the Internet is constantly buzzing about unicorns when it comes to beauty, we were happy to finally see a designer and hairstylist Mischa G. (whose favorite pony is Pinkie Pie "because she's the party organizer like me," she explained) pay proper tribute to the OG of mystical horses. To accent the "Barbie-esque, vintage ponytails," the pro used Bumble and bumble's forthcoming Color Sticks in pastel pink, fuchsia, lilac, and sky blue (out June) and got even more nostalgic backstage by applying the velvety sticks in the same way you would scribble with crayons. Then, she brushed through the streaks to blend the vibrant hues seamlessly with the rest of the hair. For alternative shades, Mischa substituted the sticks with MAC Chromacakes, mixed them with water, and painted the pigment directly onto models' strands.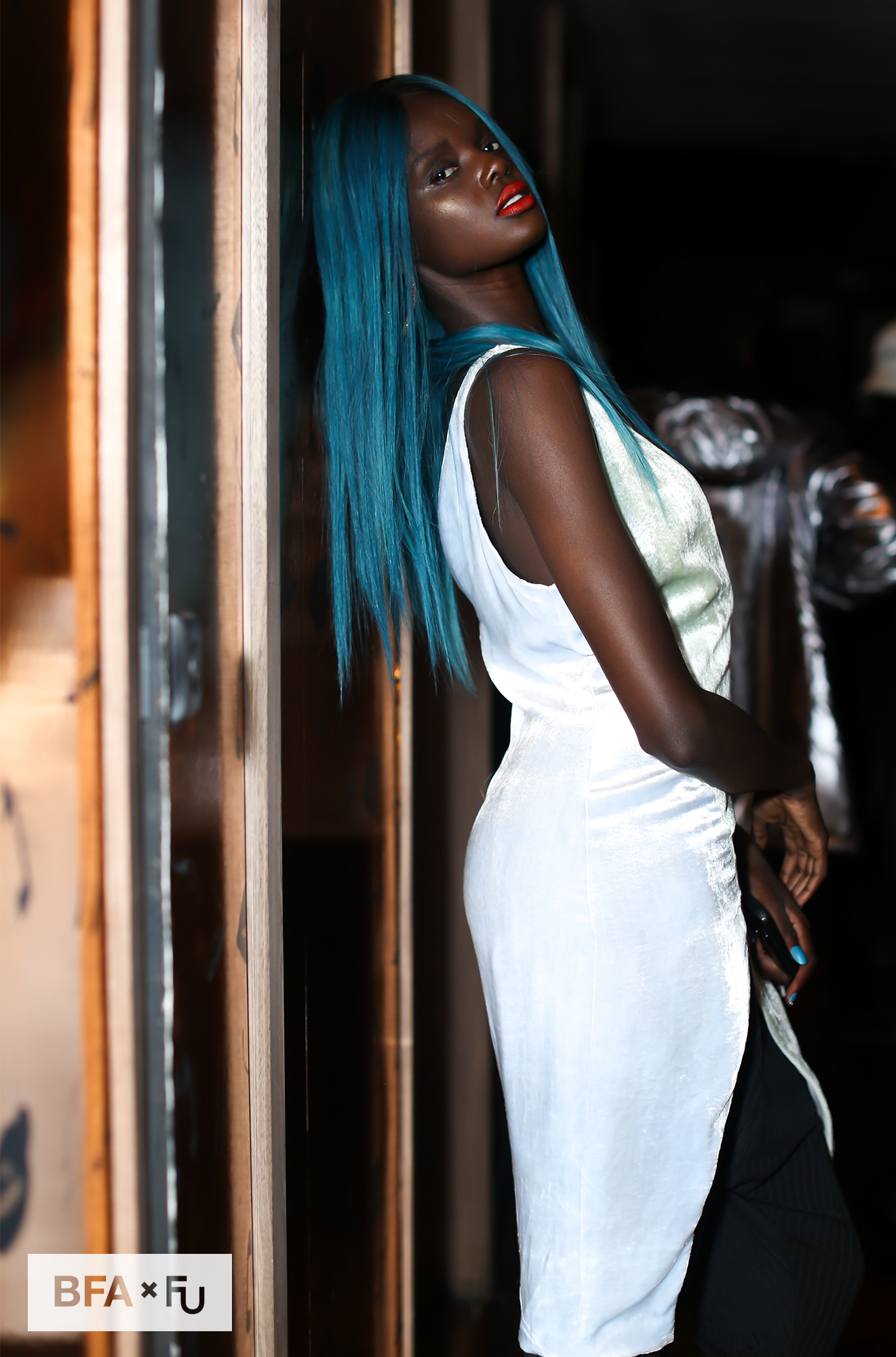 Baja East Fall 2017
Photo: BFA.com. View more at BFA.com.
Further down the line on the fashion circuit, we saw more Mane 6 hair color musings at Sies Marjan, where model Sasha Belyaeva's seafoam strands played off a monochromatic ensemble of the same color. At Jeremy Scott, model Oleysa Ivanishcheva sported a fiery pink pixie, while Guido Palau fitted Duckie Thot, Crystal Renn, and color chameleon Chloe Norgaard with teal wigs for Baja East's after-dark fete. "Girls are using color so much more now as a cosmetic idea of hair," explained Palau. "There are so many girls on the street who use color as their accent or makeup." Across the pond, Donatella Versace enlisted Palau and colorist Josh Wood to create custom extensions for supermodels like Gigi Hadid and Behati Prinsloo. In Paris, Rihanna spotlighted the highlighter-green strands belonging to Demi Hannah Scott, as well as Marjan Jonkman's cyan streaks, Ivanishcheva's neon crop, and Fernanda Hin Lin Ly's cotton-candy colored hair for her Fenty x Puma presentation. If you want to temporarily satisfy your craving for extreme color, take your cues from hairstylist James Pecis, who crafted sleek, holographic headbands with models' own hair at Issey Miyake by misting strands with L'Oréal Paris Colorista Semi-Permanent Colour Sprays (a spray that washes out in one shampoo).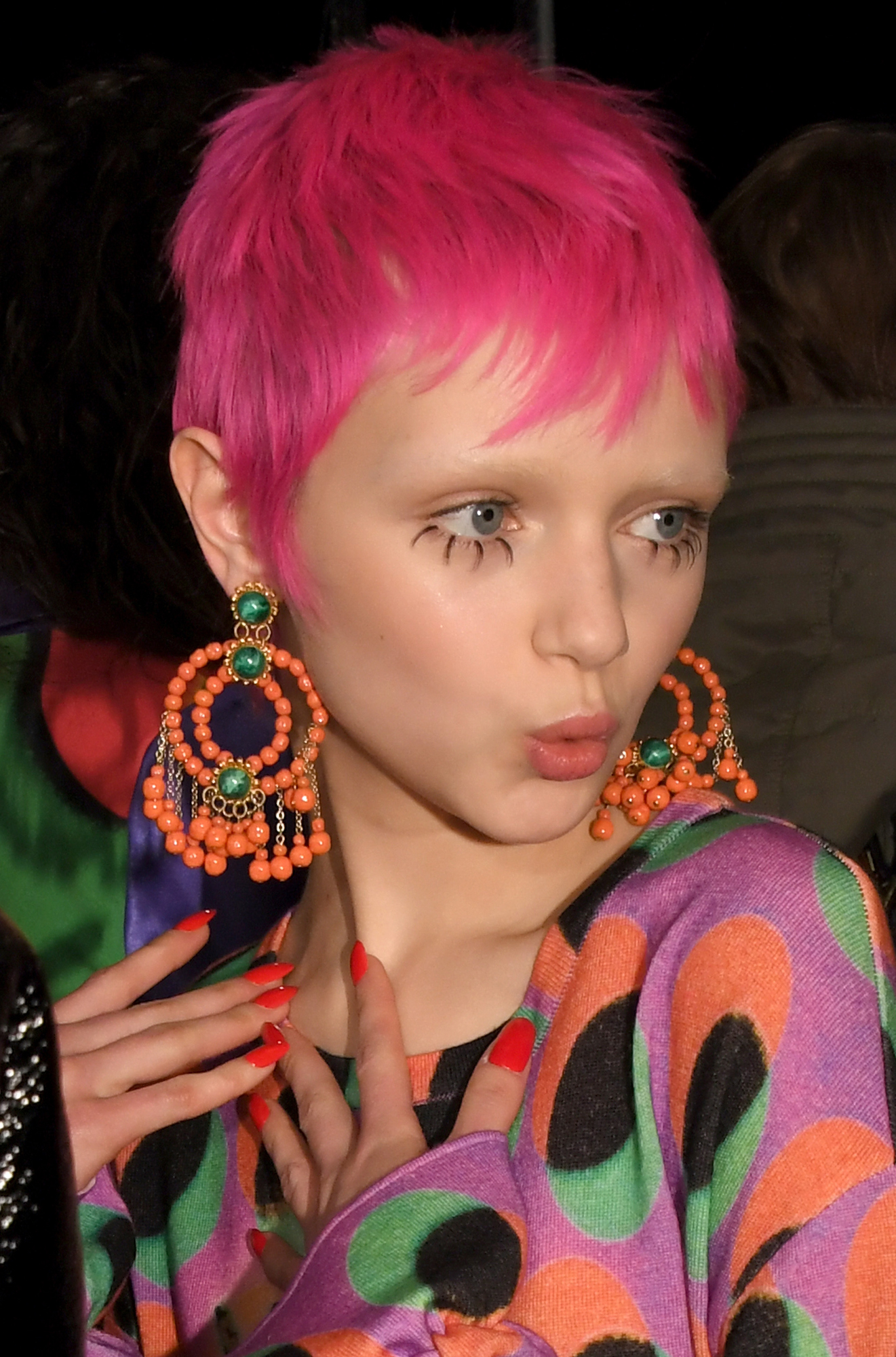 Jeremy Scott Fall 2017
Photo: Courtesy of CND
Off the runway, we spotted plenty of rainbow action on the sidewalk and among celebs (like Suki Waterhouse and Pink), too. "[Redken has] always been a brand that looks at the runway and what young girls are really doing because they actually tell us what they want, and then we respond to that," explained Palau of hair color being used as an "accessory." Redken developed a line of semi-permanent colors dubbed City Beats that ranges from Brooklyn Blue to High Line Green. Other advancements in hair color chemistry are allowing for even more out-of-the-box experimentation. Pravana teased heat-activated hair color that transitions with a swift shot from a blow-dryer on Instagram, while bonafide British witch Lauren Bowker whipped up a dye she calls FIRE that also responds to temperature in time for London fashion week. One day, will there be a hair color that acts like a mood ring, providing those around you with a vivid visual cue that reflects your innermost thoughts? It appears the future isn't too far off and it's undoubtedly very bright.

0 Comment