NYFW is changing. Proenza Schouler, Altuzarra, Rodarte, and Thom Browne have departed, and whatever visions we had of the creative development and heat of the city are shifting. What's the future of the week now that some of its brightest stars have moved to Paris? Why does it still have meaning, and how can it evolve for the better? Throughout NYFW, we at FU will be asking pillars of the New York fashion community—like Zac Posen, the CFDA's Steven Kolb, and more—these important questions. Scroll down to read their insights and join the debate.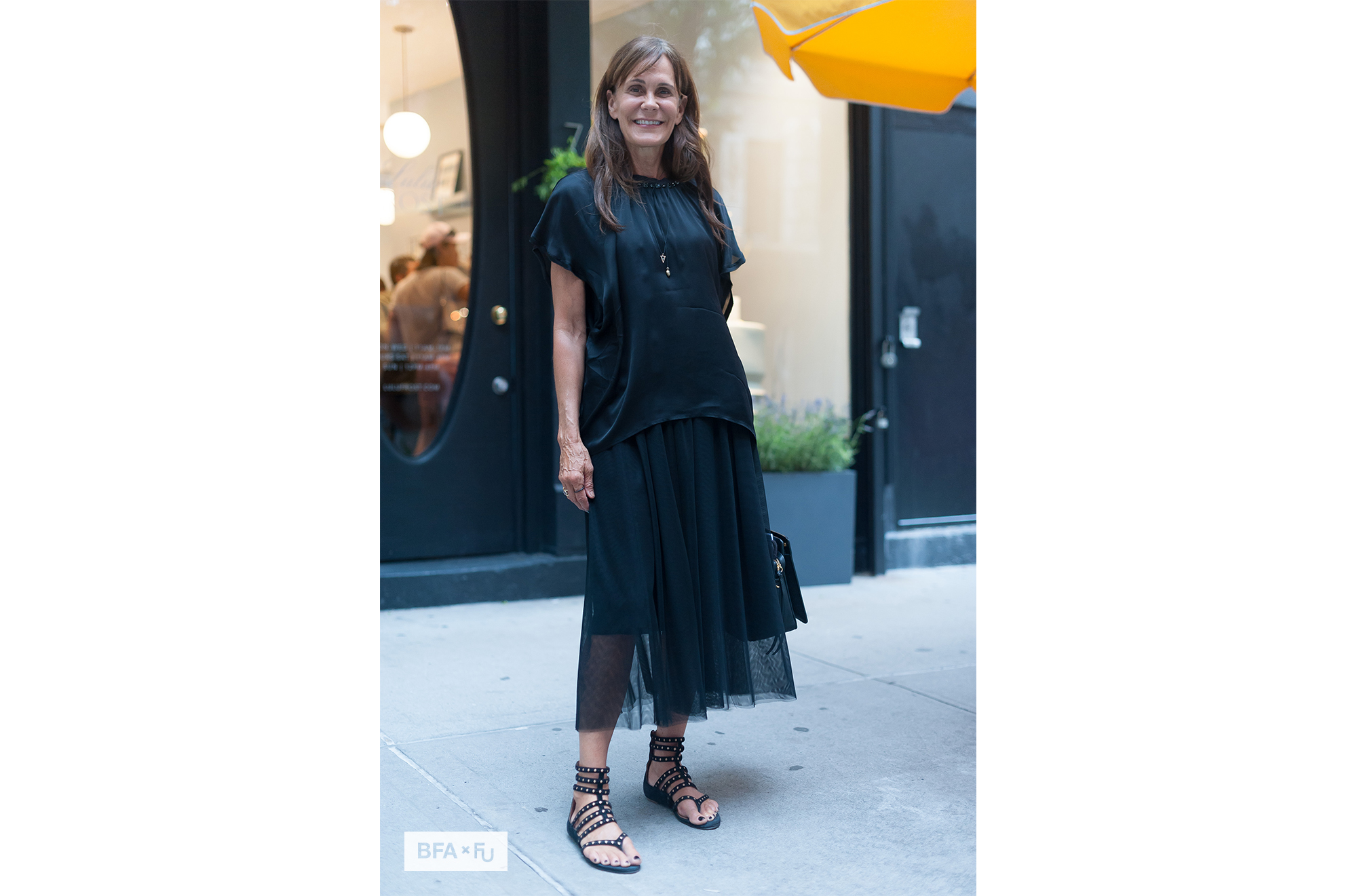 Julie Gilhart, Consultant

What is NYFW's greatest strength?
New Yorkers have a sense that anything is possible. I love that spirit.
What is its greatest weakness?
I think it's that, in New York, we are impatient. We want things to happen instantly, and some of the greatest things take a long time and need a lot of nurturing.
What would you like to see change?
I'd like to see every new collection that [launches use] better, more responsible materials and fair labor. It's hard to change those things when you've already existed for many years, but knowing what we know, I would like to see that in every new collection.
Pierre Rougier, Founder of PR Consulting

What is NYFW's greatest strength?
It's New York. It's great energy and there's great talent here. I think if it were more compact, it would be easier to focus on the talent.
What is its greatest weakness?
Especially for the foreign guests—a European guest, or an Asian guest buying here—it's a very long time to be in New York. And it's not cheap. There should be more cohesive scheduling and it should be a little shorter.
What would you like to see change?
It's important that everyone who comes to New York fashion week to do events remembers that it's fashion week. There should be less of a focus on the many other things that are going on.
Chris Gelinas, Designer
What is NYFW's greatest strength?
I like that we show our collections first. I feel we have a great opportunity to set the tone for the season.
What is its greatest weakness?
It's often an advertisers' game in the industry, especially as of late. It has always been hard to compete with with big brands and the big budgets that go with them during fashion week.
What would you like to see change?
I think the best part of fashion in New York is the openness to change and lack of rules. It is really up to us to determine how we want to show our work, and if it is relevant and interesting there will always be an audience for it.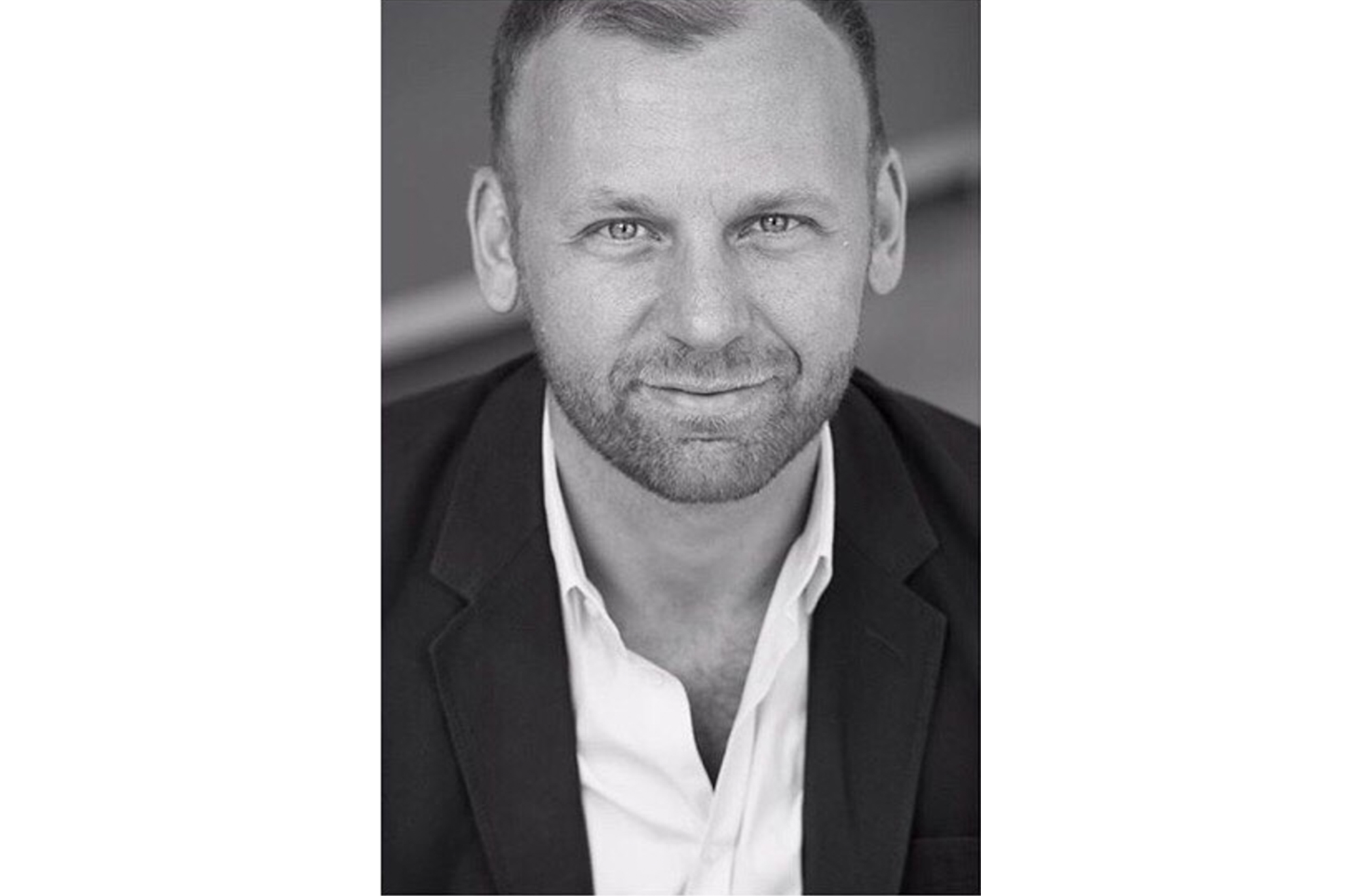 Photo: @fashiontechlab / Instagram
Burak Cakmak, Parsons Dean of Fashion

What is NYFW's greatest strength?
It's what is undiscovered. As the dean of Parsons, I'm able to see a lot of young talent that people need to be aware of, and most of the coverage doesn't actually pay attention to all of the young talent coming up, so I advise everybody outside of New York to come and explore and see the amazing talent coming out of New York. These talents come from around the world, and it should be recognized that they're educated here and they're launching their businesses here.
Another element, which is lacking in Europe, is a focus on how fashion is influencing other industries—every industry, all the way to technology. That conversation is really happening in New York.
What is its greatest weakness?
Its heritage actually makes it difficult for people outside of the U.S. to recognize the diversity that it offers. New York has been such a strong center for showing how you can make a big fashion business, but we need to also show that there's a diversity that goes beyond that.
What would you like to see change?
I think we need to show the range by highlighting all the different and international talent coming through here, as well as the different approaches to design, as well as the success of big business.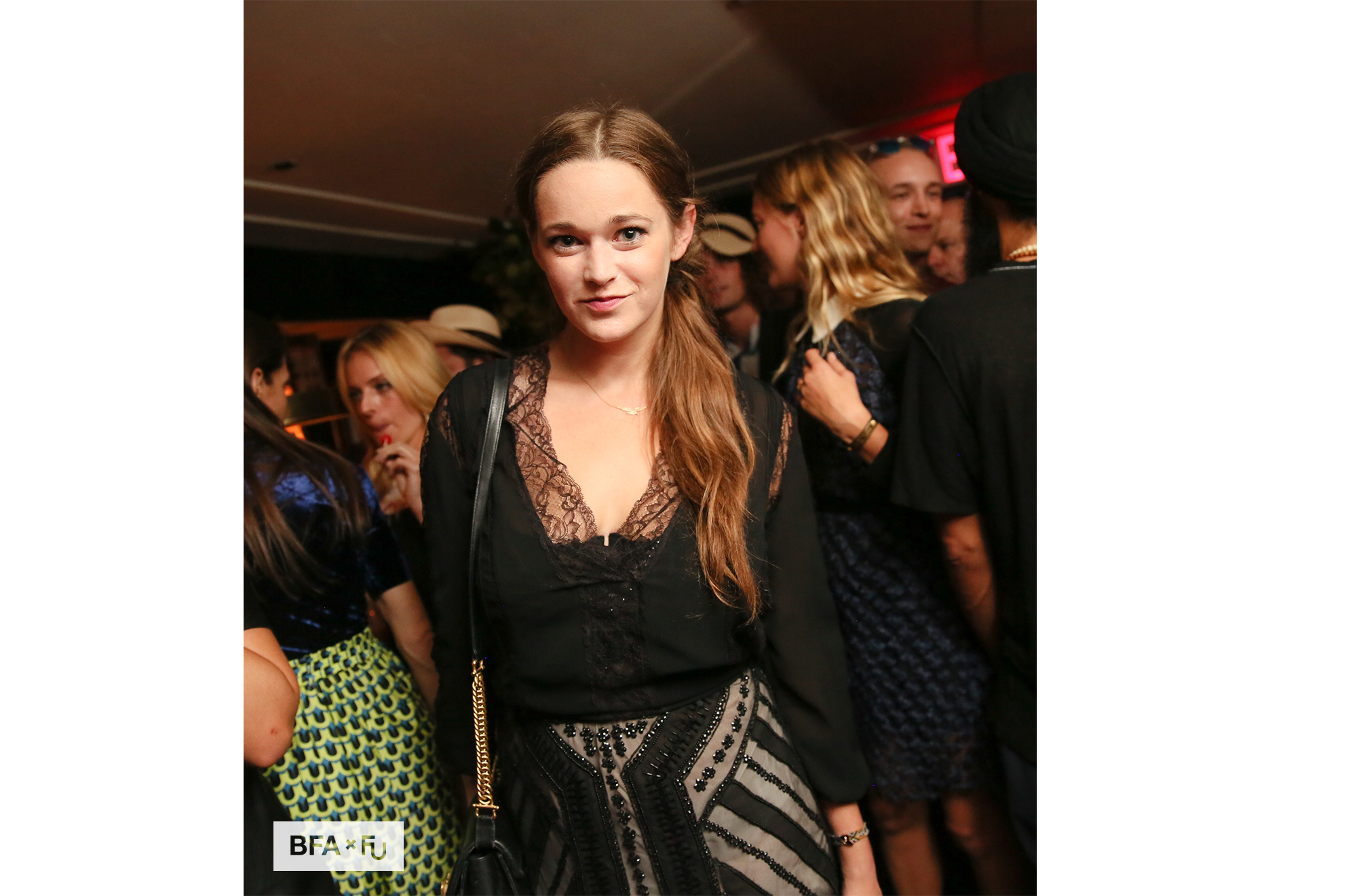 Sydney Reising, founder of Sydney Reising Creative
What is NYFW's greatest strength?
Community. It seems to me that there is a deeply rooted sense of community that one feels during NYFW. The fact that New York designers push dialogue to the forefront is important. NYFW seems, to me, more collective in terms of pushing to the forefront the political and environmental messaging that is important to our community in a way that international cities do not. Perhaps that is a reflection of the times, but nonetheless I do find it empowering. To feel united, in the smallest sense, given the state of the nation right now, is valuable. New York allows for new conversations. Look at what we have done with DSNY and Heron Preston—pushing the issue of waste and recycling through the platform of New York fashion week, and having the fashion community stand behind us with what is an incredible show of support to promote the initiatives of DSNY is unparalleled by international cities.
What's its greatest weakness?
Inefficiency and cost. The cost of participation is so high, it is nearly impossible for young talent to engage. How are we supposed to compete with big-budget brands with fractions of the budget? Often times I face this issue with my clients, who are primarily young talent and emerging brands—equally talented and who have something to contribute to the fashion week community. The inability of these young brands to put forth budgets that are in alignment with your household names is a constant issue. My job is to ensure the clients I have play in the same sandbox. It costs so much money to make this happen. Quite frankly, it is not uncommon for my agency to take on the costs on their behalf to simply make sure what needs to happen happens. The clients cannot afford the demands that the industry places on them these days.
Not to mention that the media has become fixated on a celebrity-draw—often times, the celebrity now is dominant to the actual designs put forth. The lack of support for young talent can be seen through the industry's "everyone needs to get paid to attend" response. Who shows up to support talent? Nobody. I do not see this happening out of love of the craft. It is a numbers game. Fine, but let's all be realistic about the limitations that this sort of ideology places on young brands.
What would you like to see change?
I would like to see the industry step up and support. Nobody is giving back to young talents, really, in a meaningful way. Show me the sponsors that are about the craft. Show me someone who cares about the talent, the design talent, and not the celebrity. Can those people please step forward? Can someone reply to an email with something other than "do you have budget?"
Ken Downing, Senior Vice President and Fashion Director at Neiman Marcus
What is NYFW's greatest strength?
Raf Simons at Calvin Klein. Look at what Gucci has done for Milan. Gucci has reinvigorated Milan, and reinvigorated Milanese designers, and I think it's given them wind beneath their wings as well. Calvin Klein, under the tutelage of Raf Simons, has brought a new excitement and energy to New York, and it has a ripple effect. There's a real energy around that brand again, which I thought we'd never see in this lifetime. It's brought a new, inspired moment to the city, and that's a good thing.
What is its greatest weakness?
An overpopulated calendar with too many runway shows and many collections that are probably not ready for primetime. We have a bit of disorganization within our New York fashion week that needs to get fixed so we feel like a relevant industry and not an industry from the past.
What would you like to see change?
I would like to see a center hub that creates a synergy and an energy for fashion week so that more shows are centrally located. And I would like to see more presentations—because I think presentations are relevant to so many collections in New York—so that we can see, touch, feel, and meet the creators and hear their story face-to-face.
Fern Mallis, Consultant and Founder of New York Fashion Week

What is NYFW's greatest strength?
New York Fashion Week's biggest strength is New York—that we're here in this vibrant, exciting city. I think it's [also] the explosion of young and emerging talent that's always on the New York calendar.
What is its greatest weakness?
It's just a little too scattered and that makes it difficult for everybody to see as many things as they'd like to see.
What would you like to see change?
What I'd like to see is somehow, maybe when the calendar is put out, that there's more information about everybody, especially the new [designers]. That would help you make better-informed decisions about making that trek downtown or to Brooklyn or to somewhere to see somebody. Right now, there are two calendars and they don't quite have everybody on them and it's a little confusing. But all in all, I think New York is a strong, great fashion week and I'm proud of it.
Rachael Wang, Creative Consultant and Stylist

What is NYFW's greatest strength?
NYFW is the easiest fashion week to navigate. Almost everything, save for a few exceptions, is located within a three-mile radius in Manhattan, which means you can pack more into a day because you're wasting less time in traffic.
What is its greatest weakness?
NYFW can be really commercial. Many shows lack fantasy, vision, inspiration, and risk. I get it, designers are trying to support their businesses and design clothes that will sell, but if you're going to spend the money to put on a show, it should be an expression of your highest creative ability. It should make a statement and inspire people. If not, then just hold intimate market appointments where you can walk editors and buyers through the incredible tailoring details and innovative fabrics you've employed.
What would you like to see change?
I would love to see NYFW become the new hub for emerging designers. We have such amazing fashion schools in this city, there's no reason why New York can't support young designers in the way that London does, and with so many of the big brands decamping for Paris, it leaves plenty of slots for visionary creatives to really take over the space.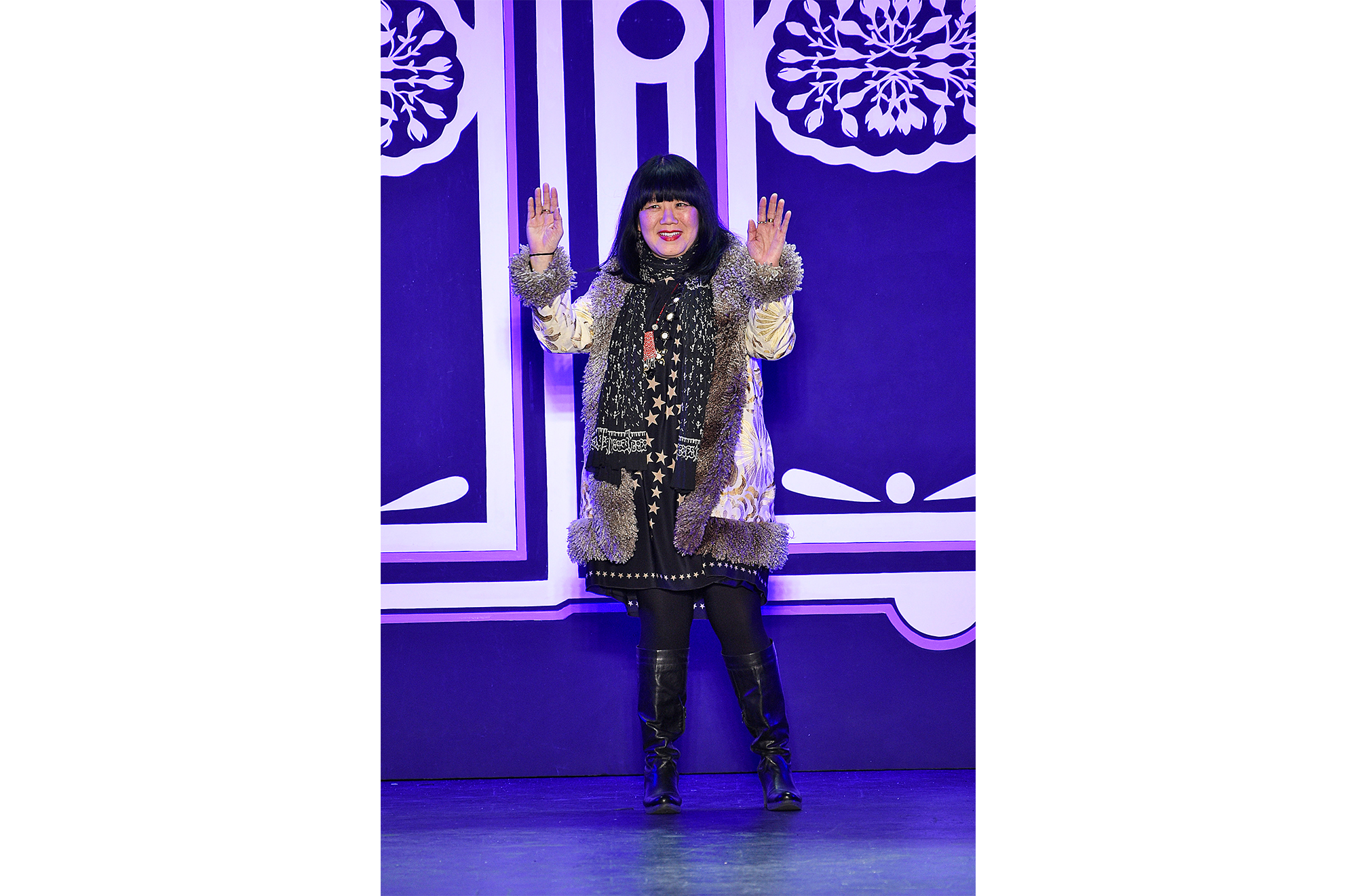 Photo: firstVIEW
Anna Sui, Designer
What is NYFW's greatest strength?
I make everything here. My contractors are next door or one block over. I want to preserve it and that landscape is what makes New York so strong as a fashion community. I show here because I support New York fashion.
What's its greatest weakness?
There is a very delicate infrastructure that supports this. It's also a battle against landlords and the economy that we don't really have much control over.
What would you like to see change?
I'd like to see a willingness to all work together to make it work for everyone— from production to show.
Steven Kolb, CEO and President of the CFDA
What is NYFW's greatest strength?
It is a very democratic week. While there are guidelines to show and not everyone gets to show, it is more welcoming of new talent than other cities.
What is its greatest weakness?
The perception that New York is too commercial. There are a lot of original ideas and creativity during NYFW, but with the intent to sell.

What would you like to see change?
NYFW is changing. Some designers are doing see-now, buy-now. Others are changing formats and experimenting with new ideas. NYFW is a day shorter. Change is good.
Zac Posen, Designer
What is NYFW's greatest strength?
Our strength is the range. Our range, our speed, and our resilience.
What is its greatest weakness?
New York Fashion Week's greatest weakness is oversaturation and fear of expression.
What would you like to see change?
I want more experimentation.
Shelley Fox, Donna Karan Professor of Fashion and the Director of the MFA Fashion Design and Society program at Parsons

What is NYFW's greatest strength?
Its openness to showing designers from all over the world regardless of their business leverage, i.e. independent designers are still able to present their work to an international audience.
What is its greatest weakness?
There are simply too many shows and presentations. I think there needs to be a more discerning eye [when it comes to] what collections really [deserve] a runway show or to be on the schedule. Not all collections need to be seen in this way.
What would you like to see change?
More direct funding support for emerging designers in their early years and not necessarily based on their present [retail] orders. Are they interesting enough to support and develop? That is a key question in order to give NYFW its creative credibility.
Mickey Boardman, Paper Magazine Editorial Director

What is NYFW's greatest strength?
NYFW's greatest strength is New York. No other city has the energy and vitality of NYC. Also, we have the most amazing people in the world here in New York. So in the midst of fashion week, you also have RuPaul's DragCon, you have a party for Mert & Marcus, a Paper party with a performance by Gucci Mane, and a million other things going on that aren't specifically fashion but add to the creative stew that only NYC has.
What is its greatest weakness?
The hardest thing is there just so much. So many shows, so many parties, so much traffic, so much everything. I feel like the other cities are more manageable, although London—which is really like NYC in so many ways—also can be a bit overwhelming.
What would you like to see change?
I'd love to see less complaining about NYFW. It seems like New Yorkers are the most guilty of it. Love your city, love your fashion week and help to make it amazing. A lot of the people I see complaining about it on social media are people who really have no reason to be there.
Gigi Burris, Milliner
What is NYFW's greatest strength?
Location! New York City in and of itself.
What is its greatest weakness?
The greatest weakness, in my opinion, is the decline in wonder and enthusiasm from participants and attendees alike.
What would you like to see change?
I suppose our attitudes should change [and we should have more] gratitude that we have the opportunity to showcase in one of the greatest cities in the world. It is a privilege to be a part of the American fashion community and to showcase in New York City.
Mark Carrasquillo, Makeup Artist

What is NYFW's greatest strength?
The opportunity to surprise me with a new girl or a new boy or a new silhouette. It doesn't always happen, but we have the opportunity to surprise.
What is its greatest weakness?
A feeling of conservatism that is a lack of freedom and fun. I think New York keeps me sitting on my hands. They hire talented people, but they don't let them use their talents. I have a weird theory about the AIDS epidemic, which killed off a lot of talented people. Now, we're living in a decade where losing those people across the board—not only in fashion, but music and art—let other things boil to the surface and [allowed] other people to become successful. We're living in the decade that is a reaction of that epidemic. I really believe that's part of it. But there are a million other things that kill inspiration, things like Instagram and social media.
What would you like to see change?
For real, what I would like to see change is the President goes away. That's the first change. When we celebrate people that don't need to be celebrated, it trickles in and dumbs down society. We're not questioning ourselves.
Holli Smith, Hairstylist
What is NYFW's greatest strength?
Look, we have a week and a half. Nobody else has that. I mean, there's such good opportunity here. I don't even know why we have a week and a half! It's probably because there are so many young designers trying to show.
What is its greatest weakness?
I think that's what's kind of happened to it—there are so many young designers. Bigger designers are feeling like like it's supposed to be about them. And because there's a Kiev fashion week, a Turkey fashion week, and fashion weeks everywhere now, a thing that used to be really special is commercialized.
What would you like to see change?
Maybe the fashion weeks need to be a little tighter. The dates are a problem. A lot of editors that would do ready-to-wear weren't able to do couture, and vice versa…The business is also changing post-internet. We don't know what's going to happen and I don't know what I'd like to see yet, but I think my answer is that I'm liking what I'm seeing [now]. I think it's kind of scary for people; I know some people are just having to think about what they want to say again. But the world is changing and we can't be complacent at a time like this, no matter what—especially with fashion where we're selling this fantasy that everything's okay. It's good to feel it shaking up, at least in the way that we're working hard to make things happen.
0 Comment