For the last six months, "see now, buy now," and whether we should increase the speed of the already absurd fashion cycle has dominated the industry conversation. We've had designers send their collections directly from the runway to retail, selling immediate capsules online, changing their fashion shows so they can present their clothes "in season," and a great deal of discussion about "consumer fatigue."
And then, there's haute couture.
The Fall 2016 Haute Couture collections walked down the runway this week in Paris, producing a gaggle of beautifully constructed wares that were sometimes mind-blowing, sometimes tired. (Though, when it comes to the tired bits, one has to consider who's buying the clothes—often women of extreme means looking for modest elegance.) But, as I sat through the shows in ornate salons, historic Paris buildings, etc., I couldn't help but wonder: What is the point of couture today? What, if any, purpose does it serve?
For starters, there is certainly a niche of girls and women—oligarchs, Middle Eastern and (far fewer) European royals, the Chinese, Alexis Mabille's 4-year-old client, and a few people who just really, really love fashion—who are buying couture, one piece of which can cost more than $100,000. It's a status symbol echelons above the It bag, and the women who wear it want to ensure that they are the only ones wearing their dress at the party. But what relevance does it hold for us normals? Why are we at Fashion Unfiltered even covering something so unattainable?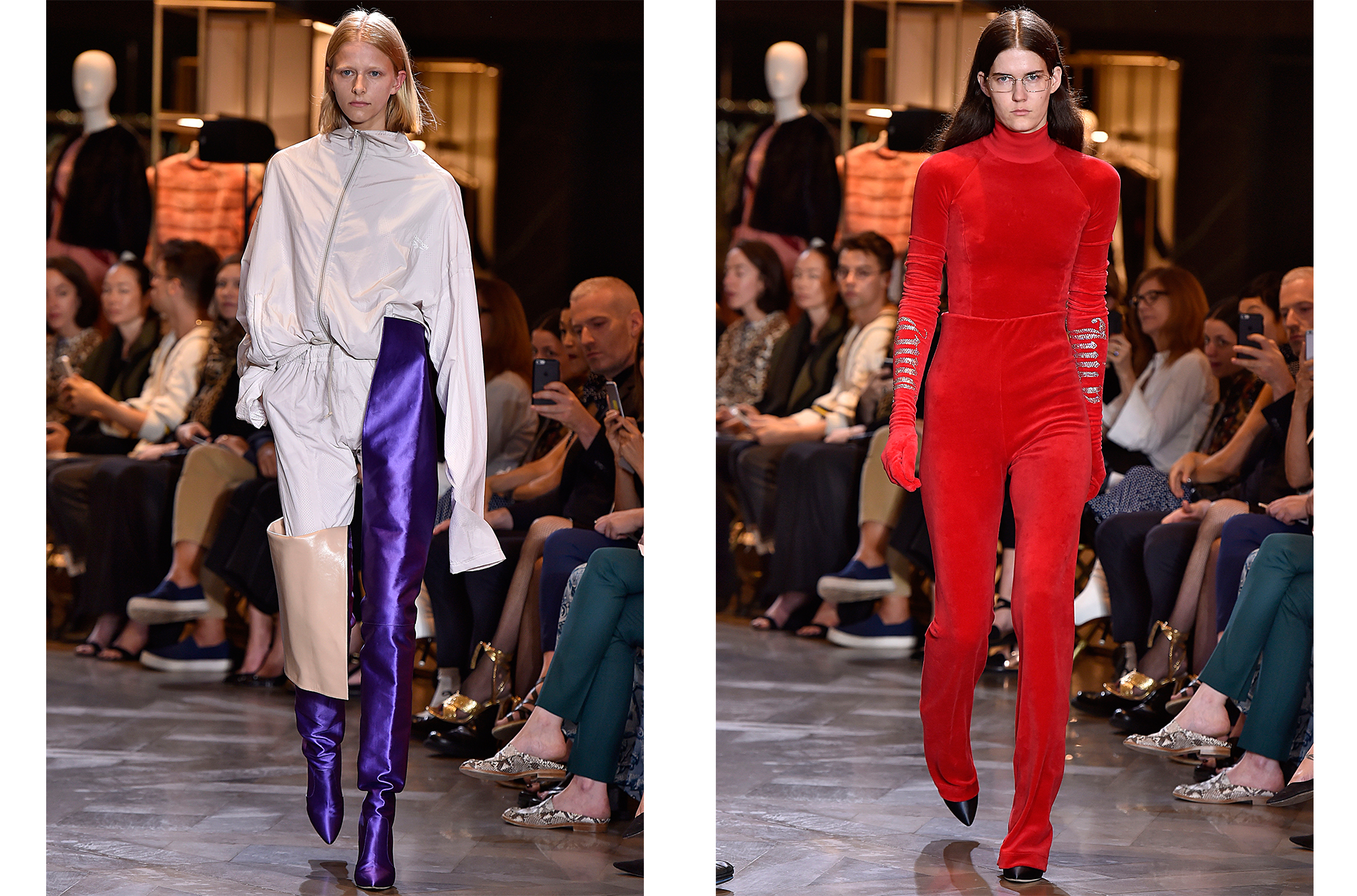 Vetements Spring 2017 Menswear / Photo: firstVIEW
Well, Vetements, the hottest brand of the moment, showed during Couture, and let's be serious, we weren't going to not cover that—and for good reason. Demna Gvasalia, who didn't technically present couture, but was invited by the Chambre Syndicale de la Haute Couture to show, completely flipped the script on all things haute—and not just because he sent some Juicy Couture (Get it? Juicy Couture at haute couture? Hilarious!) down his Galeries Lafayette runway. Gvasalia collaborated with 18 brands—each of which are the best at what they do—for his Spring 2017 men's and womenswear offering. "The knowhow of those collaborators was really the link the [Chambre Syndicale de la Haute Couture] made between our approach and being on the couture calendar," Gvasalia explained. "It's also a new way of showing what couture can be. It's not about spending 35 hours on embroidery, but it might be about working with somebody who's the best at doing shirts."
That may be so, but some designers are dead set on those 35-hour embroidery sessions. Take Chanel, for instance. Designer Karl Lagerfeld's show at the Grand Palais served up the kind of fare we've come to expect from Chanel—lots of tweed, flourishes of feathers, beautifully cut coats, and the like—but, not unlike he did for the Fall ready-to-wear show, Lagerfeld traded his grandiose set for a recreation of the Chanel atelier, complete with the artisans, or petites mains, who are responsible for hand-sewing, -beading, and –tailoring his sartorial feats. There are livelihoods at stake here—without couture, the artisans working for the over 20 houses who showed at Couture this season would be out of the job. There is indeed a micro economy surrounding this indulgence.
For his part, Alexandre Vauthier, who presented a collection of flight suits, army green gowns, slit-to-here dresses, and flashy furs for flush It girls, insists that couture is ahead of its time, rather than a relic left over from the days before Yves Saint Laurent invented ready-to-wear. "Couture is see new, buy now," he insisted. "I have appointments with my clients tomorrow, so it's modern, no?" He has a point—there's nothing more direct-to-consumer than having a gown fitted to your body and delivered straight to your doorstep, but it doesn't quite capture the immediacy that the market seems to demand.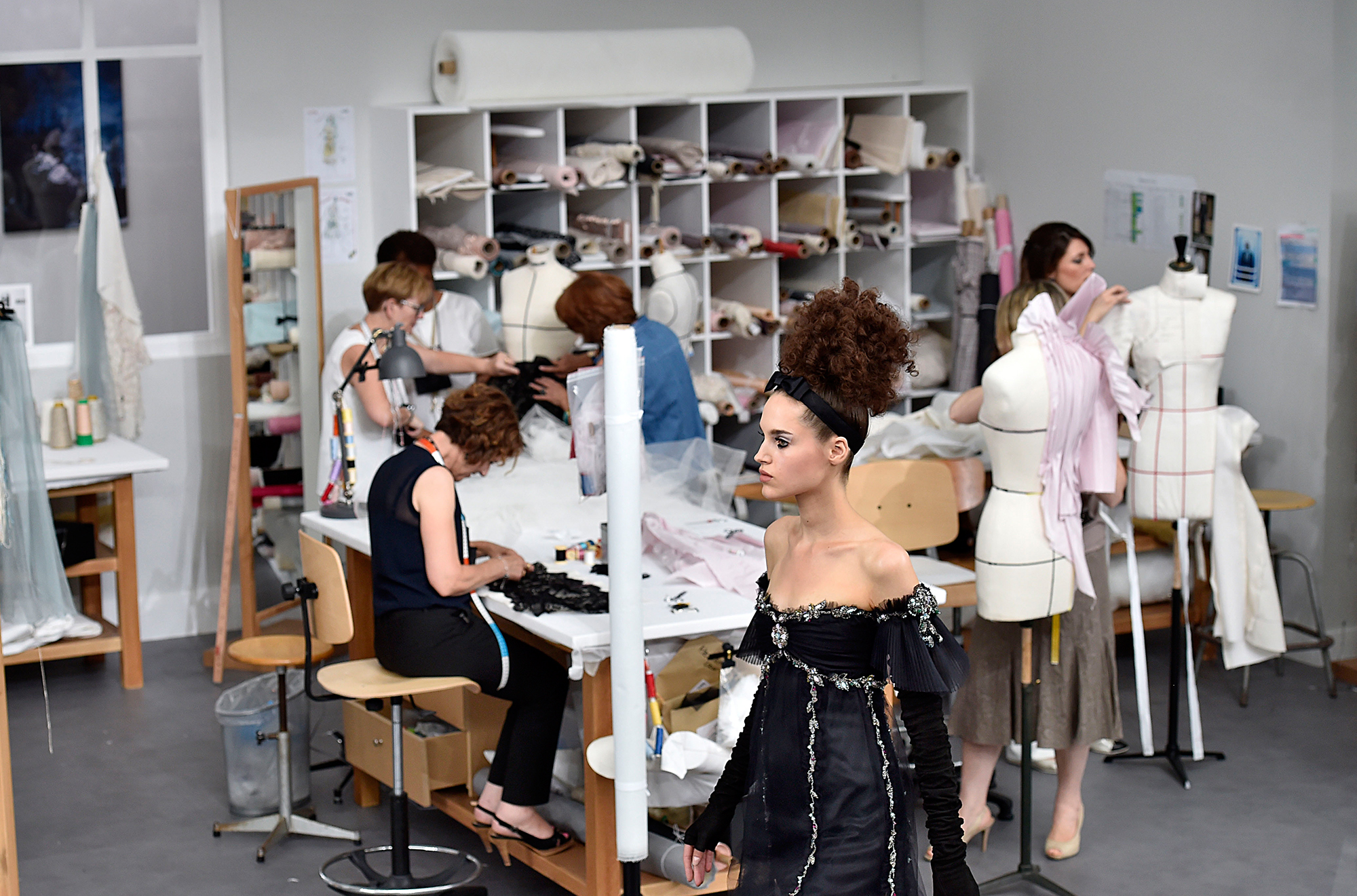 Chanel Fall 2016 Couture / Photo: firstVIEW
Gilles Mendel of J. Mendel, who was a guest designer this season and turned out one of the most impressive collections of the week, replete with mink sequins, beading reminiscent of Keith Haring's work and the gardens of Versailles, and iridescent, gilded furs, offered, "The true meaning of luxury is craftsmanship—artisanal craft—and I think couture is the perfect example of that." No doubt, an intense amount of craftsmanship went into his lineup, which saw fur reimagined in ways I never thought possible (did I mention the fur sequins?). Not to mention that, unlike so many of the houses, whose creations were made of stiff satin or boasted cumbersome, cupcake-like skirts, Mendel's dresses and gowns seemed to drip off the body. They actually looked comfortable, and I hope some daring actresses will pick his designs for their red carpet romps.
But just because couture is beautiful and well made doesn't mean it's of-the-now. I have to admit, many of those aforementioned stiff looks didn't feel very 2016, or even very interesting. Iris van Herpen, however, consistently dares to push the boundaries of what clothing is, and this season was no exception. Inspired by "Seijaku," the Japanese word for finding serenity amidst life's chaos, van Herpen invited editors to L'Oratoire du Louvre, which was filled with candles and models standing on impossible platforms, moving their bodies like a gentle breeze. The whole thing, according to the show notes, was an exploration of "modern couture," and boy, did she nail it. One dress was made from thousands of hand-blown glass bubbles (what?!) covered in silicone. It seemed one part prima ballerina, one part underwater goddess, and it took one and a half months to create. No, you're not going to see someone wearing that to a gala—it's made of glass, for Christ's sake—but to van Herpen's credit, there were real-world options, too, like an ethereal accordion pleat cape gown.
"It's really important to show that fashion can be different things," said van Herpen when I asked her if couture had a point. "It's not only about commercial [clothes]. I think there's innovation needed, craftsmanship needed. And it's important to experiment with what could be new ways of making a garment for the future. We have to move on, and I think couture is really the heart of that."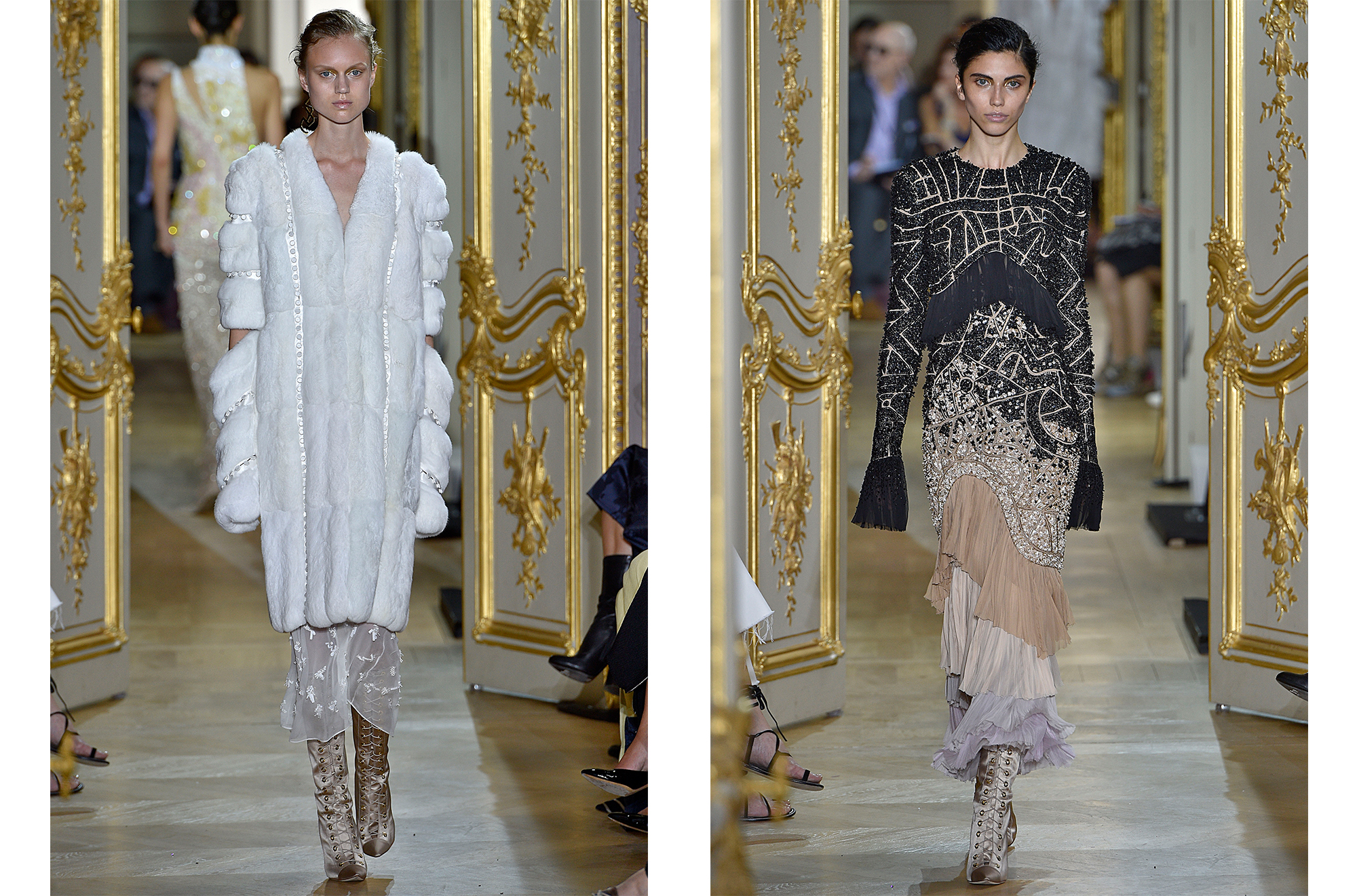 J. Mendel Fall 2016 Couture / Photo: firstVIEW
Okay, now we're getting somewhere—couture is a playground on which designers can feel free to experiment, without concerning themselves with the demands of retailers. "With ready-to-wear, we can't work like this because we have to think about the price points—it makes it dark," said Alexis Mabille, who proposed everything from a shirt-gown to a poufy princess frock on his Couture runway. "With couture, we don't care. It's about creation—we don't have to think too much about the client because they don't buy what we expect, and they love to be surprised."
Renzo Rosso, the founder of Diesel, and whose holding company OTB owns couture houses including Maison Margiela and Viktor & Rolf, expressed a similar sentiment. "The world would go on without couture," he laughed backstage after Viktor & Rolf's standout show (more on that later). "Couture is very important if you are a leading brand because through it, you can do something very artisanal, very sophisticated. Sometimes, it's not that wearable because it's really the most extreme inspiration of fashion. And thanks to this experiment, after, you can do something commercial." That's fair, and even for brands that don't produce ready-to-wear, like Viktor & Rolf, or the legend that is Jean Paul Gaultier, the dream of the couture show is what's going to sell those money-making fragrances. Rosso added that couture—or, at the very least, innovative fashion—is what makes the whole market tick. "The commercial fashion industry exists because high fashion exists. Without it, [fast fashion brands] have no trends to work from. They have nothing that people desire—they have nobody. They only exist because they put together what high fashion promotes."
Viktor & Rolf, designed by Viktor Horsting and Rolf Snoeren, showed one of the most thought-provoking collections of the week. Inspired by recycling, conscious design, vagabonds, and a fresh start, the duo presented fantastical confections that were made entirely from scraps, garments from their previous collections, and vintage clothes. The show was spellbinding, and the models looked like ragged but enchanting princesses. Now, Viktor & Rolf recently abandoned ready-to-wear for couture, and their Fall 2013 outing, which marked their return to the schedule, was purchased almost in full before it even hit the runway. (See? Couture clients do exist!). So, is couture just a vanity project for these famously avant-garde designers, who are responsible for the wildly popular perfume Flower Bomb? Or does it serve a purpose? "For us, it feels like a laboratory—like a free zone where we can experiment and be completely free," said Snoeren. "And I think we need that. Society is really consumer-driven."
"The great thing about couture is the emphasis on craftsmanship," chimed Horsting. "And also on the physicality of clothing through the fact that so much craftsmanship is involved. A lot of people consume fashion through images and are not aware of the fact that these are actual products that have been made, and that there is a lot of time and material that goes into them. I think that's something very important to understand, to be aware of."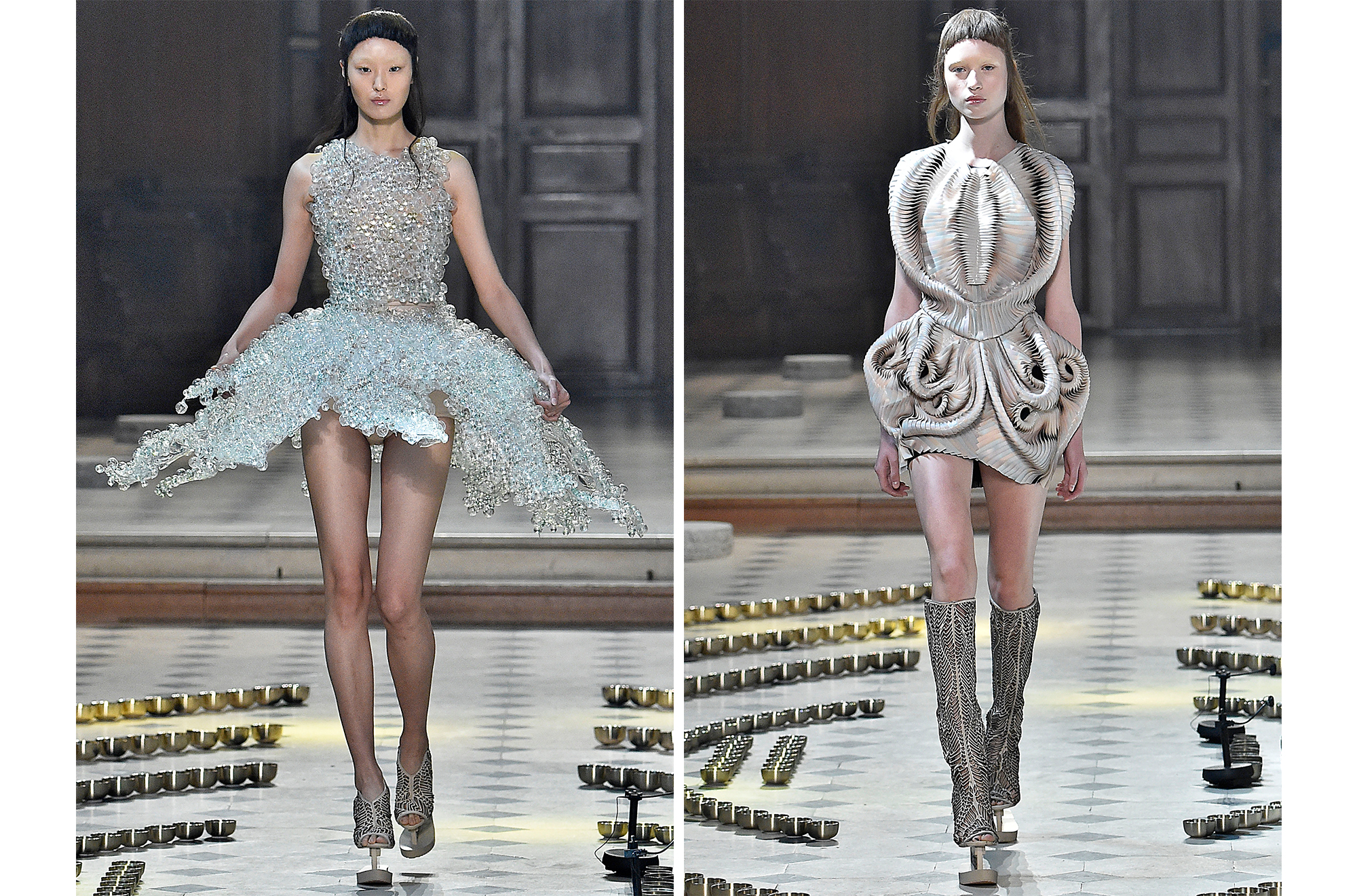 Iris van Herpen Fall 2016 Couture / Photo: firstVIEW
That's all good and fine, but is something like couture sustainable in such a consumer-driven, immediacy-fueled climate? "You know, I'm convinced that there will always be couture, whether it's called couture or not," mused Horsting. "There will always be clothes that are made for one person, or that are made with a very extreme, artistic ambition. I think originality is needed, and also there are clients who will want to have something that's made for them and for nobody else. It's very difficult now to be unique. You go to Montreal, you go to Melbourne, you go to Amsterdam, you go to Paris – H&M is there. It's all the same commercial landscape in any street. I hope couture will always exist, and I think it will always exist because it's about uniqueness and accessing the inaccessible. And might not necessarily exist in the system that we have now." Cheers to that. Here's to keeping the dream alive.

0 Comment