There's an argument that fashion reflects culture with more immediacy than any other creative form. Whether or not one agrees, this season is proving that the industry is responding loudly—and quite directly—to the dramatic politics at hand.
In New York, we saw Prabal Gurung draw inspiration from Gloria Steinem. He sent women down the runway in silk bias cut dresses printed with quotes from famous feminists—a nod to Hillary Clinton's role—and talked about a feminist struggle, as well as the meaning of Clinton's campaign, at the show. The loose silhouettes were sized for ease and "power of choice," the designer wrote in his production notes. There were leather pants with Susan B. Anthony's "They threw things at me but they were not roses" scrawled on the hems and matching t-shirts with the same words. You had to look closely to read the looping statements, but they were there.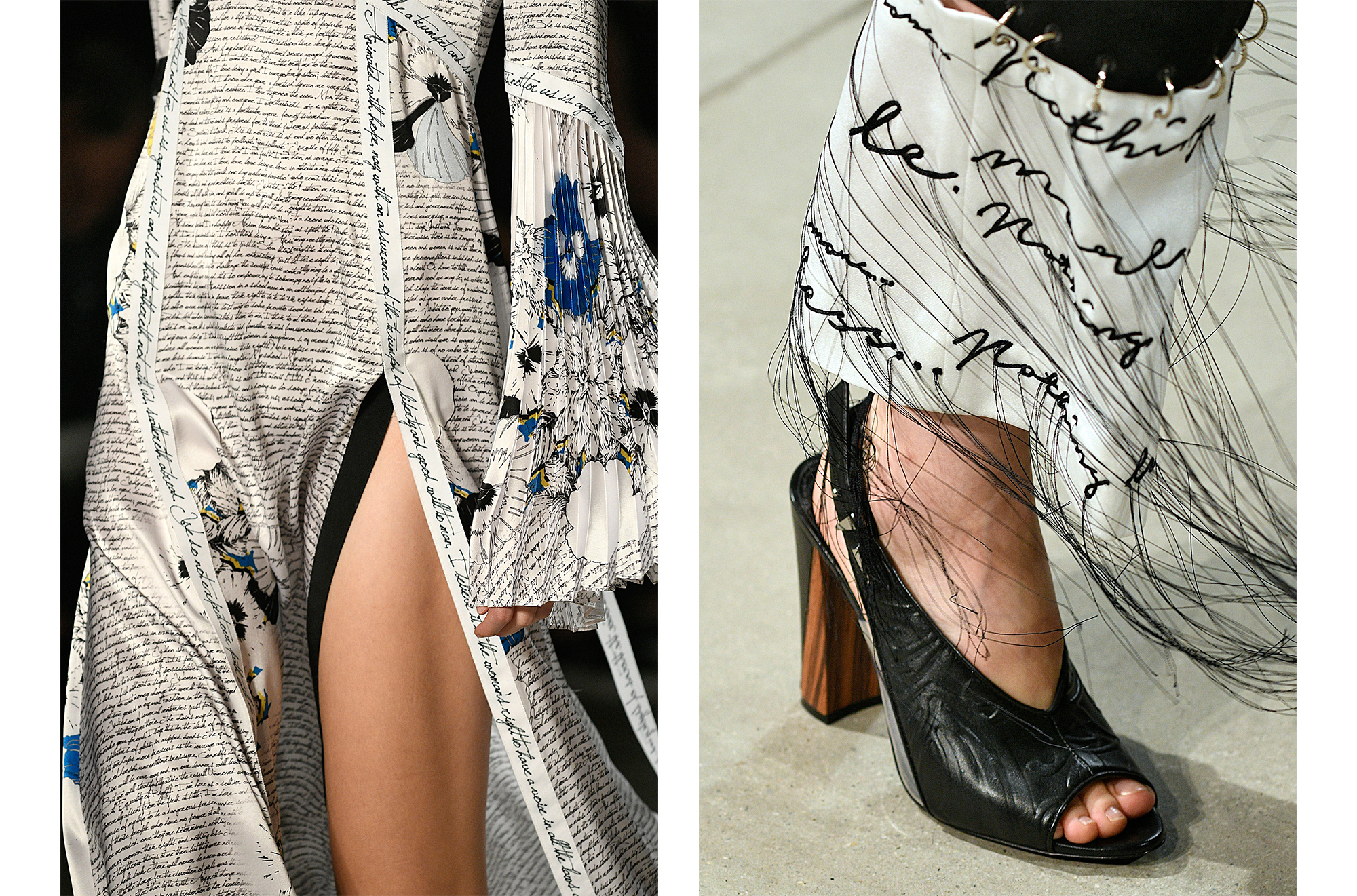 Prabal Gurung Spring 2017 details / Photos: firstVIEW
Pyer Moss, ever political, brought issues of greed, corporate guilt, institutionalized privilege, and social injustice into his Spring 2017 collection. His show notes planted the collection as a mock "collaboration" with Bernie Madoff and Donald Trump, and the clothes themselves tied in references to the sinister uniforms of Patrick Bateman's and Jack Nicholson's characters in Chinatown. Pinstripes and power suiting, jumpers with "greed" emblazoned in letter jacket script, simple tees reading "come shake the money tree," and more dare-you-to-look-away pairings made their way down the catwalk.
That same day, Opening Ceremony's show was less a viewing of clothes than a shout to vote. At the show, Carrie Brownstein and Fred Armisen held a "pageant of the people"—a performance that brought in friends like Aubrey Plaza, Alia Shawkat, Natasha Lyonne, and more to talk about the issues at hand and challenge us to approach this election with urgency. The duo mocked the conventions of runway and narrated the 30 minute-plus show as (regular) models walked the platform. As Whoopi Goldberg said at the end, "If you don't vote, you can't bitch." As for the clothes? They were relatively simple—thin, tiered sweaters and ruffled, black cotton options, babydoll dresses in navy, and primary-colored, striped knit column dresses dominated. There was nothing subtle about the message, unless you suggested that it was delivered in the fashion itself.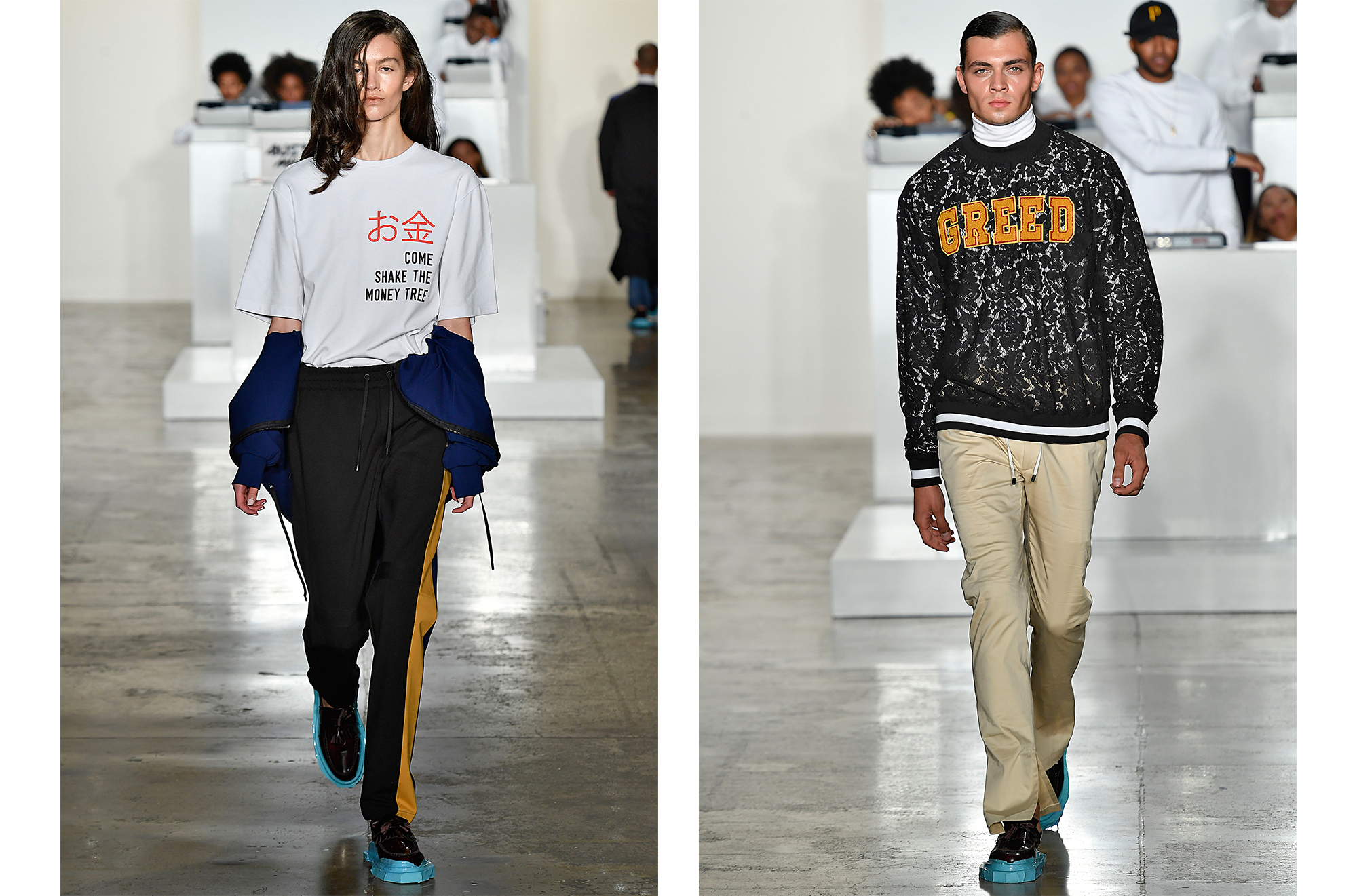 Pyer Moss Spring 2017 / Photos: firstVIEW
In London, designers looked not to the coming months, but to the decision just made. In place of obvious takes on Brexit, we saw celebrations of the diverse heritages that make up London's design scene and reactions towards practicality and crisis.
Mary Katrantzou, for instance, called upon the classical art that she learned about growing up in Greece as a child. She drew from images of women in Cretan murals and Minoan vases and printed them on structured blazers, high-necked columned dresses, and shimmering, metallic, floor-length gowns. Geometric patterns and a mix of classical black-and-mud red shading and kaleidoscopic coloring added another layer.
Meanwhile, Huishan Zhang looked to his birthplace in Qingdao, China with reference to Pan Yuliang, one of the country's first female contemporary painters. The former Dior couture designer aimed to celebrate his home country with his first runway show.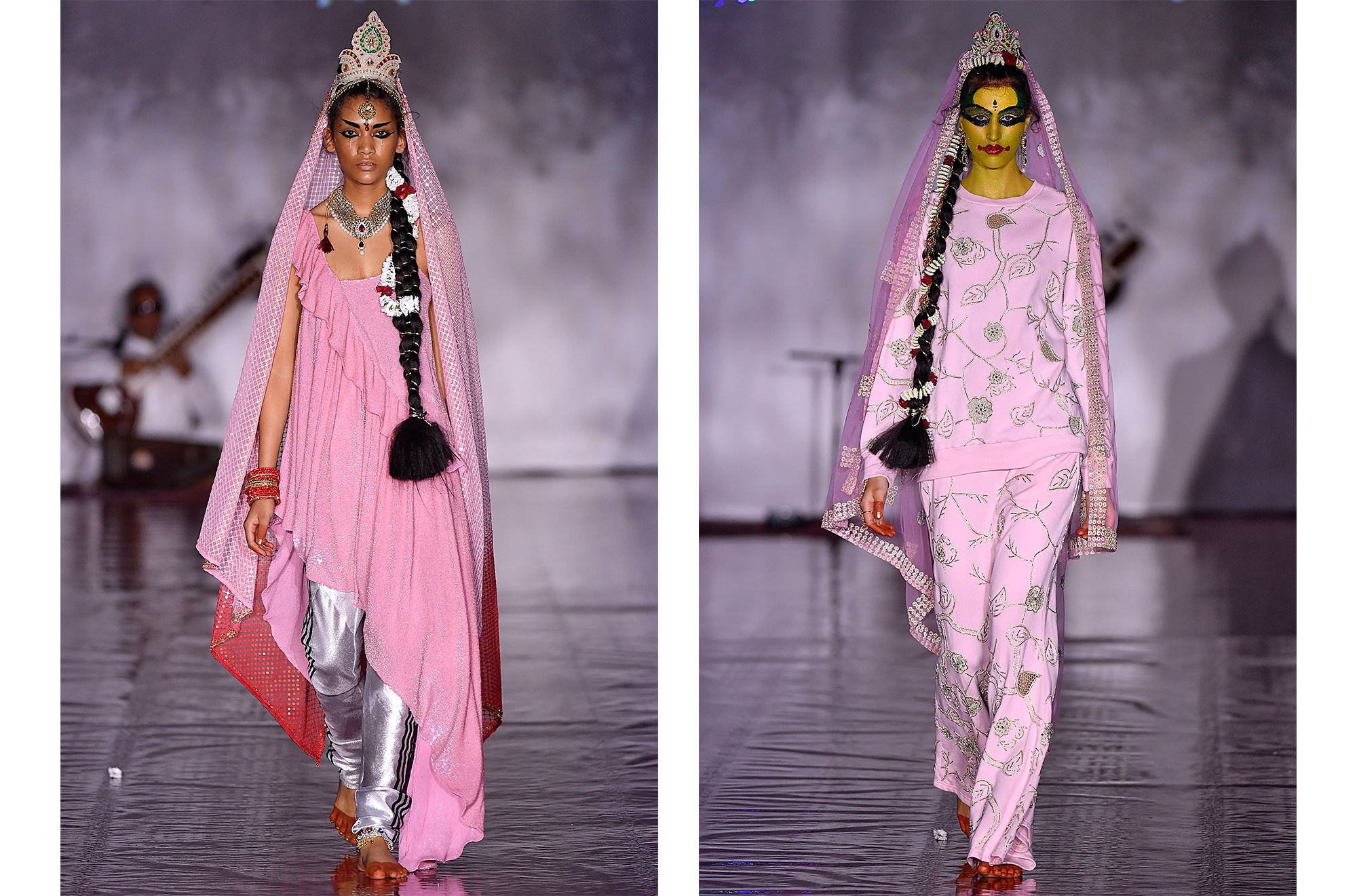 Ashish Spring 2017 / Photos: firstVIEW
Ashish Gupta, who was born in India but has been living in London since 1996, left no questions as to his feelings on the Brexit issue. He brought in embroidery, mixed saris with tracksuits, and emphasized the intimate relationship between Indian culture and life in the U.K. When he took his bow, he came out in a shirt reading "immigrant." In short, we need and grow from each other.
Simone Rocha sought to bring practicality to her collection, a reaction to how we deal with shocking and sometimes disappointing change. She based her offering, which came to life on white lace-gloved and gauzy tulle dress-wrapped models, on photographs of African farmers and paintings of Irish potato laborers.
How the London design community will deal with Brexit (so many members are immigrants) and how the U.S. deals with our current political situation is, of course, in constant flux. And while the success of these political infusions is arguably varied, it's hard to deny that these designs get us talking. We really can't ignore the world outside or the role fashion plays in the broader cultural dialogue, even if we would like to.
0 Comment