There was a lot of talk among industry heavy hitters this season about "real couture"—"real couture" generally referring to heritage houses like Dior, Chanel, and the like. While sitting at a soirée at Le Crillon on Sunday night, one seasoned journalist said she was tired of watching the "wannabes," and was looking forward to the following day's Dior show. "How nice is it to be able to talk about hemlines for once?" chimed another editor, referencing the work of Maria Grazia Chiuri.

Hemlines are fine, I guess, but frankly, it's 2017, not 1927, and if the role of the fashion journalist has devolved to hemline critic, just stick a fork in me because I am done.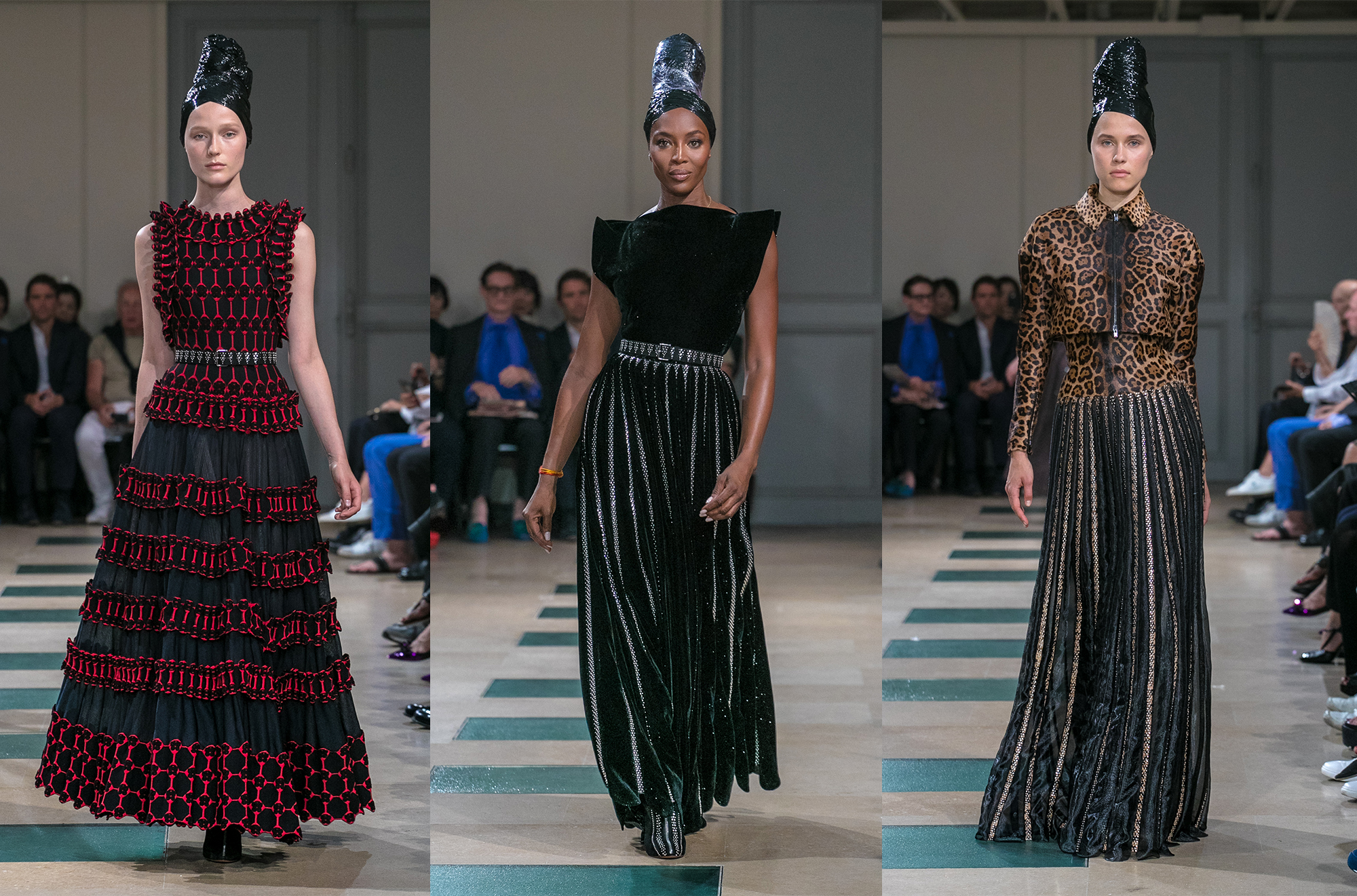 Azzedine Alaïa
Photos: Courtesy of Azzedine Alaïa
I get it—couture is steeped in tradition. It's a practice that is defined quite rigidly by the Chambre Syndicale de la Haute Couture. But fashion is something very different today than it was a century ago, or even a half-century ago. Many within the business are struggling with that fact, especially when it comes to haute couture. Yeah, yeah, fashion is all about the new, but for such a supposedly forward-thinking industry, the fashions do not like change. With a handful of exceptions, it seems designers and critics are stuck, either unwilling or unsure of how to modernize couture, and after this week's shows, it appears that some of those "real couturiers" are approaching their craft with closed minds. Sorry, but if I'm going to spend upwards of $100 grand on a look (and I'm not, sadly, this is purely a hypothetical), I'd like it to be impeccably made and inspiring, not some drab, heavy thing that looks like it was pulled out of my grandmother's closet.

The house of Christian Dior is celebrating its 70th anniversary this year, and following Maria Grazia Chiuri's second haute couture collection for the brand, a sprawling exhibition chronicling the maison's history and influence bowed at the Musée des Arts Décoratifs. Dubbed Christian Dior, Couturier du Rêve, the show, on view through January 7th, 2018, is fantastic, and explores the work of each of the house's designers, from Mr. Dior himself all the way through Chiuri.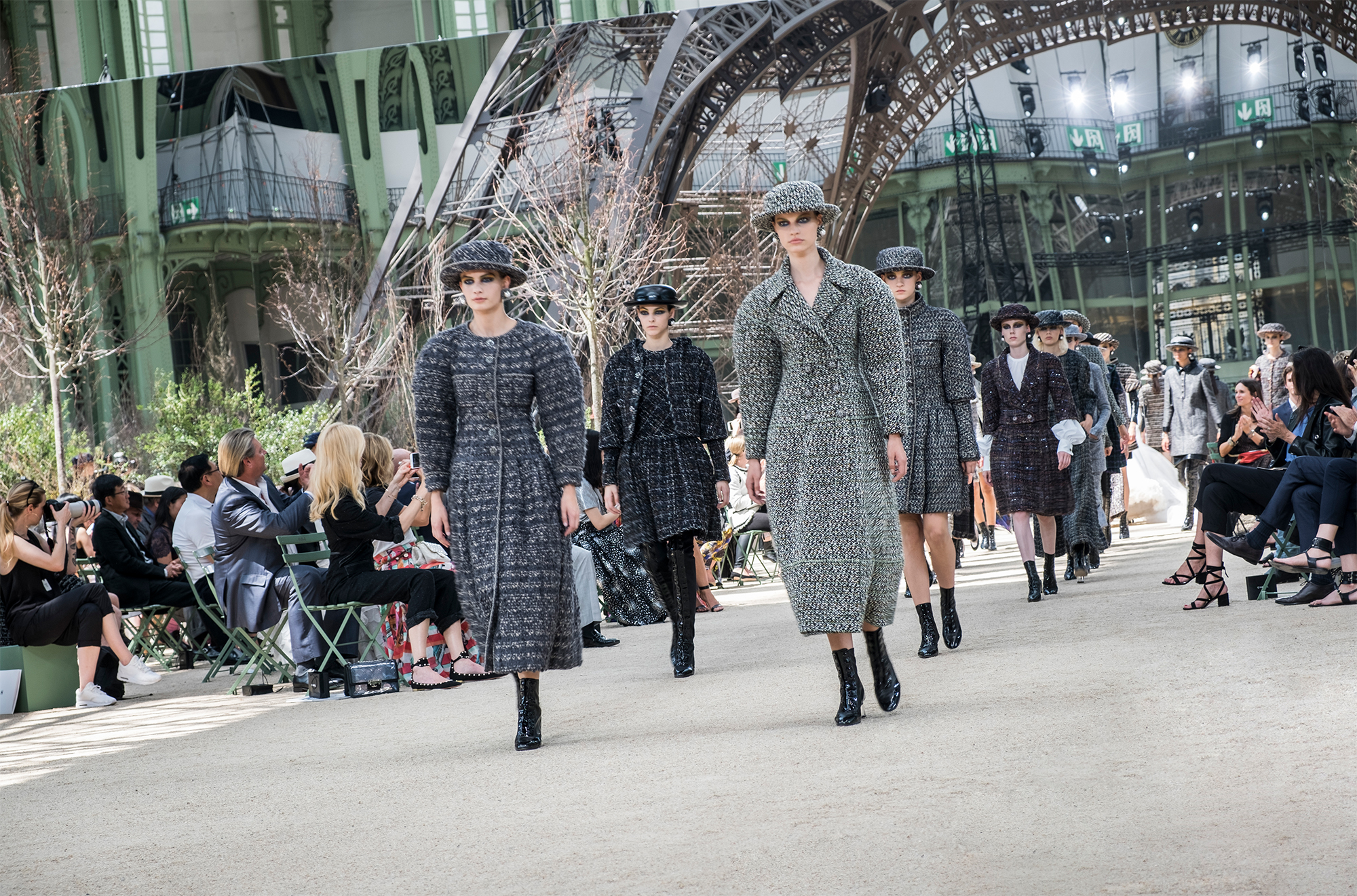 Chanel
Photo: Courtesy of Chanel
In the opening room, there is a wall three rows high, featuring wares by the namesake designer, as well as looks by those who he's inspired, including Yohji Yamamoto, Alexander McQueen, Thom Browne, Riccardo Tisci, and many more. Next came a maze of vignettes celebrating each of the couturiers who helmed the house after Mr. Dior—Yves Saint Laurent, Marc Bohan, Gianfranco Ferré, John Galliano, Raf Simons, and Maria Grazia Chiuri. The designs by Saint Laurent, Bohan, Ferré, and Galliano all felt progressive—revolutionary, even—modernizing the house codes and pushing the aesthetic boundaries of their respective eras to the extreme. Perhaps I'm just bored by my own time, but the Simons and Chiuri sections were underwhelming in comparison. Obviously their wares were spectacularly made—the members of the Dior atelier, who were on hand to demonstrate the house's unparalleled craftsmanship—ensure that. But instead of ending in a crescendo, this portion of the show kind of fizzled. I think it represents the challenge that many designers at these historic houses face—make safe, commercial clothes, even for couture, while upholding the codes. I can't imagine the pressure these designers must be under, but the collections we've seen of late don't bode well for the brands' futures. Honestly, they're just a bit boring. They don't even speak to the current cultural climate, which is many things, but certainly not boring.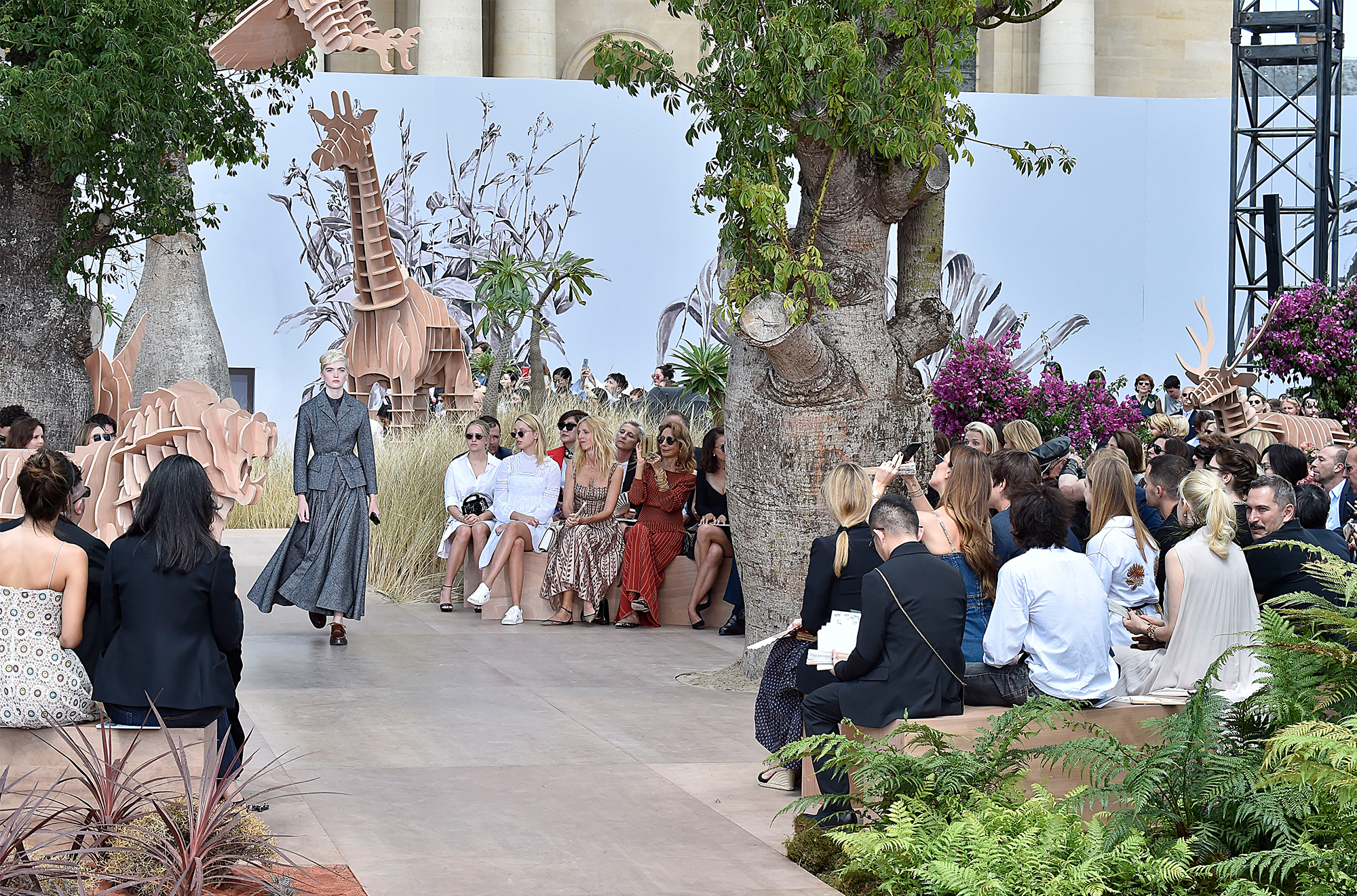 Christian Dior
Photo: firstVIEW
Chanel fell into the same category for me—fabulously made clothes that couture clients from the Middle East will surely gobble up, but not terribly exciting. And shouldn't couture be exciting? Shouldn't clothes at this level be the stuff that dreams are made of? Shouldn't they take our breath away? I'm reminded of something OTB's Renzo Rosso told me at the couture shows last year. "Couture is very important if you are a leading brand because through it, you can do something very artisanal, very sophisticated," he said. "Sometimes, it's not that wearable because it's really the most extreme inspiration of fashion. And thanks to this experiment, after, you can do something commercial."

That outlook's pretty darn rare for a businessman, and it's benefitting his couture brands, Maison Margiela and Viktor & Rolf. At Margiela, John Galliano proposed a sculptural, deconstructed fantasy that was like nothing else we saw this week. The clothes were rooted in traditional couture construction and engineering, but they were entirely of our time, projecting strength and vulnerability through delicate organza and tulle combined with leather or wool. "While established symbols remain intact, inspiration for a new glamour is filtered through the eyes of the beholder. Glamour requires an audience," said the house in the show notes. These clothes were special. They defined a point of view, but were still respectful of Margiela's codes. Even better, looking at them was downright invigorating.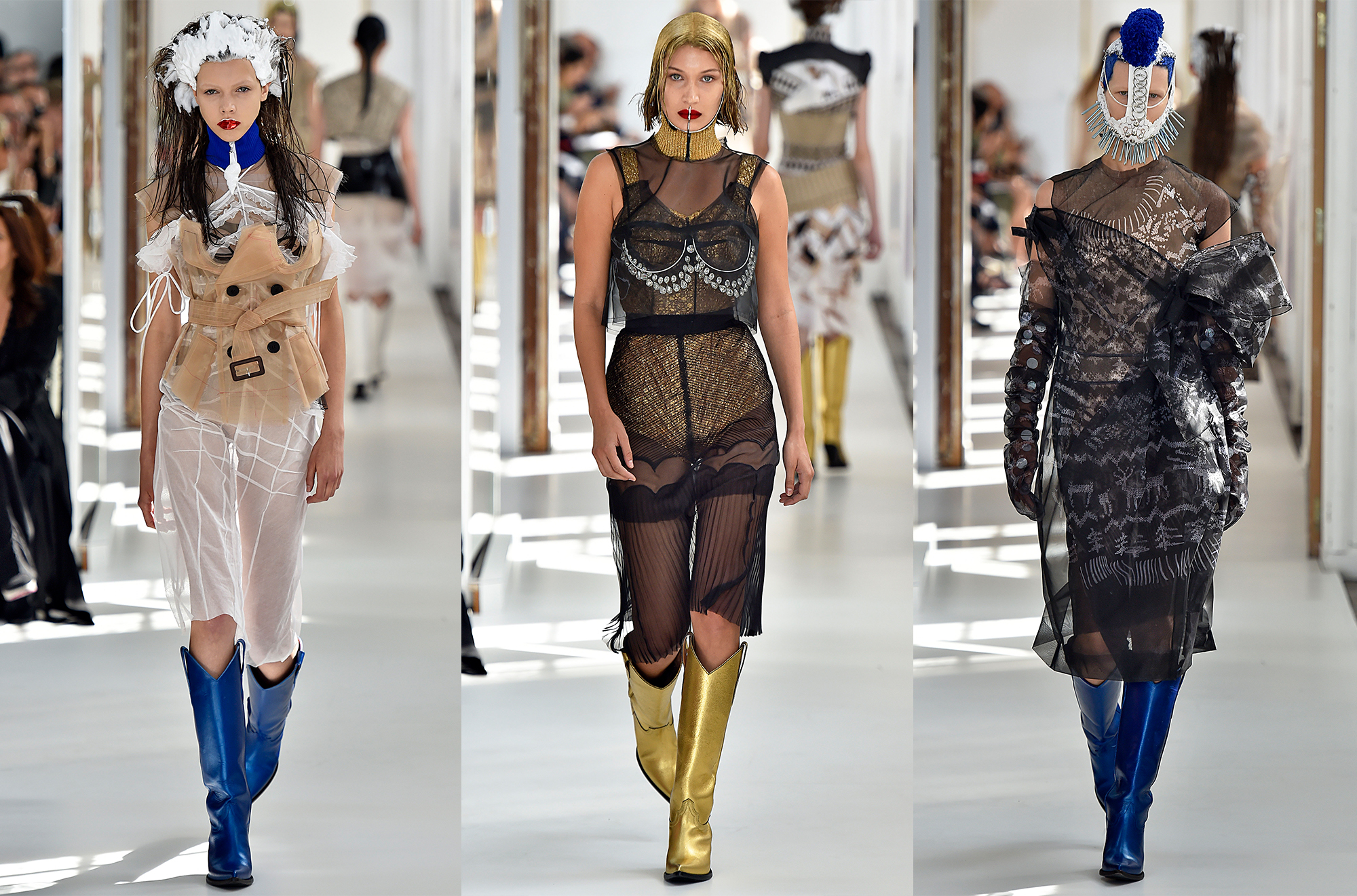 Maison Margiela
Photos: firstVIEW
Viktor & Rolf, meanwhile, proposed puffer jackets in couture silhouettes, patchwork jeans fashioned from upcycled materials, and T-shirts. This was a different kind of couture for a different kind of client than Dior or even Margiela, but again, it was fresh, it was now, and it reflected the climate in which it was created.

Iris van Herpen, who celebrated her 10th anniversary this season, furthered her singular approach to couture, one that utilizes the same level of craftsmanship as that "real couture," but in an entirely new way, via laser-cutting, heat-bonding, and beyond. Her collection, inspired by water and air, combined aspirational, conceptual confections that are, perhaps, not terribly suited for real-world wear, with easier silhouettes that could absolutely turn up on a red carpet. "Couture can be a form of art, and it can be wearable at the same time," she told me during an event celebrating her collaboration with Swarovski. "Today, couture doesn't need to be one or the other."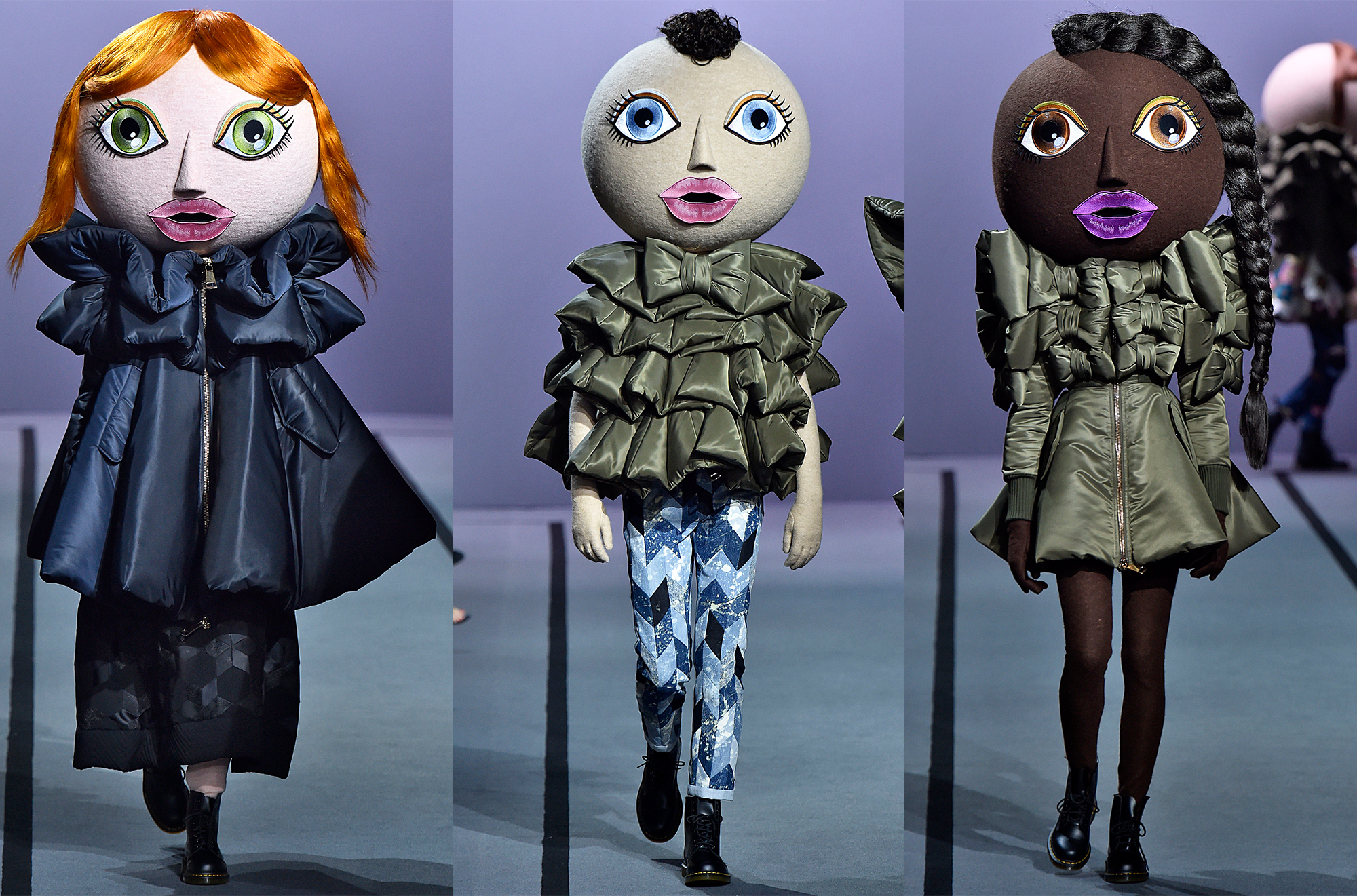 Viktor & Rolf
Photos: firstVIEW
I couldn't agree more, but not everyone loves conceptual fashion as much as I do. Some people just want special clothes that they can, you know, wear in life. Valentino's Pierpaolo Piccoli gave us just that—gorgeous garments made for the modern era with couture techniques. His colorful clothes boasted an ease and simplicity while still highlighting craft. Every piece could have strode off the runway and into the streets of Paris—if the wearer was going somewhere worthy of such designs, of course.

However, if one is searching for the ideal example of true couture made for (a very exclusive, very expensive) reality, she need look no further than Azzedine Alaïa, who returned to the haute couture runway this season after a six-year hiatus. Nothing here was heavy or fussy, as is so often the case with the "real couture" shows. Nothing was dated. Instead, each look was an aspirational take on a dream wardrobe—one that could be worn in a fantasy or to a cocktail fete. What's more is that, unlike those "real couturiers," Alaïa didn't need to hold some decadent runway event to elevate his designs. Instead, he hosted an intimate show in his atelier. There were no fancy invitations (polite confirmations were sent via e-mail). There was no set. There were no Jenners or Hadids or A-list celebrities, save the ones who have worked with and worn Alaïa for years. It was just breathtaking clothes, supermodels, epic energy, and craftsmanship galore. It was a celebration of fashion and women. And it was perfect.
Collections inspired by history or a brand's DNA are fine—great, even. Fashion is about the "new," but it's about the past, too. But, in my humble opinion, "real couture" should build on fashion's history in order to create something so fantastic, it couldn't have possibly existed before. It should move forward, not remain stagnant. What's more it should speak to women's lives and experiences. It should lift them up, not tether them to old ideals. We saw some of that this season, but not enough. That being said, the designers who were unafraid to experiment, to move forward, provided a glimpse of a new era of couture. Next season, it would be great to see the bigger houses, with all their influence and resources, try something bolder.
0 Comment