"Now more than ever" was a phrase that recurred over and over again during New York Fashion Week. It appeared on one of the protest T-shirts during Prabal Gurung's feminist finale; it cropped up in countless articles, on our site and others; and it was uttered in nearly every backstage interview I conducted. Now more than ever, fashion, an industry largely made up of immigrants and outsiders, needs to use its wide-reaching platform to speak out against the xenophobia, fear, and "alternative facts" being pushed by the new administration. And this season, more than ever before, it did just that.

Designers responded to the political climate in two ways. Many, like Gurung, Jeremy Scott, Calvin Klein's Raf Simons, Public School's Dao-Yi Chow and Maxwell Osborne, and Marc Jacobs, made unmistakable statements through their clothes and shows. Others, like Zac Posen, Adam Selman, and Maria Cornejo, combatted hate with beauty.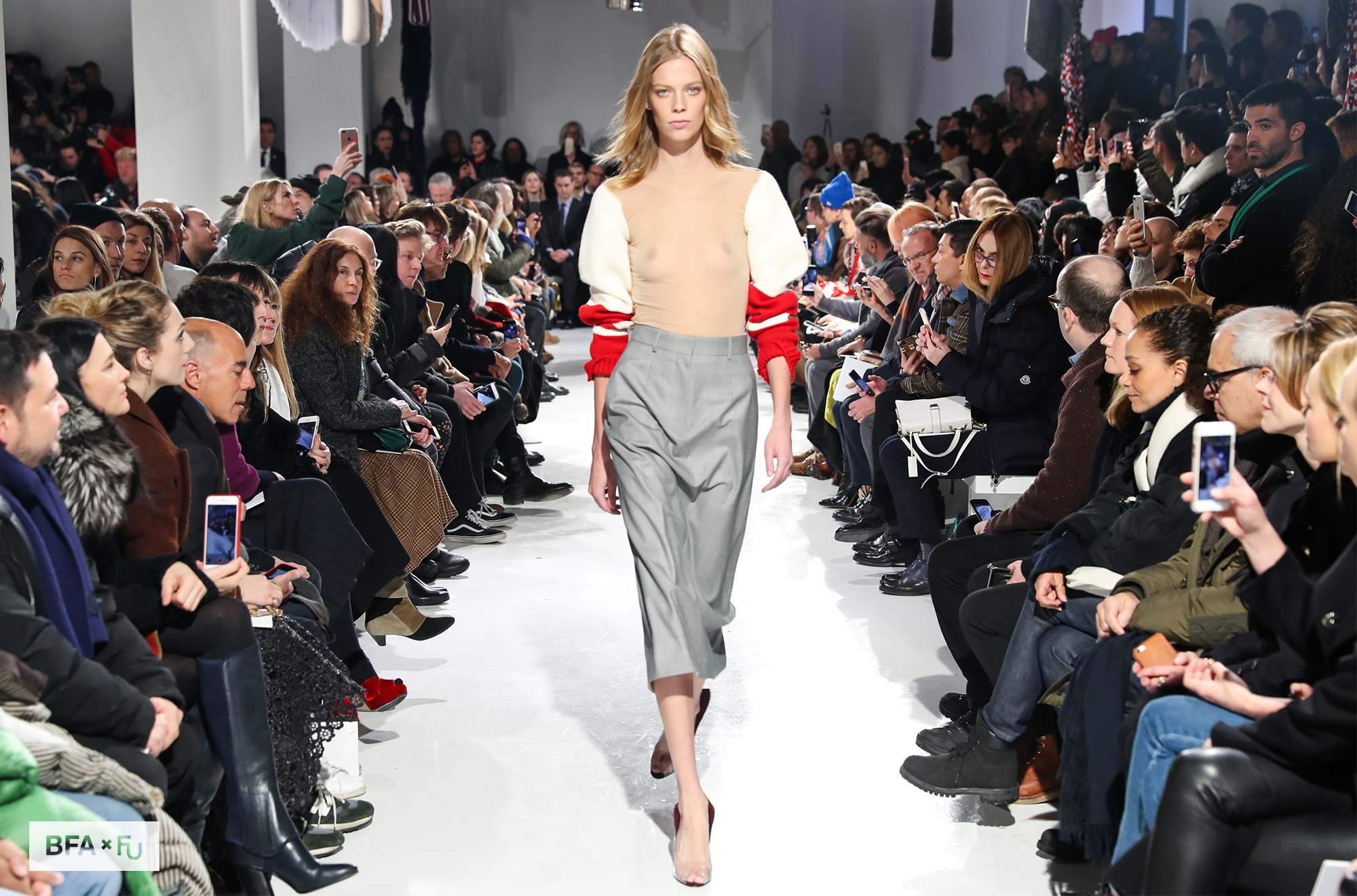 Calvin Klein Collection
Photo: BFA.com. View more at BFA.com.
At his critically acclaimed debut as chief creative officer at Calvin Klein, Simons sent a message of hope through his show space, which boasted an installation by artist Sterling Ruby. He had a lot to work with, considering Calvin Klein is perhaps the most classic American brand, and he didn't miss a single opportunity to comment on the American dream or current nightmare. With music ranging from Roy Orbison's "In Dreams" to David Bowie's "This is Not America" (which also played while guests took their seats at Cornejo's show), Simons' outing reflected on American ideals, and what makes our country great, rather than projecting negativity. In his show notes, the Belgian designer—a recent New York transplant, thanks to his prestigious new gig—described Fall 2017 as "the coming together of different characters and different individuals, just like America itself." I walked out of this show feeling invigorated and inspired—not only about what communities like the fashion industry can do when we come together and fight to maintain our country's all-embracing ideals, but about American fashion as a whole (because, in case you didn't see them, the clothes were smart and quite frankly fantastic). Sometimes, it takes an outsider to shake things up and push us forward.

Marc Jacobs took a similar approach—one that was powerful and didn't need explaining. Set in the sprawling Park Avenue Armory, his show had only two rows of seats for editors and guests, and models in minimal makeup walked down the runway and outside onto the New York street in complete silence. This alone felt on the nose when it came to the tone of NYFW—how can we sit and watch expensive clothes march down the runway to blaring music when our country is under attack from within? It was somber, pensive, and called for reflection. What was most impactful, however, was Jacobs' cast, which was not only racially diverse, but celebrated transgender models as well. "With everything that's happening around the world and Donald Trump being elected, I guess this is the right time for people to speak up for human rights and LGBT rights," transgender model Stav Strashko told FU's Amber Kallor backstage. "Fashion isn't necessarily a way to protest, but it's a way of sending out a message." Jacobs' show did just that.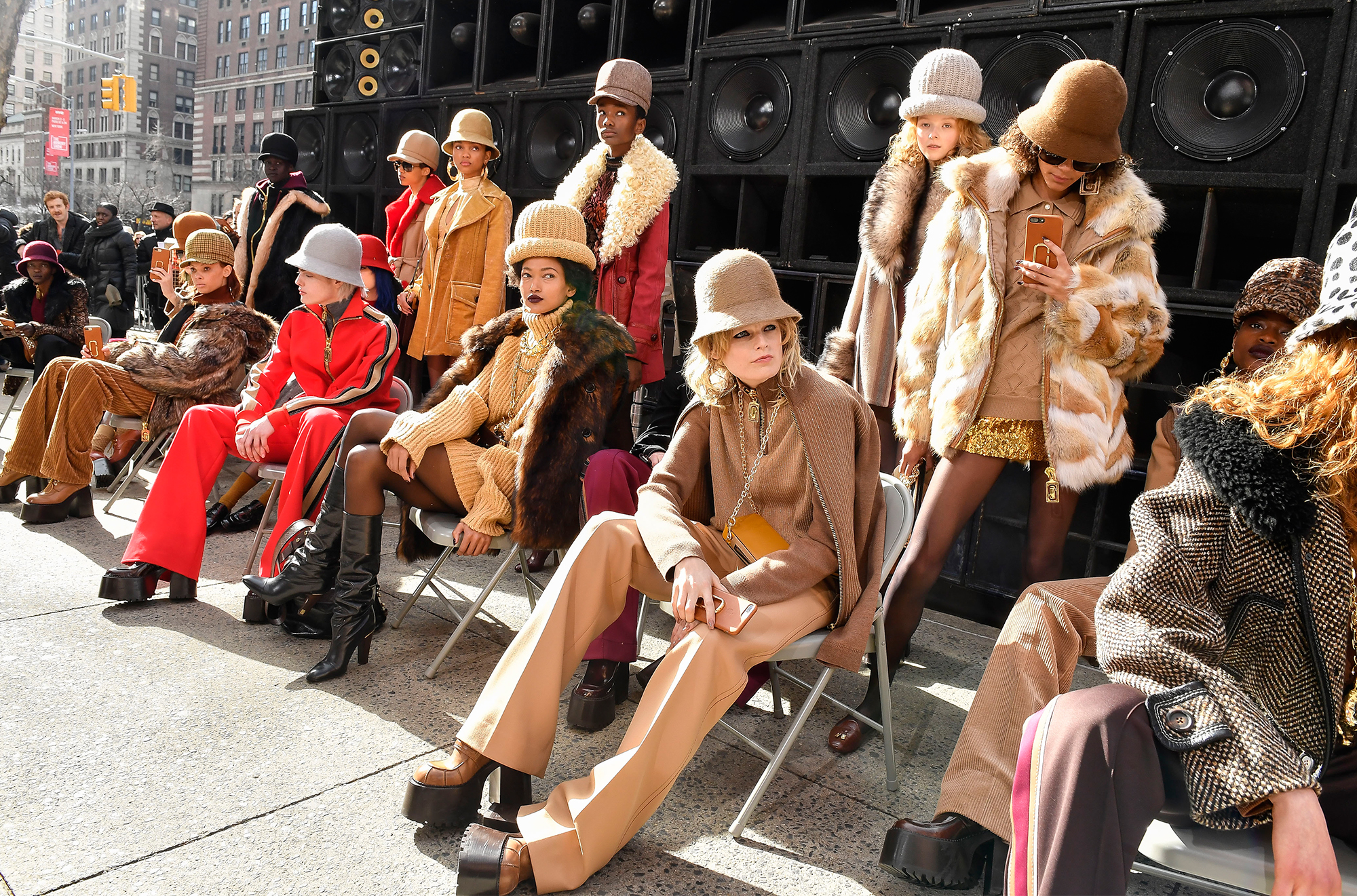 Marc Jacobs
Photo: firstVIEW
At Jeremy Scott, where ushers and members of the designer's team wore T-shirts listing senators' phone numbers, the tone was more aggressive. He juxtaposed images of Jesus Christ (on highly sexual clothing, no less) with references to Marie Antoinette, Michael Jackson, Vegas showgirls, and Elvis. Titled "As Seen on TV," the collection seemed to be a warning against blind worship, whether it be of a religious figure, a celebrity, or a TV President.

Prabal Gurung and the Public School designers took a more direct approach, sending out wares literally stamped with political messages. The former closed his show—one inspired by feminism (a recurring theme in Gurung's collections) and POTUS45's alleged demand that his female staffers "dress like women"—with his diverse cast of models wearing slogan tees emblazoned with phrases like "I am an immigrant," "The future is female," "Love is the resistance," and "Nevertheless, she persisted." "It started when I was little with my mother. She was a single mother that brought us up. And since then I've always surrounded myself with strong women," Gurung told Fashion Unfiltered. "Feminism and equality and inclusivity have always been part of my conversation…[and] right after the Women's March, that's what gave me the courage I needed to have."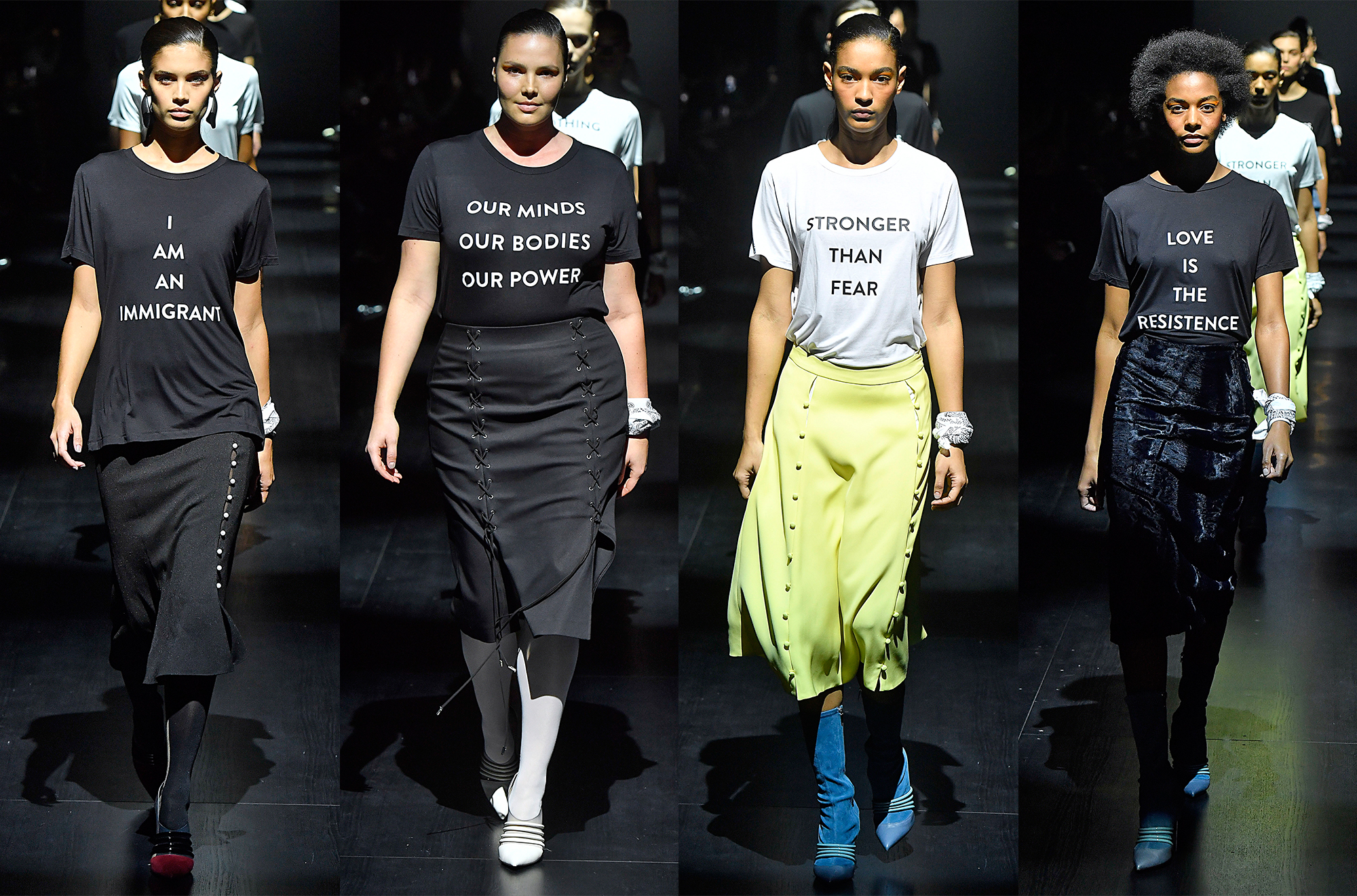 Prabal Gurung
Photos: firstVIEW
Public School, meanwhile, sent out prints that represented the dissolution of borders and Trump-style red hats that read, "Make America New York," to a rendition of "This Land is Your Land" by Twin Shadows. "Fashion is worn by people. It moves around with you. It travels with you, and we need to do a lot more to confront these ideas as opposed to living in our own little bubble," said Chow of why he chose to get political on the catwalk. "Fashion is an excellent vehicle. It's everywhere you look. It can help those ideas travel and build."

These collections, and the messages they sent, got a lot of attention—both in the press and on social media. But throughout the week, I heard more and more concerns about the commodification of feminism and political protest—that standing up and speaking out was beginning to seem less genuine and more like a branding tool. I was reminded of last week's Saturday Night Live skit, in which ad executives pitched Cheetos absurdist commercials revolving around the proposed border wall, religious persecution, and Chester Cheetah undergoing gender reassignment surgery. "It's important, it's now, it's Cheetos," said one of the ad executives in the skit. Using such issues to sell a product—or clothes—diminishes the fight of so many Americans. But I have to say, whether it was designers sending out protest tees or simply wearing the CFDA's pro-Planned Parenthood pins on their shirts, New York fashion's attempt to discuss politics on the runway didn't feel cheap or manufactured. It seemed to come from the heart, as so many members of our industry have or will be touched by this administration's rhetoric and policies. At the very least, these sartorial protests were seen 'round the world, and awareness is a big part of the battle.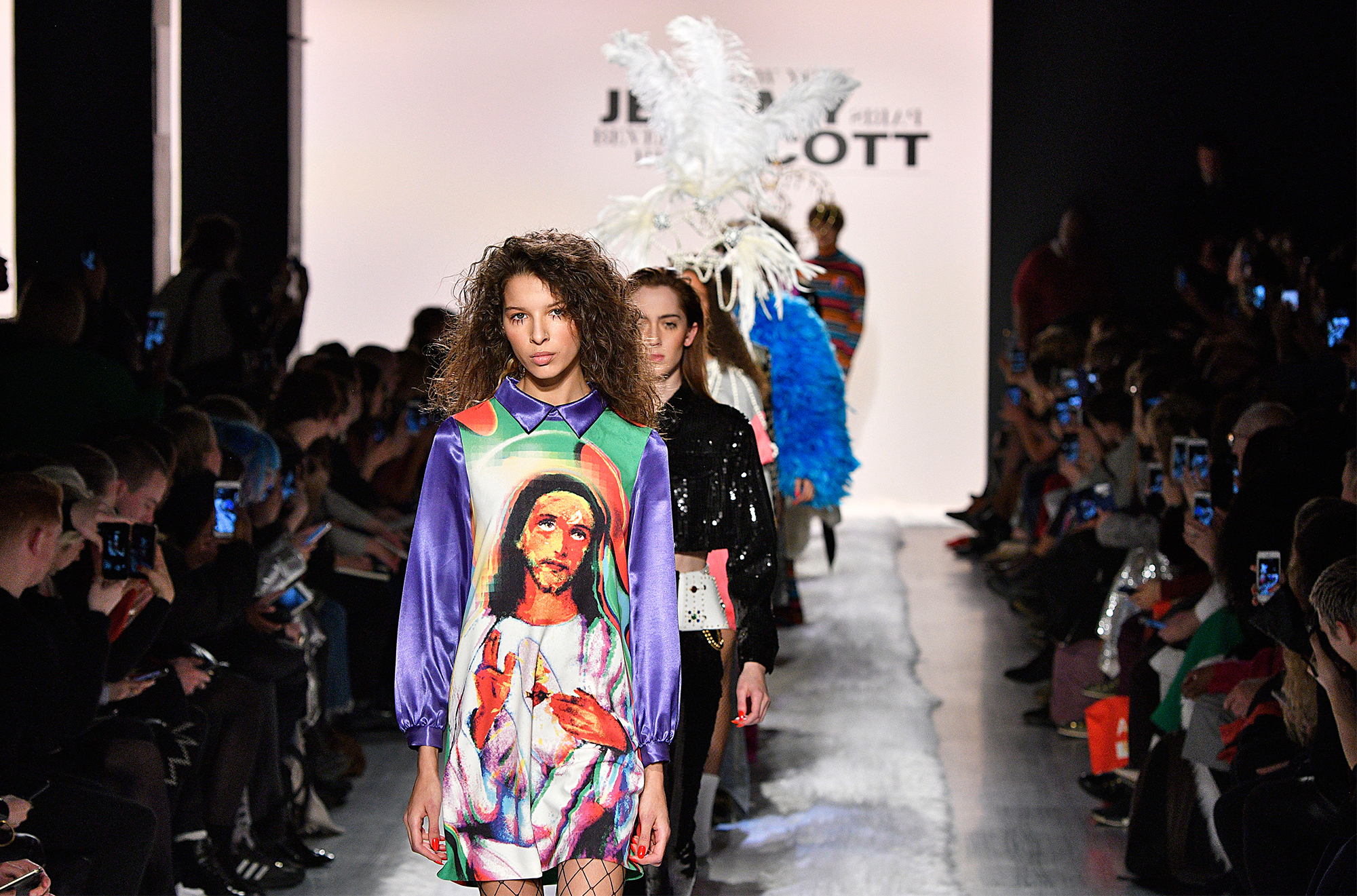 Jeremy Scott
Photo: firstVIEW
Even so, some designers chose to combat the country's political and social crisis not through rebellion, but through beauty. "I think that, as designers, our duty is to fight with beauty and beautiful things," Maria Cornejo told me before her lush Fall 2017 outing. "I think we're such a diverse community and we stand up for everything that is good." Adam Selman, who turned out a characteristically joyful, flower-infused collection, echoed Cornejo's sentiments. "All we can do is support each other, make beautiful things, create, and keep moving forward," he said. "And something will come out of it, something good. We have to remember that."

Zac Posen, who celebrated his 15th anniversary this season, labored over a deliciously decadent collection, filled with ball gowns woven from ribbon, 3D floral appliques, architectural draping, and hand-embellishments. Despite the downtrodden political state of affairs, the designer refused to relent in his quest to make stunning, empowering, impeccably crafted clothes that make women feel special. "We are learning as the world changes," he said, reflecting on his 15-year career. But his mother, Susan Posen, who was present during the intimate Fall 2017 photo shoot which would debut at the designer's presentation later that week, perhaps had the best insight. "Beauty trumps all," she said. Ain't that the truth.
0 Comment