After a scheduling snafu beyond FU's control, I agreed to hit up A.P.C.'s show last minute. Their camp was super accommodating, until I arrived and got kicked out of seats not once, but twice, and then banished upstairs with the fashion week rejects. The shame.

I've experienced worse things though, and my PFW champagne and caffeine buzz was strong—it would take more than a surprise standing ticket to touch my high. But when Jean Touitou got on the mic and started rapping about "arbitrary feelings towards fashion," that champagne and caffeine buzz took a slight stumble. And when, after witnessing first-hand all the courageous collections taking a stand this season against, you know, little things like tyranny, Touitou said this: "You can't imagine—40 years ago, would you dare speak about politics at a fashion dinner? You'd be looked at like a complete moron!" I just about lost it. Who were these people dining with Touitou at these fashion dinners from yesteryear, so detached from current affairs and free-thinking that something like a reality TV "star" in the White House hiring white supremacist and "alt right" idiots to decide the future of our country and the world would be swept under the carpet during dinner, darling, because, you know, fashion? Airheads? Actually, it felt more like an excuse to present a collection devoid of any angle, and as expected, the collection fell flat.
His wasn't the only flat fashion in Paris, but for the most part, collections took one of two stances toward The Impending End of the World—dress defiantly, feigning blissful ignorance of any apocalypse ("what apocalypse?") and slather ourselves in furs and Swarovski crystals like so many mined diamonds, stitching sequins and precious beads to every lace or silken surface, or dress more apocalypse-appropriate, like some stylish but unwashed Occupy Wall Street-ish, trustafarian-esque drifter in repurposed, post-consumer products like soda cans and cardboard boxes.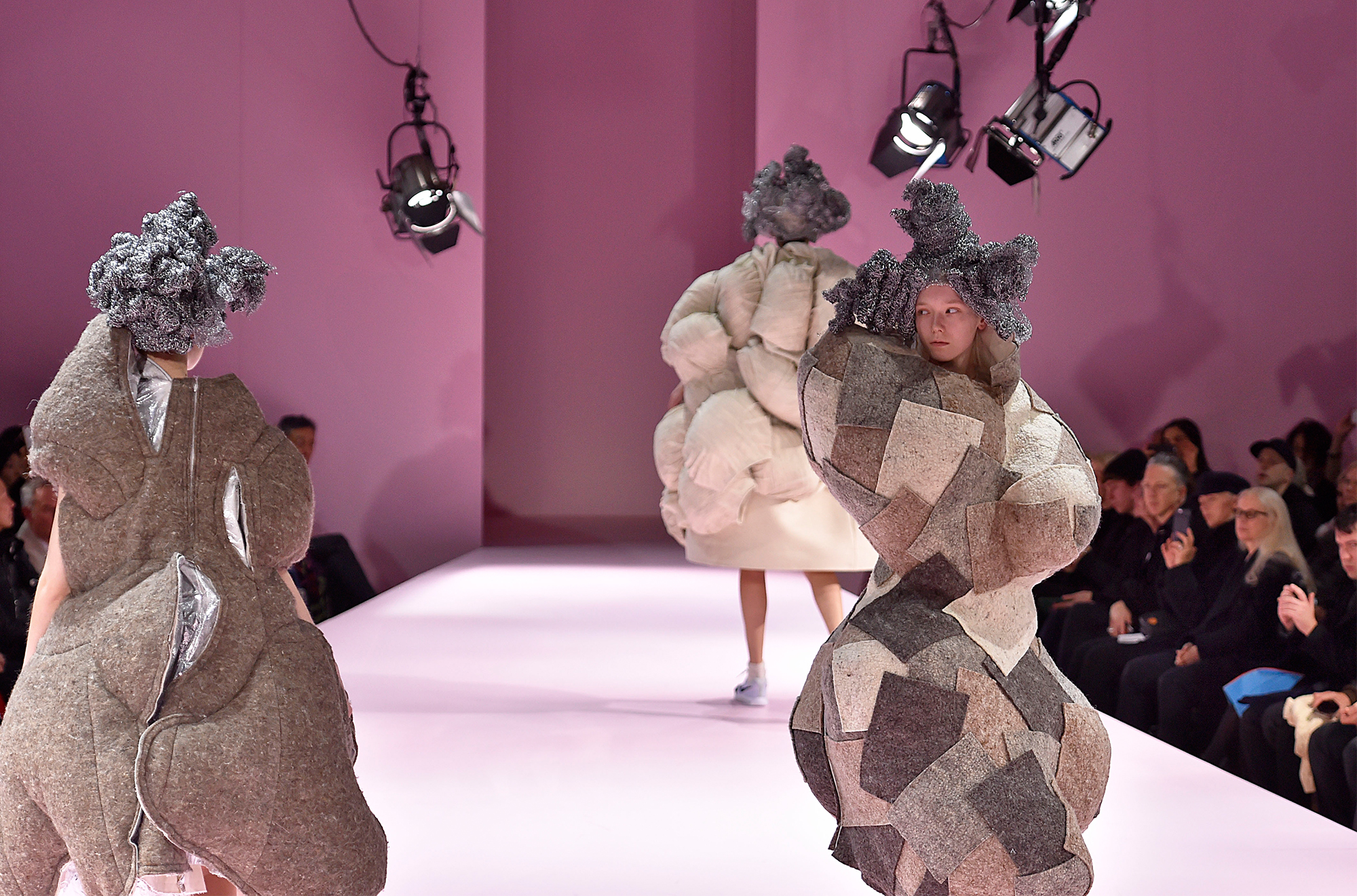 Comme des Garçons
Photo: firstVIEW
I remember in 2008 when Dolce & Gabbana showed its Fall 2009 collection—the recession had hit hard and it seemed like every fashion house was giving us austerity. Print magazines were folding, like, daily, and people were totes behind tightening belts. But Dolce & Gabbana sent the most "fuck you, recession" collection down the runway. It was one luxury fabric after another—mink, fox, astrakhan—in shining gold or the brightest pink, and prints of that iconic beauty and paragon of glamour, Marilyn Monroe, smiling, or straight-up laughing. There was a lot of black, too, which I remember brought to mind a newly minted billionairess burying a sugar daddy 60 years her senior. You know the type—dark glasses, inappropriately sexy black satin statement dress, gigantic black hat, with an "I'm that bad bitch" bright red lip, like, "Recession? What recession? I've got so much money."

So as we cross ourselves, uttering that trinitarian formula, or any and all other denominational self-blessings you'd perform pre-Trumpocalypse, let us forget and dress up. In Valentino perhaps, whose collection must represent, give or take, about a bajillion work hours—so much lace, embroidery, and beading, just every inch exquisite, and most at home being waited on in palatial reception rooms among aristocracy. Elie Saab gave us gowns in jewel-colored lace and velvet or rippling chiffon, some printed like Georgia O'Keeffe flowers, some embroidered, beaded, and embellished that looked like Tiffany's stained glass windows with coats in brightly colored fox fur and marabou feathers on hems. Lanvin showed baby pink or black satin gowns with lace and chiffon, ruffles, fox fur, marabou—you know the drill by now. Saint Laurent—edgier but still the sparkling, embellished velvet dresses. Chloé—lace and floral-print frocks, also velvet, also fur. Rochas—crystals, tulle, and that gold, three-tiered fringe frock. I mean. Giambattista Valli, Paule Ka, Zuhair Murad, Dior, all deeply divine.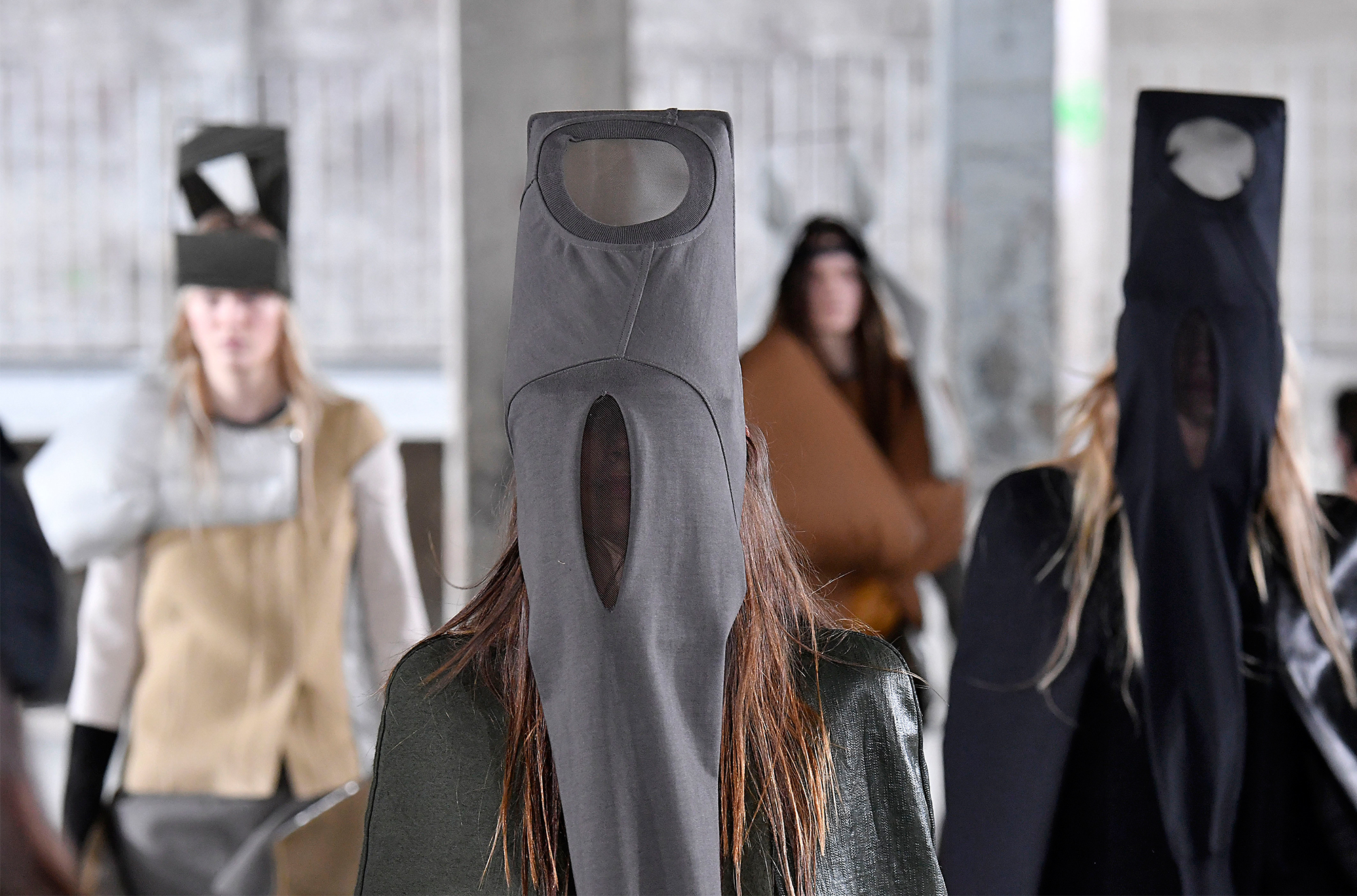 Rick Owens
Photo: firstVIEW
Then there was the inverse. At Andreas Kronthaler for Vivienne Westwood, one model actually had soda bottles and lint rollers piled on top of her head like a Marie Antoinette pouf, but in the Upside Down or like Amy Winehouse after a particularly adventurous and eventful late night pub crawl. Plastic bags and cardboard packaging paired with oversized items that looked like hand-me-downs or ill-fitting trashcan finds, paint-splattered or shredded, poignantly repurposed and post-consumer. The bobbly Comme des Garçons offerings ("ready-to-wear" is perhaps applied loosely here) were made from construction materials like insulation padding, compressed fiberglass, or that multicolored recycled paper you might have made in preschool. One dress resembled a giant brown paper bag, and another recalled those foil wrappers they hand marathoners as they cross the finish line so they don't die of hypothermia. Many of Rick Owens' pieces appeared to be stitched together from multiple pieces of clothing, like shirts sewn into the side of a skirt, or a sleeping bag attached to the top of a jacket, and of course, those gas masks made from the neck and sleeves of sweaters. Sacai, Sonia Rykiel, Junya Watanabe, Yohji Yamamoto, Esteban Cortazar, Bernhard Willhelm, Acne Studios—all gave us something of that trash heap chic, patched together from various found materials.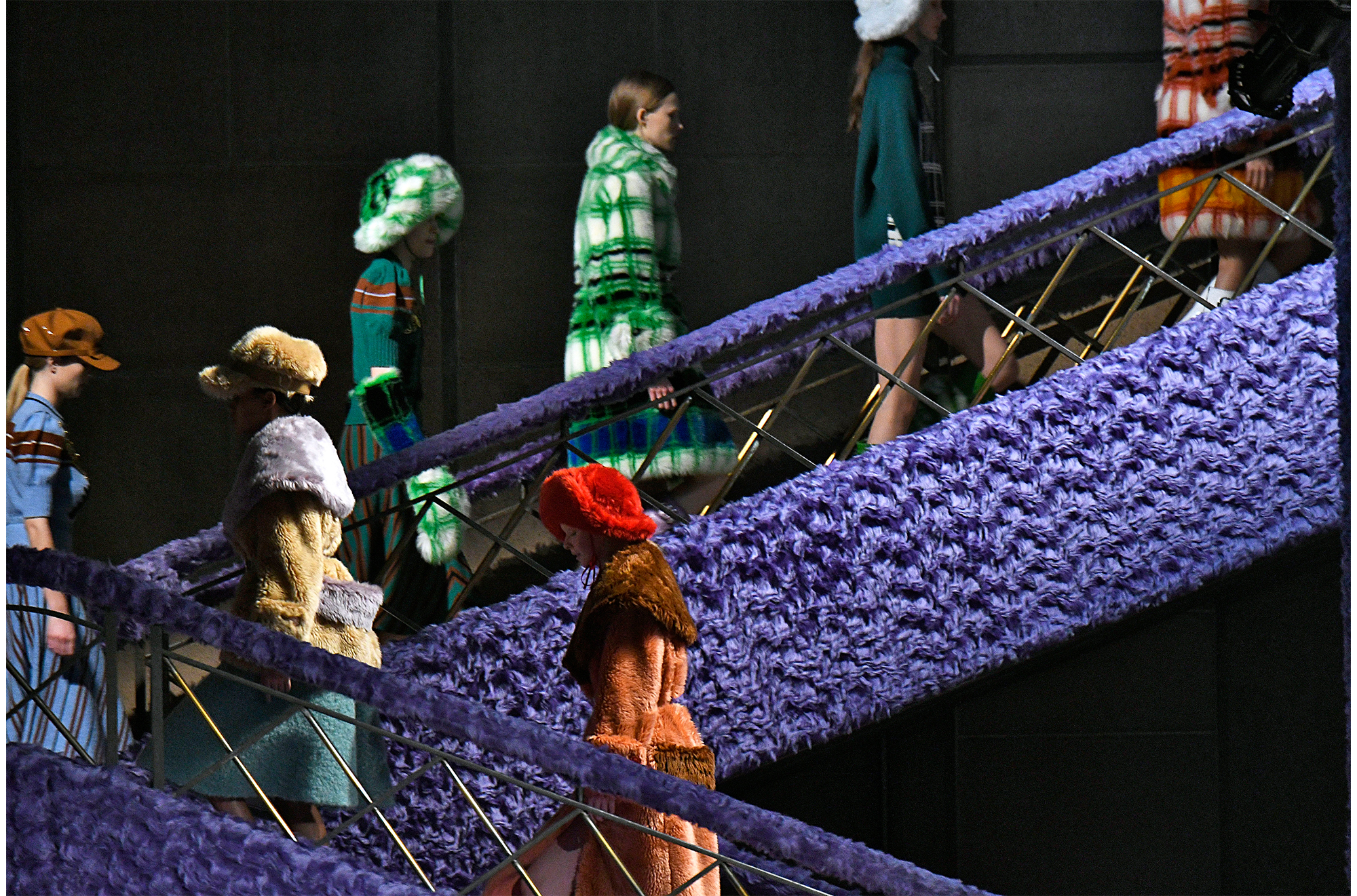 Miu Miu
Photo: firstVIEW
There were some brands, though, that fell somewhere in the middle—Miu Miu looked fabulously expensive with big fur coats and hats, oversized sequins, and glitzy jewelry, but all done with an overdose of eccentricity that took some looks into that "questionably homeless old lady in the big, bright fur coat who smells like pee but could easily own a $10 million apartment on the Upper East Side that's been vacant since she lost her marbles" space (she's been looking for those marbles ever since). Or Balmain, that looked like it could've been costume designed for Tina Turner in Mad Max Beyond Thunderdome—leather and all sorts of other animal pelts, seemingly skinned and tanned by hand, worn with chainmail and gold embellishments everywhere—post-apocalyptic, warrior queen-chic and extremely pricey.

While only a handful of these Paris shows were in direct reference to politics (less in fact than the shows in London, New York, and Milan), they were all part of the conversation. They were all products created by people living in this world and experiencing the decisions that shape it. I think Andreas Kronthaler said it best backstage: "It is as much my place as anyone's to be political, and that's not to say it necessarily is or isn't my place, but we are all affected and we must all be conscious of what is going on." In other words, there should always be an angle—be fabulous, be responsible, be both. Be aware, or be woke AF. Just be something.
0 Comment