It's fair to say that most of us lurched awkwardly into the New Year, tripped up by the events of 2016. Even those without a political bone in their bodies had something to proffer on Trump, Brexit, and Syria. Fashion responded in the only way it can: creatively. Designers reacted not only through clothes, but set design, makeup—even papier-mâché.

The runway became a plinth where opinions, horror, and hope were all given a good airing out. It was in this maelstrom that we entered the newly renamed London Fashion Week Men's. The "week" (four days, really) started on the 6th, which, to be brutally honest, was far too early for us to get our heads around Planet Fashion, when the world seemed like it was falling apart.
But Fashion called, so we went. And oh, lord, what eye-openers awaited.
The first show, Topman, was telling. It had us ask: In this climate, is business as usual good enough? Here, the sinister side of the fashion industry stung hard. Topman showed an exuberant collection, full of hope and colors, while, in Miami, its owner, Philip Green, sat in semi-hiding, disgraced after the BHS scandal that left employees bereft of their pensions and pride.
MPs are currently mulling over whether Green should be stripped of his knighthood and be forced to pay back several hundred million of the pension black hole. And it was lost on no one that Green's ersatz friends who merrily snuggled up to him in the frow in seasons past have been absent since last year's scandal. Where have Kate, Cara, Naomi and Anna gone? Are fashion friendships really this shallow?
Labour MP Frank Field last November called Green and his conduct "the unacceptable face of capitalism" and said that Green should "face up to the evil that he has done in destroying BHS, workers' jobs, and pension fund liabilities. There is a need now for him to do something about it, which is write that big check."
"This is the man that's responsible for the destruction of 11,000 jobs, putting 22,000 pensions at risk. [Green] said he was going to 'fix it, fix it, fix it,' and he hasn't done so." And as I write, it still isn't fixed.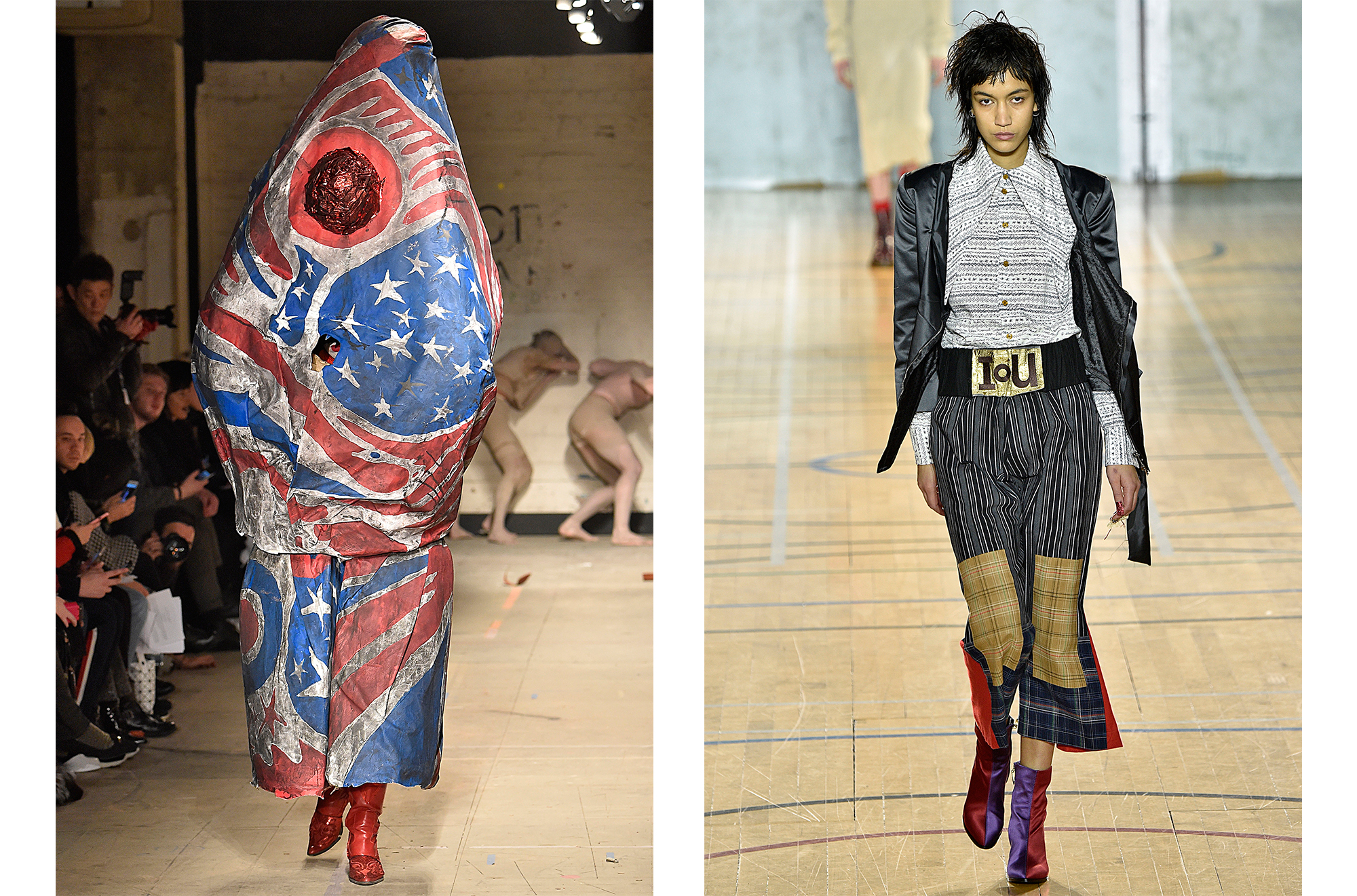 Charles Jeffrey Loverboy and Vivienne Westwood
Photos: firstVIEW
Of course, the Topman show didn't and (couldn't, really) register that grave indictment. Instead, it screamed, buy buy buy! It left a bitter taste. Whether the consumers will cotton on and punish Green through their wallets remains to be seen.
As the Telegraph's Stephen Doig so astutely pointed out, this corporate skulduggery was laid bare at the Vivienne Westwood show. Said Doig, "Thrust down the catwalk on furiously-paced models in a series of twisted, contorted forms: the capitalist boss gone wrong. [Westwood] shredded apart the uniform of the elite establishment—bankers' Eighties attire of boxy double breasted pinstriped suits with oversized lapels and exaggerated shoulders picked about by her bubbling Westwood laboratory and thrust down the catwalk with 'IOU' scrawled on belts, blazers worn sans trousers with matching bloomers and false crowns cobbled together... the court jester taking over the asylum."
Not surprising that Westwood's activist antenna was well-pinged by Green, but the more serious question is BFC's silence on Green and his company Arcadia. Given how much Arcadia is involved in the LFW schedule, to not say anything suggests the BFC simply doesn't care about piddling things like pensions. But why on earth should anyone care about the mere staff—they are the bottom feeders of the retail value chain. Let's pay Instagram stars £40,000 a post!
A few shows later, I was sat next to two banker types who amused themselves through the long wait by telling each other their best Brexit jokes, like this one: "What's different about Christmas dinner after Brexit? No Brussels."
Laughing face emoji, right? But is Brexit remotely funny?
It depends on whether one sees change and uncertainty as good or bad. Pundits are like pollsters—no one can predict what is going to happen, try as they may. The only thing we know for sure is the past—the future remains a crap shoot. And the immediate past shows that the diving pound meant an unexpected boon for British retailers as international shoppers took advantage. Those savvy Chinese and Middle Eastern buyers!
Conversely, the pound dropping meant that production is more expensive for British designers if they're buying their zippers in Germany, wool in Italy, leather in Spain, and manufacturing in Taiwan. And most of them are, in some varying formula. So it costs more to make a collection since Brexit, but yet more merchandise was purchased. A leveling out of the playing field, and even more important now than ever to play nice with overseas consumers, suppliers, press, and politicians alike. This was not lost on BFC's Caroline Rush, who commented:
"We have a point to prove to our [Fashion Week] guests that the vote to leave the E.U. doesn't mean we're going to end our international partnerships and collaborations…We need to send a clear message that London is open to outsiders and the U.K. is a place of business opportunity."
With this recent LFWM, the teeming Asian buyers, long queues for presentations, and even a few scuffles at the door (men's fashion weeks are always a tad more aggressive) proved that is exactly what was going on. Business deals were being chased with as much aggression as hook-ups, and the atmosphere buzzed with it. So, for now anyway, the scorecard reads Fashion: 1, Fear: 0.
Probably the most calming show that soothed post-Brexit jitters was Margaret Howell, who has quietly and confidently been in business for 40 years. Look at it this way: 40 years of business means Howell survived all the events that would seem unsurvivable—market chaos caused by the IRA, the Falkland War, the Gulf War, the Pound Crisis, 9/11, 7/11, the tech bubble, credit crunch, and ISIL. Damn, if she came out of all that unscathed, a little Brexit should be a piece of cake. In fact, it was the normalness of the clothes that was so reassuring. The safe knits, the comforting earthy color scheme, the sturdy trouser—she is fashion's emblem of "Keep calm and carry on," unlike Christopher Shannon, say, who played on the "Boss" logo with a sweater that said "Loss" against the Euro flag, or Matthew Miller, who went less subtle and just threw blood red makeup on his models. But with Howell, it was steady as she goes. Keep going, ma'am, as long as you are in business, somehow the world feels safer.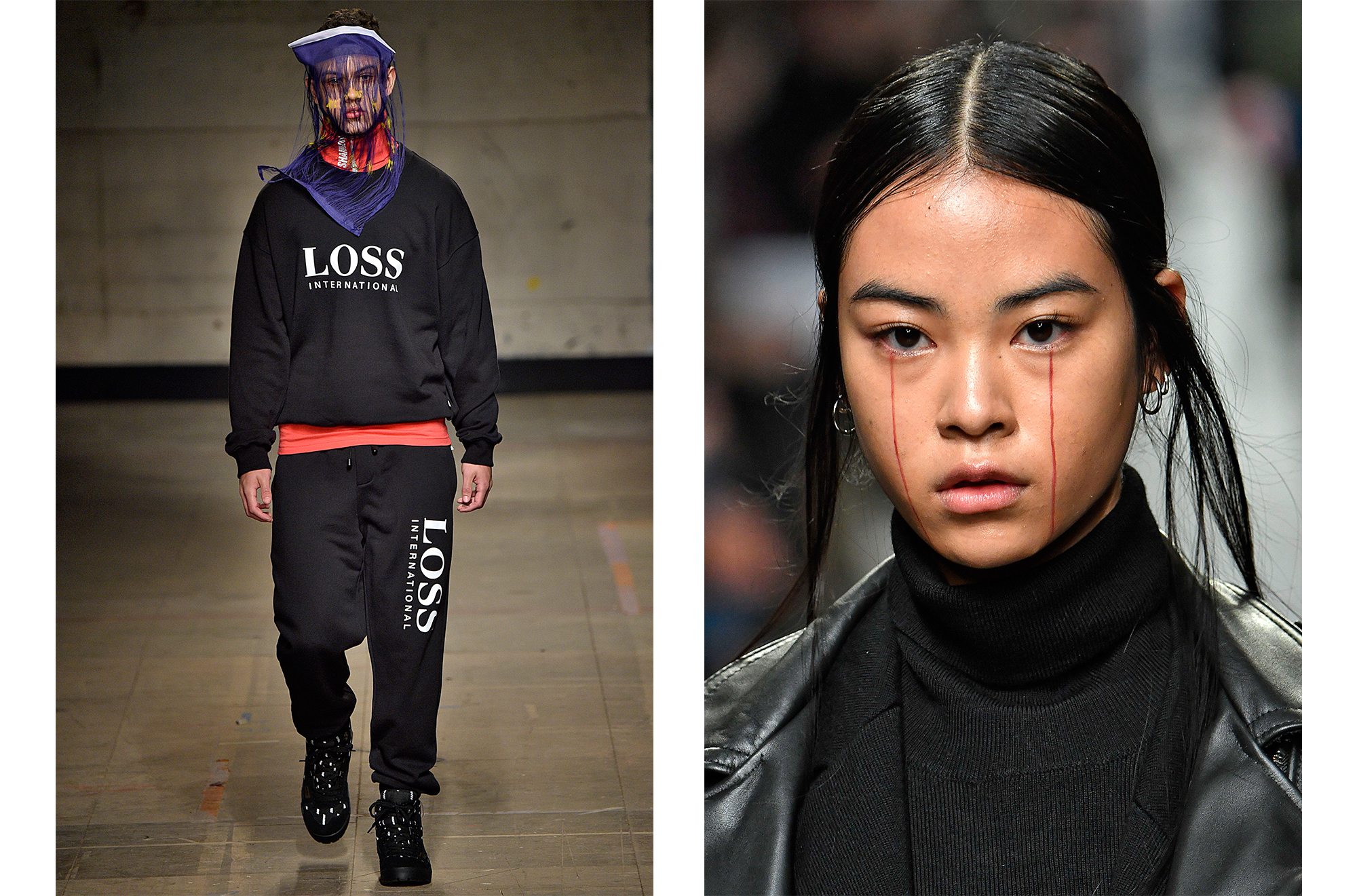 Christopher Shannon and Matthew Miller
Photos: firstVIEW
But perhaps no event affected fashion as much as the Trump debacle did. The liberal news media and Clinton supporters are still openly smarting on Instagram, Twitter, and column inches, like a malcontented nest of vultures, pecking away at their open sore that is Trump. So while Obama dramatically dabbed eyes through his final speech, Trump came out guns blazing in his first press conference as President-elect. The pugilistic tone of yesterday's conference proved to many exactly why they are dismayed, yet some saw the Trump issue in a humorous, positive light.
I'm talking about Gary Card, set designer extraordinaire, who decided to create huge papier-mâché things he called "deities" for the Charles Jeffrey Loverboy show. One of these imposing masses had a mix of the U.K. and U.S. flags, and yes, it was purposefully immense and overwhelming—as is the situation. It was a scary-yet-hopeful reminder of the power of working together: Pull together, as Obama pleaded in his farewell speech, and we can too shall overcome. Right? Ermm, maybe not.
When is pulling together just being hypocritical? Put LFWM aside for a minute and consider this: For months, Anna Wintour went off-piste as Artistic Director of Condé Nast and became an active fund raiser for the Clinton campaign. American Vogue, for the first time in its history, threw its support behind a candidate and frequently mocked Trump on its website during the campaign. They plumbed new depths of low, following closely on the heels of the Kardashian West cover.
Yet Wintour and Condé Nast bet on the wrong horse. And shockingly, hypocritically, she swallowed that pride and asked for a meeting with Mr. Trump. Why? To mend Fences? Apologize? Kiss ass? Try to get Ivanka to do a cover? Who knows what the motive was, but one thing is certain: That must have been a humiliating backpedal for Wintour. Trump hasn't said anything publicly about the meeting except to calmly, even in bored tone, announce on Twitter (Where else? The New York Times? CNN? Thought not.) that "Anna Wintour came to my office at Trump Tower to ask me to meet with editors." He's stayed mum about it since, suggesting nothing of note really happened at all. But ugh, the optics for Wintour are not good.
Conversely, Trump name-checked Bernard Arnault in yesterday's lion den of a press conference. How telling is it that the President-elect would drop the name of a French fashion powerhouse rather than an American powerhouse, who is maybe losing her grip on said power.
The tide is turning, the power is shifting, it is palpable everywhere. Going up: Twitter and independent media. Going down: mainstream news. Going up: public opinion. Going down: liberal news editors trying to push an opinion. Going up: watchdogs. Going down: the deeply corrupted.
So this London Fashion Week Men's, with its buzz, crowds, and both silly and brilliant fashions, sent one clear, united message: London fashion is reacting to the international turmoil around us. Never say that fashion doesn't care.
0 Comment