It's no deep secret that London Fashion Week Men's has seen some challenges since it started. It launched with a whole lot of fanfare five years ago, and some big boy marquee brands (Tom Ford, for fuck's sake, Alexander McQueen, Jonathan Saunders, all those Savile Row brands steeped in the history London does so well) as well as cool kids (Craig Green and Bobby Abley, with all his roadman swag, for example). The list of ambassadors read like Lily Cole's Christmas card list—Douglas Booth, David Furnish, Tracey Emin, David Walliams, Dermot O'Leary, U.K. rapper Tinie Tempah, and of course, David Big Dick Gandy, among others. A poker-faced Dylan Jones (OBE) got some serious wind in those stylish sails, and the roles played by Gordon Richardson from Topman and Lulu Kennedy from Fashion East can never be overstated. The British Fashion Council presided, and menswear mavens everywhere were positively tickled pink—British menswear was having a moment. And then Burberry! Hallelujah. Second season, and they signed on! OTT shows in a fuck-you money tent in Hyde Park. As Biggie once said, "It was all a dream," and the dream came totally true. For a minute.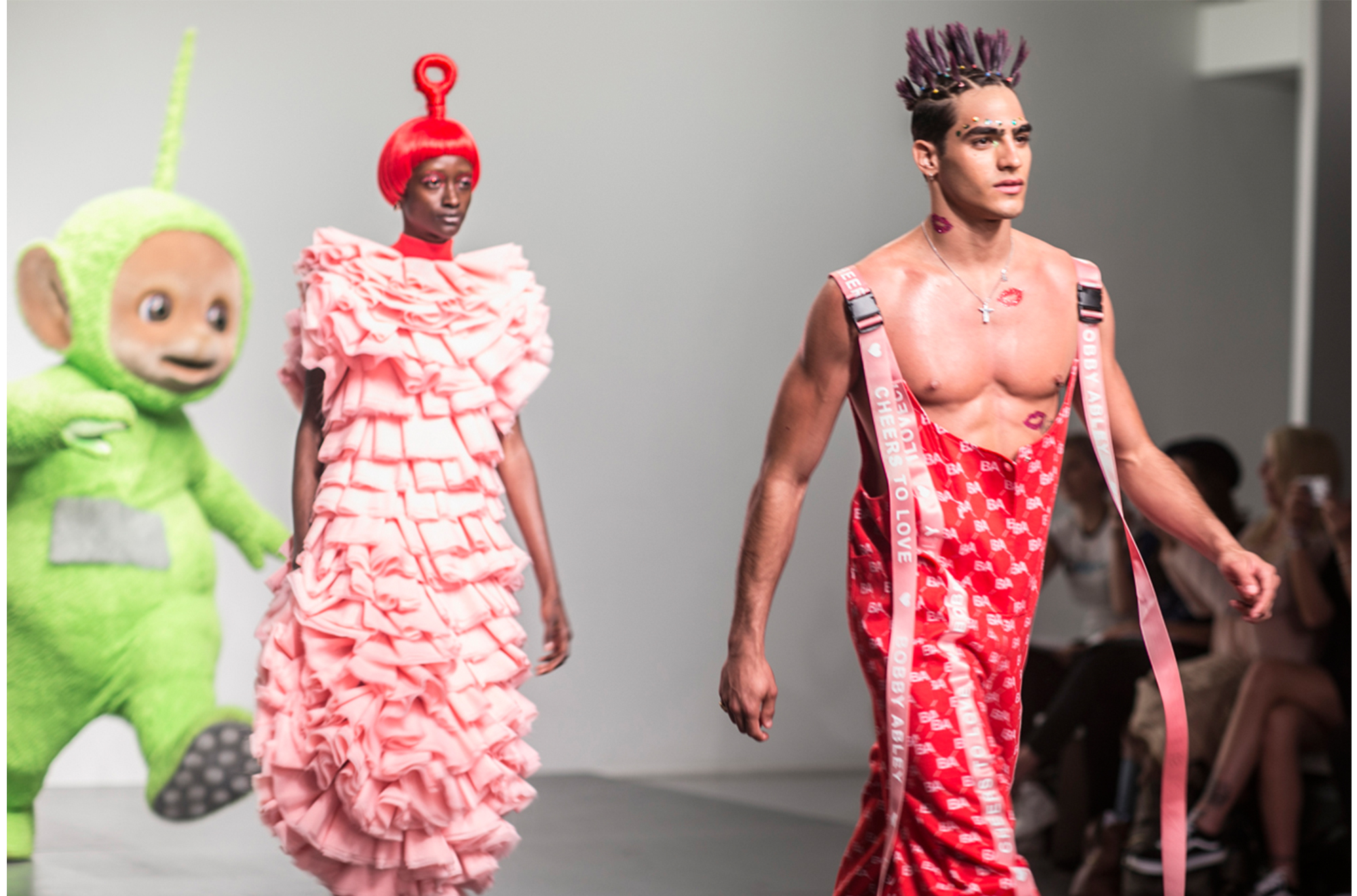 Bobby Abley Spring 2018
Photo: William Buckley
Fast forward a few years, and this season—the event's fifth anniversary—is a bit of a different beast. There is no Tom Ford, no McQueen. Burberry held a breakfast where there weren't any clothes on show (the brand has led the way in mixed-gender runways and will present men's and women's together in September), and like Carrie Bradshaw, I did have to wonder, as I stood surrounded by the same people I'd been with for the last few days, why everyone in the room had felt compelled to drag their arses up to Burberry's central London store at double-oh-Christ in the morning for a glass of orange juice and a few hors d'oeuvres. Everyone was there, though! Mr. Tempah, Tom Daley, all the Davids and the Dermots, and of course every editor and major buyer.
When I say "every editor" though, that's a little misleading. "Every editor" wasn't there. Of the big U.S. pubs, only a handful of folk attended. Not specifically the Burberry breakfast, but London Fashion Week Men's in general. Many of the usual suspects I expect to see were no-shows. A few turned up this week for Pitti, and I'm all like, "Were you in London? I didn't see you?" And they weren't. Either they said they didn't care (which boiled my blood, but whatevs), or they said their pubs didn't send them because there weren't enough advertisers showing for it to make sense financially. I'm sure that's true. If the suits can't see those dollars dropping down, it's axed. Which is a crying shame in so many ways because, hello!, editorial, church and state, etcetera, but that bottom line, baby, it's a bitch.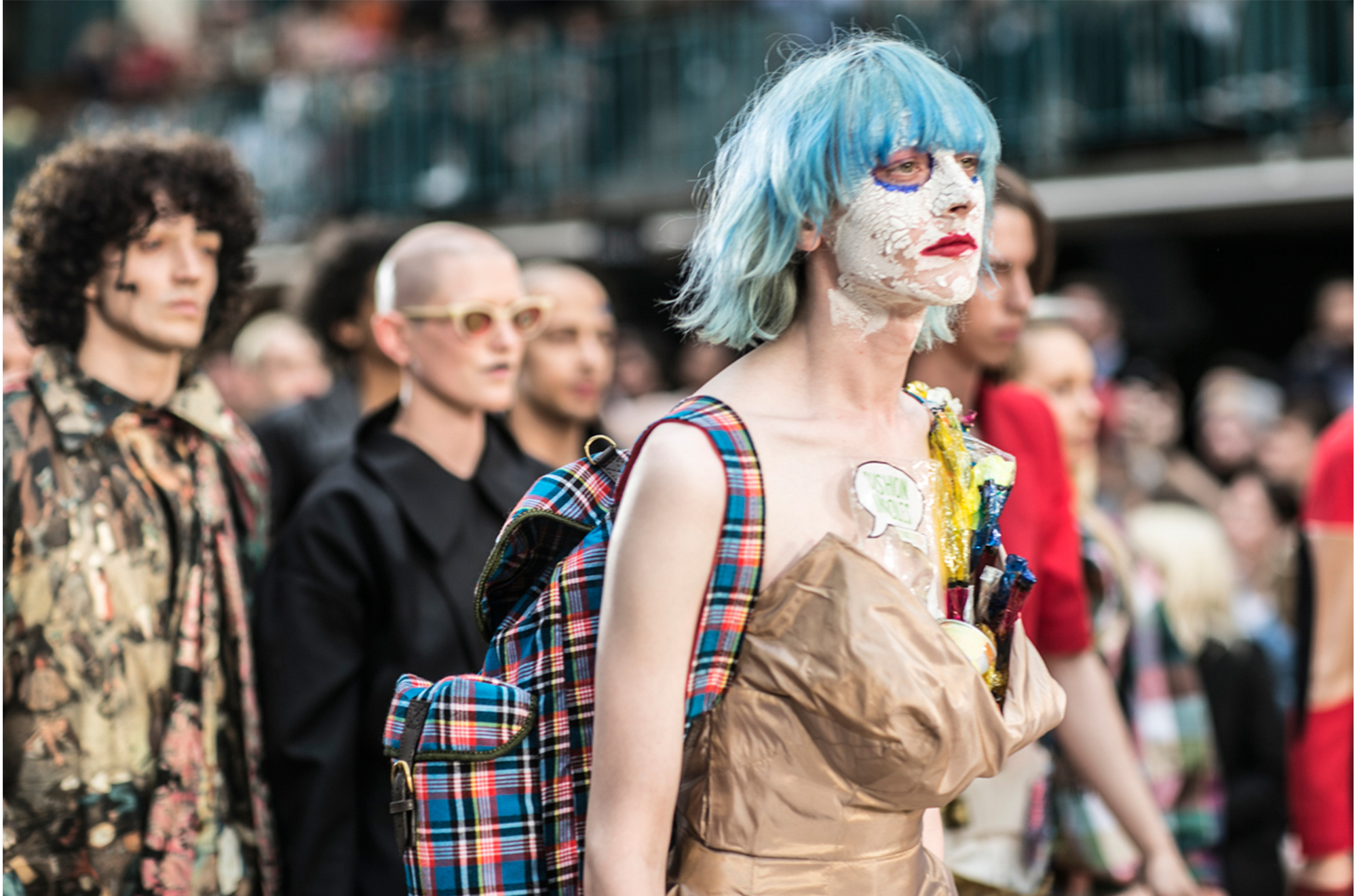 Vivienne Westwood Spring 2018
Photo: William Buckley
Beyond dollars and cents and nickels and dimes, and no Burberry show and no Tom Ford walking us through his collection in his London showroom with more elegance than God ever gave anyone else ever, London Fashion Week Men's this season was spectacular. If you missed it because you just didn't want to be there, well, shame on you, and if it was out of your control, my condolences. I may be a bit biased. London's my home town and I appreciate all the fashion the city has to offer, and the designers Lulu Kennedy and Fashion East have brought up alone give me goosebumps. It doesn't hurt that she's also about the coolest fucking chick in the business, but Matthew Miller, Liam Hodges, Katie Eary, Craig Green, J.W. Anderson, Charles Jeffrey Loverboy, Bobby Abley—boo-fucking-yah, that crew is doing some of the most exciting stuff in fashion right now, and if anyone cares to contest that, come step outside. Let's talk.
No shade to the other fashion capitals—I'm super psyched for Milan and Paris, and Pitti's been a trip, J.W. and Off-White just for starters, and my full Pitti recap will be live asap, if I don't die first—but there's a different excitement in London. Yeah, I'm excited for Prada, Balmain, Balenciaga, and the rest of that gang, but again, it's a different type of excitement. These young London designers are gritty, they're edgy—they're London, innit? And the collections these kids turn out are products of that explicitly.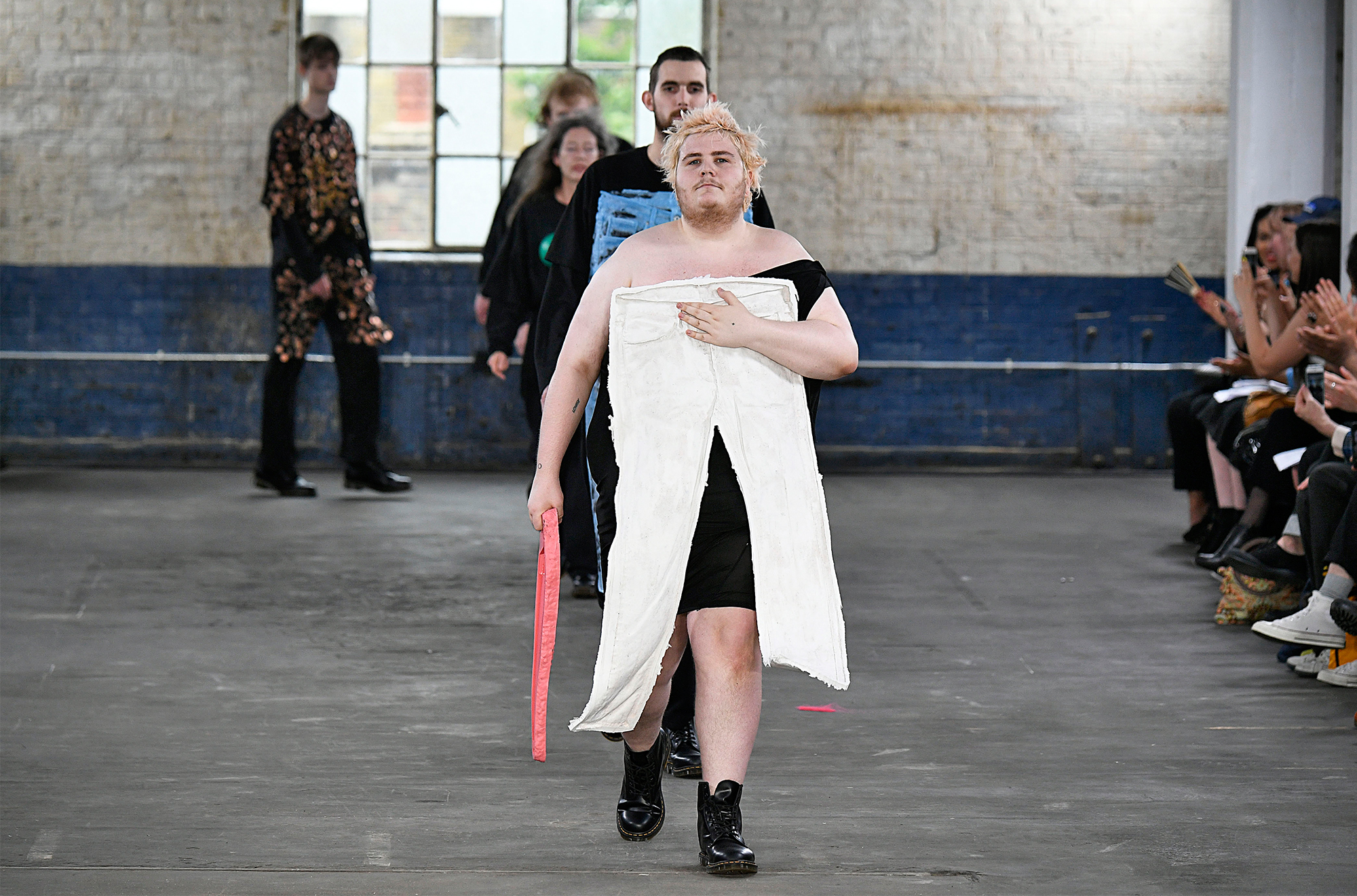 Rottingdean Bazaar Spring 2018 at MAN
Photo: firstVIEW
I asked Richardson what he thought about some of those big brands pulling out, and LFWM five years in. "If I was a politician I'd probably answer the question better than I'm going to," he said (cos he's a doll), "but in terms of the underground with MAN and the newer designers, menswear in London is amazingly alive. There's such a youthful spirit. We've got some great designers that have come up through MAN like Liam [Hodges] and Matthew [Miller], and actually, I would hate for them to get overshadowed by the big brands. I understand why we need them there. It's important to get all the buyers in, internationally, and they're the big players, but for me, it's always been about the new, emerging talent. They're the future. People worry so much about the big established ones, but we're here to help the young ones." Richardson is a bona fide G.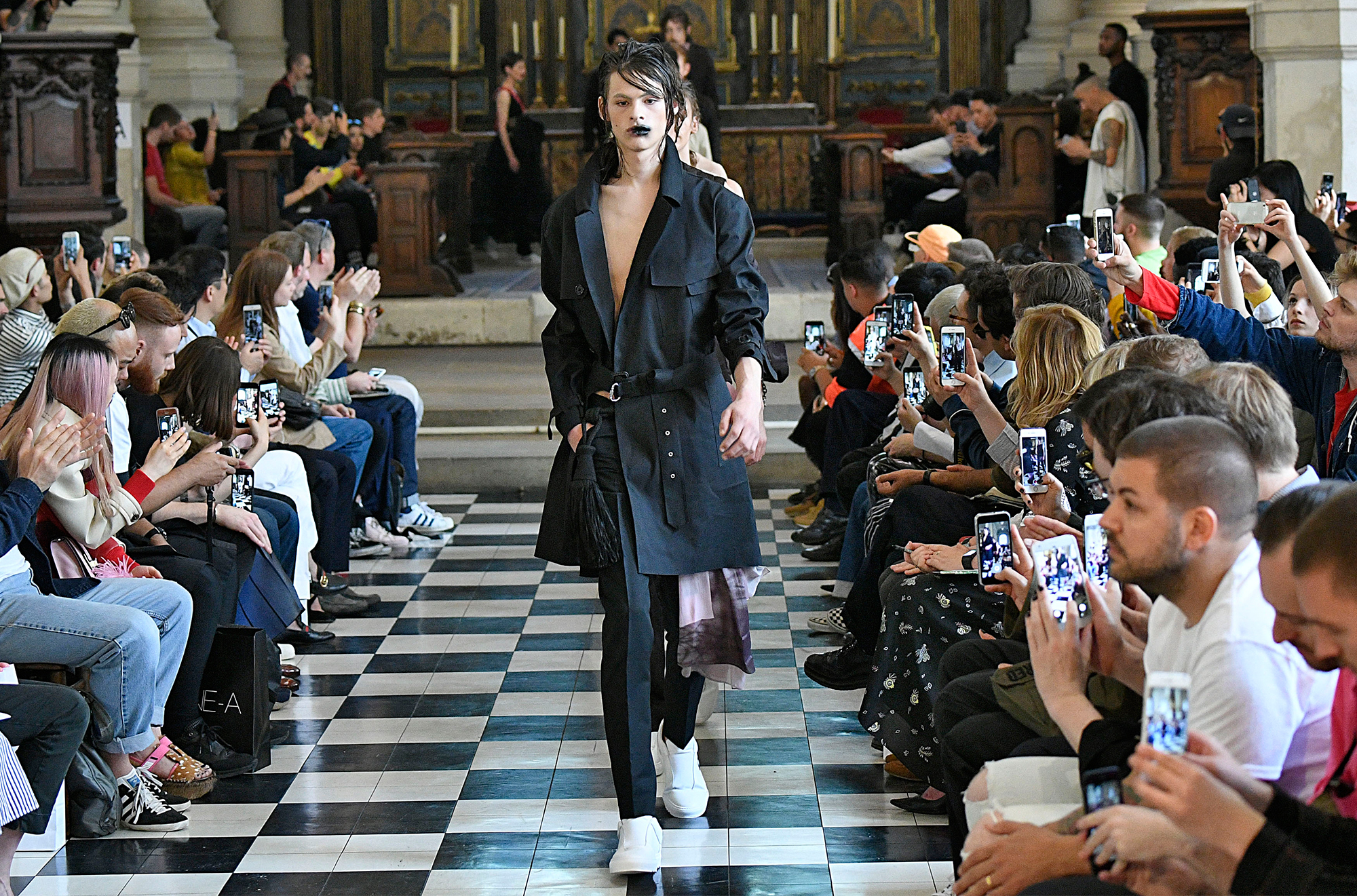 Matthew Miller Spring 2018
Photo: firstVIEW
While yes, the BFC is definitely up for the big brands, or really any brand who can help support the week financially, which, like it or not, is what will keep this whistle blowing, BFC CEO Caroline Rush does confer. "Each season we learn how we can process a lot of the business side better. Reflecting back, we've had incredible periods, but when we first started it was about the contemporary brands, it was about young brands. Then we had the likes of Burberry and Coach, who've been in and out for different periods, but I think that core that we started with, which actually is the core of what we have today, is incredibly strong, and it's really about that unique positioning of London." Totally agree, Caroline.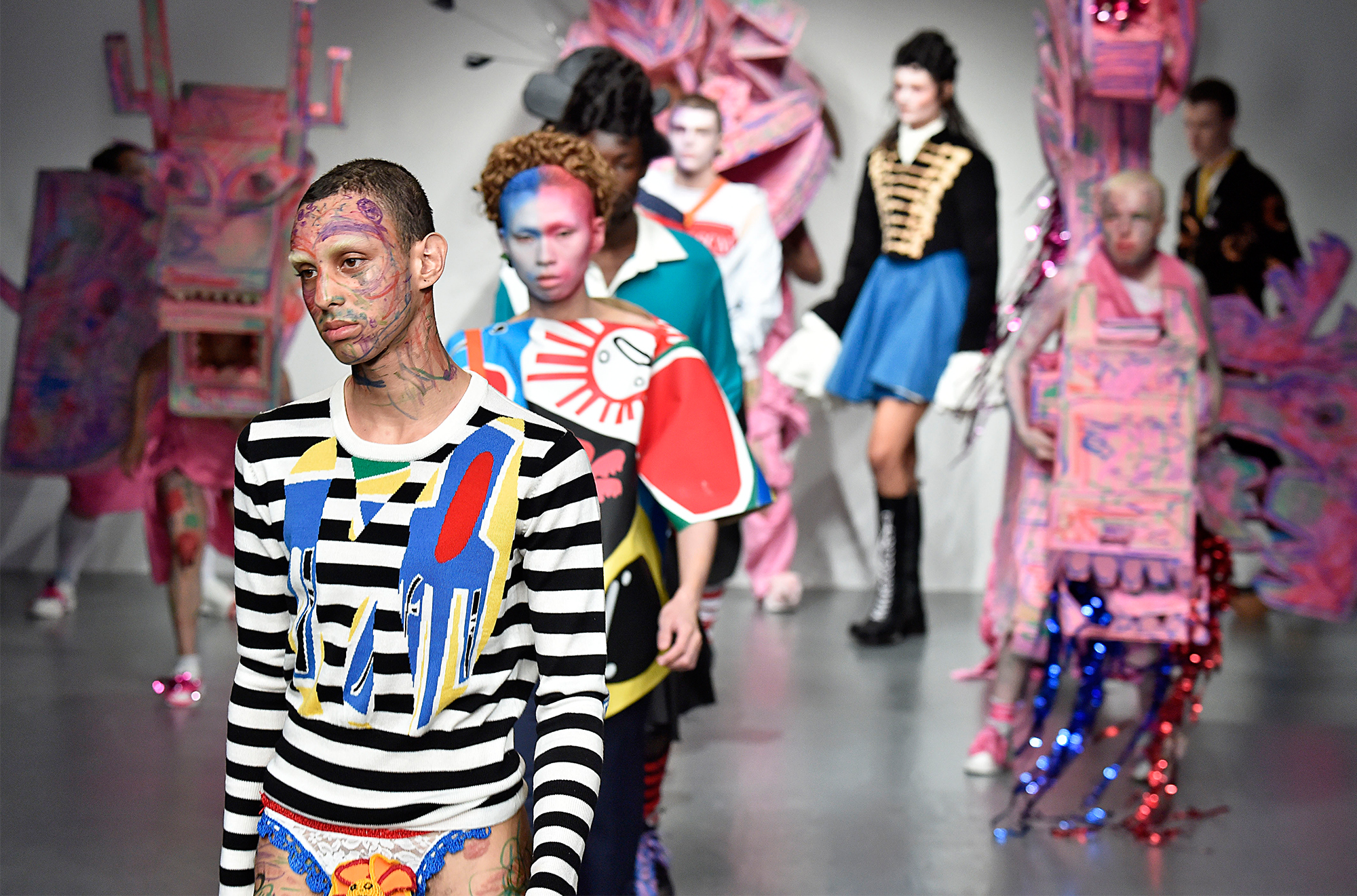 Charles Jeffrey Loverboy Spring 2018
Photo: firstVIEW
So how do we do that? How do we maintain the essential structure that Kennedy and Richardson originally envisioned? Where do we get them GBPs? Richardson suggested the government, which yes, absolutely, the government should be helping to support the industry, and although the Tories got back in with that heinous deal with the DUP devil, Labour made some big moves. The Tories aren't gonna help—nah, no way. Under them, the arts will be cut like Sinead O'Connor's locks. But look! Look at the success of J.W. and Craig. We have to fight the good fight. I bumped into Kennedy at the Bobby Abley show. Ella Dror, another London fashion powerhouse who deserves plenty of props for pushing that new London talent, was taking Kennedy to her seat and I snuck up for a quick word. "We need funding, plain and simple," she said. "It's always been about the new talent, that's the lifeblood of London fashion." I can see that stuff's a struggle. You get ground down by the push back, and all that austerity and the changing face of retail, and it's one hundred percent a hustle, but as far as new fashion talent's concerned, London Town is where it's at, and mad congrats to all those mentioned in this piece for their support of London menswear. For me, this fifth anniversary was fire.

0 Comment