Milan never ceases to amaze me—a city that's earned its rightful place as one of the most progressive fashion capitals of the world, but still doesn't take American Express. I know, there are some places, even in America, that do not. However, after a quick lunch on the first afternoon in Milan at a sparkling new spot that looked like it must be the Pret of spaghetti, just steps from the Duomo, which is surely the biggest tourist destination in this most cosmopolitan city in a country that almost ruled the world, I was told they could not accept my American Express. Of course, I should have asked first, but given the area and the appearance of this place, it didn't cross my mind. Unfortunately, all I had was that and a wallet full of sterling. I was pointed in the direction of a place that said "change" and was asked to leave something behind as security. I left my American Express, and the thought did cross my mind to just abandon it (I have two others) but instead I stood in line in minus two-degree weather, was asked to fill out a myriad of forms, produce my passport, and after all that jazz, got 70 euros for the 100 pounds I had in my pocket (I should have gotten 115).

Anywho, nbd, I tried to get a taxi back to the hotel—no taxis. When you're getting a taxi in Milan from a hotel, they just wave a magic wand and it arrives three minutes later. Trying to get a taxi on the street is like trying to grab goldfish in a bowl—they slither right through your fingers, and disappear off into the distance. Whether they have their lights on or off is of zero consequence—that taxi will not be stopping for you. I left the Missoni show and tried to get a taxi to Prada. I had an hour in between, but after I'd walked 30 minutes, I gave up, and just kept walking the remaining 30. I walked and edited as I went, hands freezing in the winter wind. I stopped in at a bar to use the bathroom and my vexation over Milan's increasing list of shortcomings was balanced out. The bar had a large format espresso machine so I was able to order a prosecco and a cappuccino—four euros. In New York, if you ordered a cappuccino at a bar, they'd look at you like you were mad. This cappuccino also had a design in the coffee froth executed by your typically drop-dead gorgeous Italian man, and in this case, a happy hybrid of barista and bartender. I arrived at Prada right on time.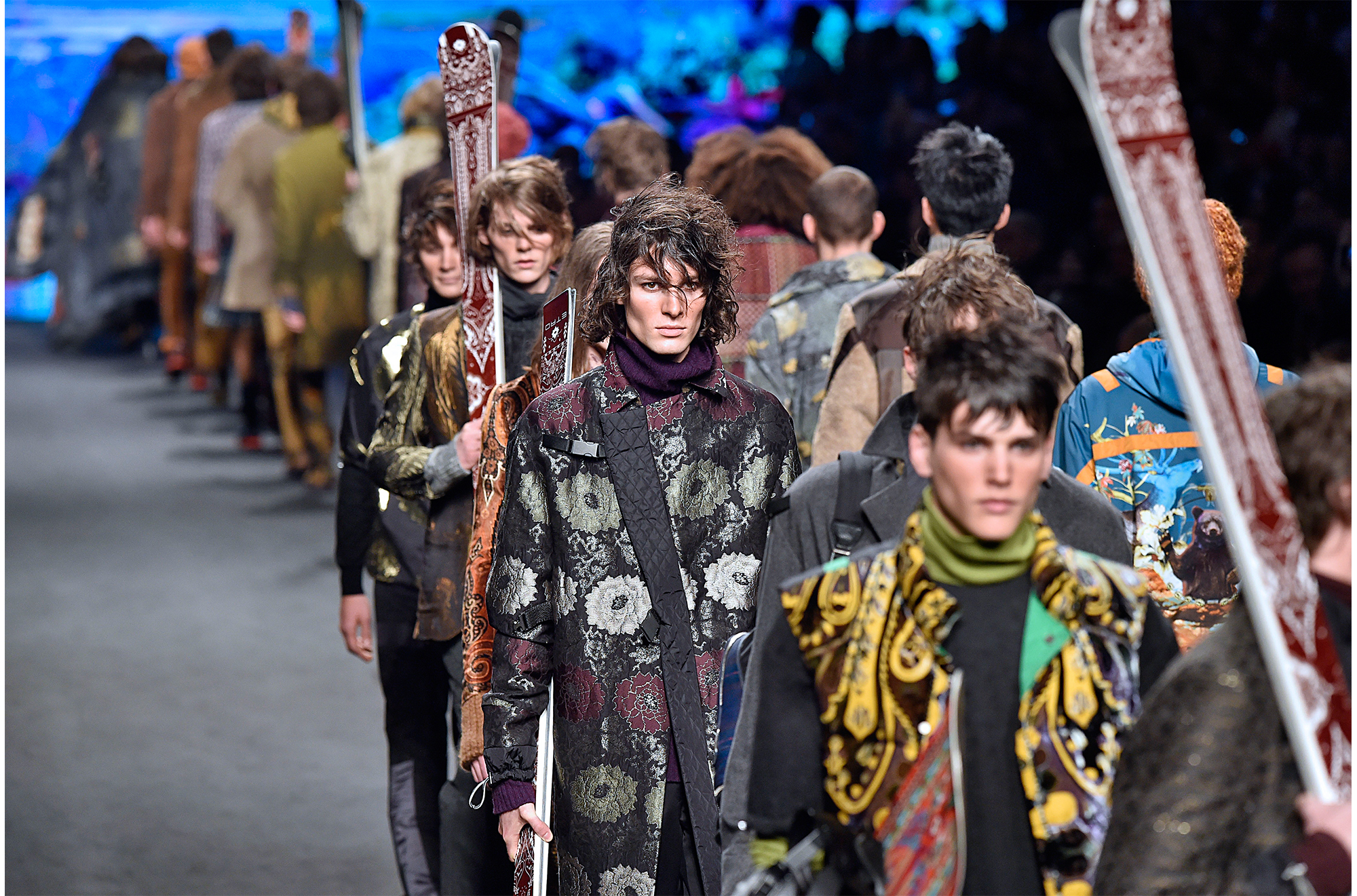 Etro
Photo: firstVIEW
Trying to get from Moncler to Dsquared2 was another impossible task. I ended up bandying together with Bloomberg's Moti Ankari and blogger Anthony Urbano to get an Uber—yes, they have Uber, but the cost in Milan is like highway robbery. If they shouted, "Stand and deliver!" as you got into the vehicle instead of, "Buongiorno," it would be far more appropriate. We also scooped up a stranger, an editor from Antidote Magazine, who was wandering in and out of oncoming traffic in utter despair, and 20 minutes and 115 euros later, we made it. Other things that are impossible to find in Milan include but are not limited to: large-format lattes, camera memory cards, phone chargers, bathrooms, and bureau de changes (unless you're by the Duomo). All these frustrations. But at fashion week this season, we were surrounded by creative, progressive innovation. It really was wonderful.

There were some standout trends in Milan, like the '70s (Prada, No. 21), grunge (Dsquared2, Marcelo Burlon), gothic revival (Antonio Marras, Alexander McQueen) and military (Andrea Pompilio, Moschino), but the one that was most notable was Japan. Etro, Missoni, Ports 1961, Diesel Black Gold, and Damir Doma all sported significant influence from that eastern archipelago, with kimono-style closures and Japanese characters. Many also included long, flowing straps that either tied openings together, or simply rippled out behind the models as they walked. That all smacked so much of Craig Green, I'd be surprised if those designers weren't taking his cue.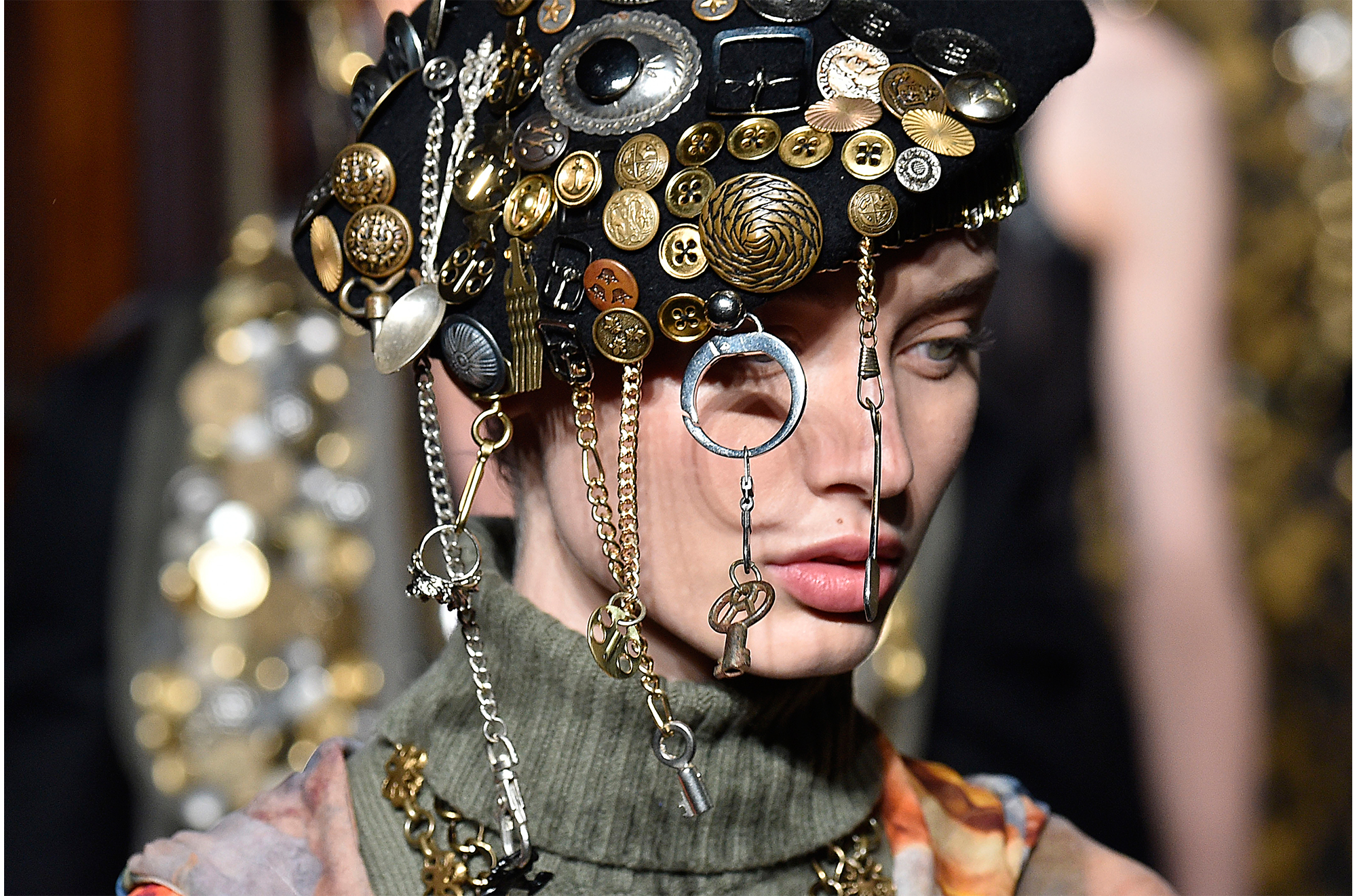 Moschino
Photo: firstVIEW
But more pervasive than those trends were two themes. It's interesting—when I told Alessandro Dell'Acqua backstage that Miuccia Prada had also presented a collection heavily influenced by the '70s and with a similar color palette, too, he told me, "Yes, I heard that—someone told me just this morning!" I told him, with a wink, that "two makes a trend," and we laughed, but the interesting thing is how the two designers, both Italian, interpreted the same era in opposite ways. Both ways are equally relevant right now—actually, the majority of designers so far this season could be categorized as either one or the other. Dell'Acqua's collection was inherently of the '70s, but the inspiration was the reactionary protests of that moment, which in turn is driven by the sociopolitical unrest of our own moment, now. He "bypassed iconographic references to past trends," with the collection "emerging as an elaboration of the attitude." Prada's collection was also inherently of the '70s, but from a more economic perspective. The Prada outing was more visually literal, driven by the "increasingly relevant issues of simplicity and essentiality," and as such offered us a Brady Bunch normcore. Like Dell'Acqua, Kean Etro was also inspired by protest and freedom. "The company was founded in 1968, and you know what 1968 represents to people. We took all this inspiration from nature, spirituality, and also the psychedelic. As we enter our jubilee, we are very mindful of the protests of 1968." My history is terrible, but a quick Wikipedia search and I read all about the global student protests of 1968 that opposed governments and the bureaucratic elite. Andrea Pompilio's collection was inspired by freedom, "the power to act, to speak, to think freely, the courage to dare, to endure, to stand up and go beyond boundaries." At Ports 1961, Milan Vukmirovic told me the theme of his collection was an "army of love," specifically invoked in reaction to what is happening in America, and with the sentiment that love can conquer fear and hatred. Moschino's theme, meanwhile, was paramilitary. "Beauty and freedom are worth fighting for. That marabou rainbow burns brightest when set against a dark background...an anti-uniform for what's to come." And Versace's theme was "the brotherhood of Versace," and "the power of unity."

In some ways, it is surprising that this angst is felt so far away from America, that a relatively small country in the middle of Europe would be so affected by events so removed from its citizens' daily lives. But Milan is a global city, and we are all part of this ever-shrinking world. They may be "just clothes," but fashion isn't just shaped by the world around us—it shapes the world around us, too.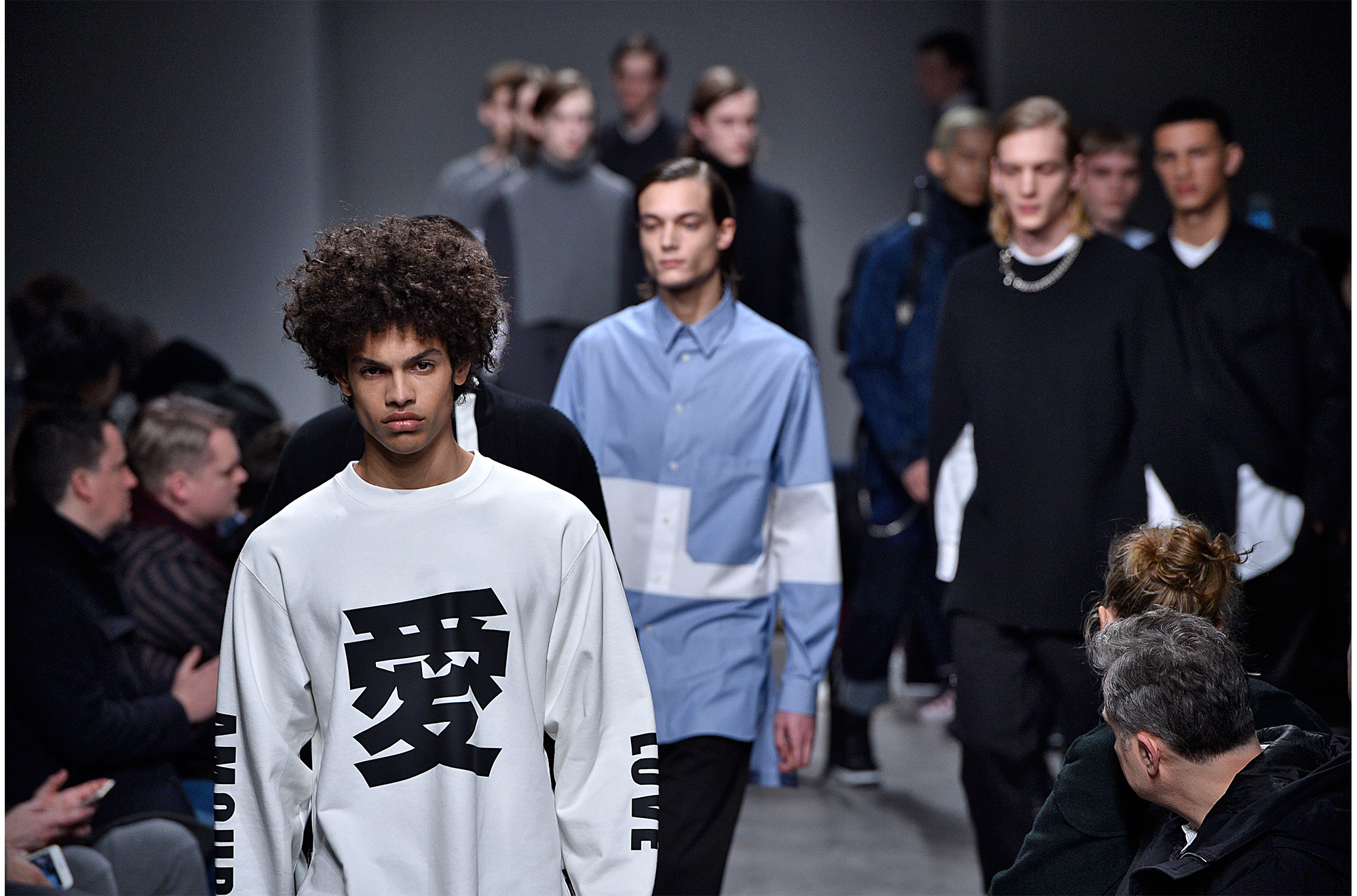 Ports 1961
Photo: firstVIEW
0 Comment