Day one of the final and most fashionable destination of Europe men's, and I arrived for the Facetasm show. There outside the venue was a gent wearing the Vetements x Canada Goose jacket—a jacket so filled with insulation it makes an arctic sleeping bag look like lint. He was convulsively shaking while street style photographers swarmed him like a Black Sunday sale—Paris was freezing. That's not to say winter weeks in London, Florence, and Milan weren't bitterly cold sometimes too—they were, but Paris was a next-level chill. Plus, as fabulous as fashion weeks are, for a fashion journalist they are also hard work—show schedules with barely time to snatch a few seconds for a sandwich, followed by evening events and press dinners, and then late nights writing 'til the wee hours and up when the alarm sounds to finish what you'd started the night before. Suffice to say I am not living my healthiest life on these trips—none of us are. We're all run down and by the time I arrived in Paris, the Fashion Flu was damn near epidemic. As each preshow hubbub hushed, and at least until the pounding soundtrack of each show started, there was an audible orchestra of sniffles, a sickly ensemble of snot-filled wind instruments by the dozen, all in different pitches eking out these ghastly overtures of ill health.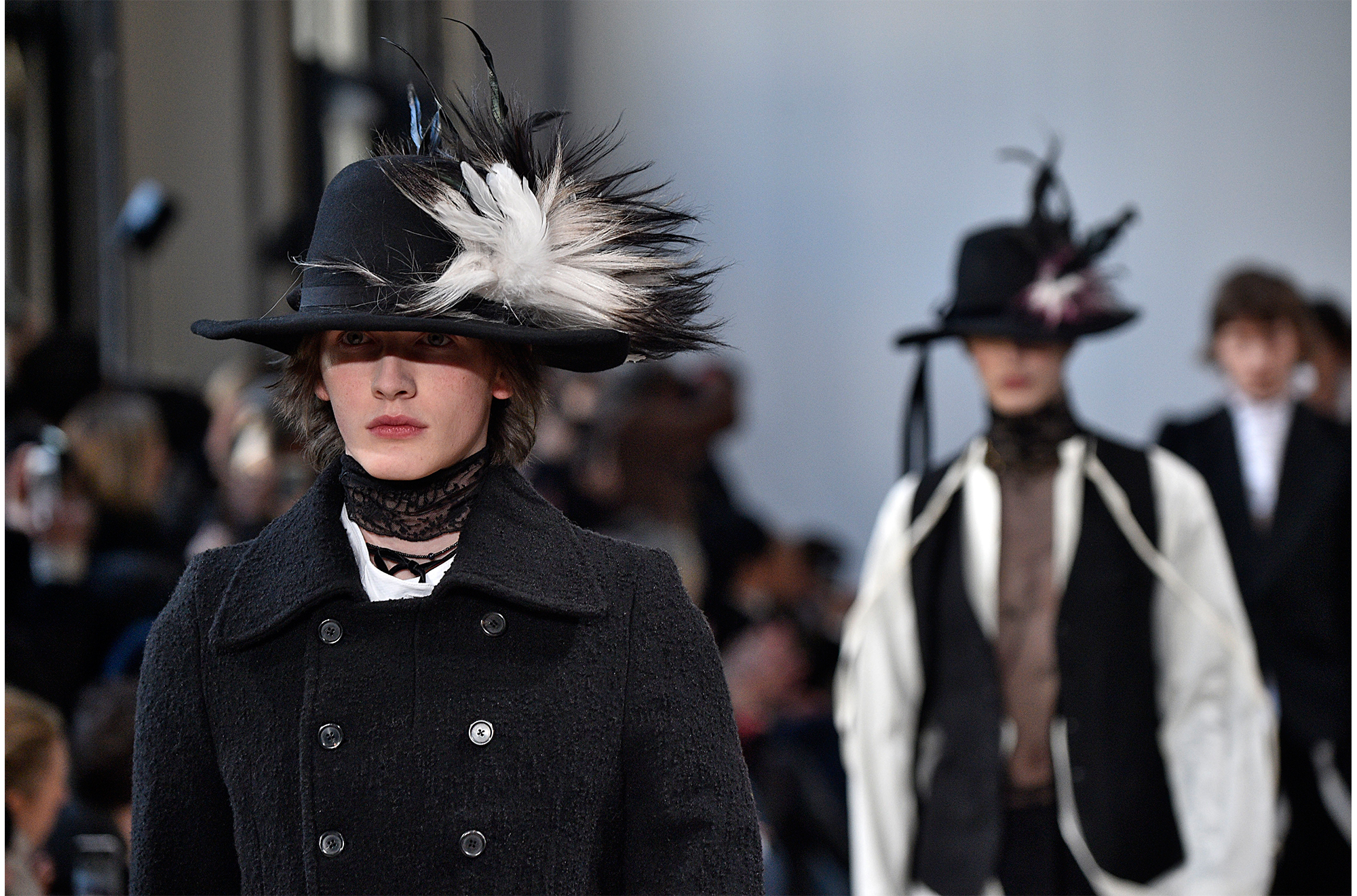 Ann Demeulemeester
Photo: firstVIEW
But, fashion. Well first, let's talk buffalo check. By no means confined to the catwalks in Paris but present on many all over Europe, and after even Paris, the peak of chic, succumbed to this squarest of patterns, the question begs, why? Does buffalo check ever look chic? Black and red is sometimes sexy, sometimes sinister (the colors of a dominatrix's rubber and red lip spring to mind), but with one exception: buffalo check. Yep! Nothing sexy or sinister about snooze-cruise red and black buffalo check, but I swear I saw it on every runway during the day and at night during reoccurring nightmares of models in Woolrich running toward me shouting "But it's Versace!" "But it's Dries!" A black and scarlet fever terrorfest, but then something struck me. Not a cat o' nine tails, but with a similar strength. Maybe red and black is revolutionary—I'm thinking posters featuring bright red fists raised in the air against a black background, or a black stencil of Che Guevara on red, or artist Shepard Fairey's black and red art addressing everything from pollution and consumerism to corruption and injustice.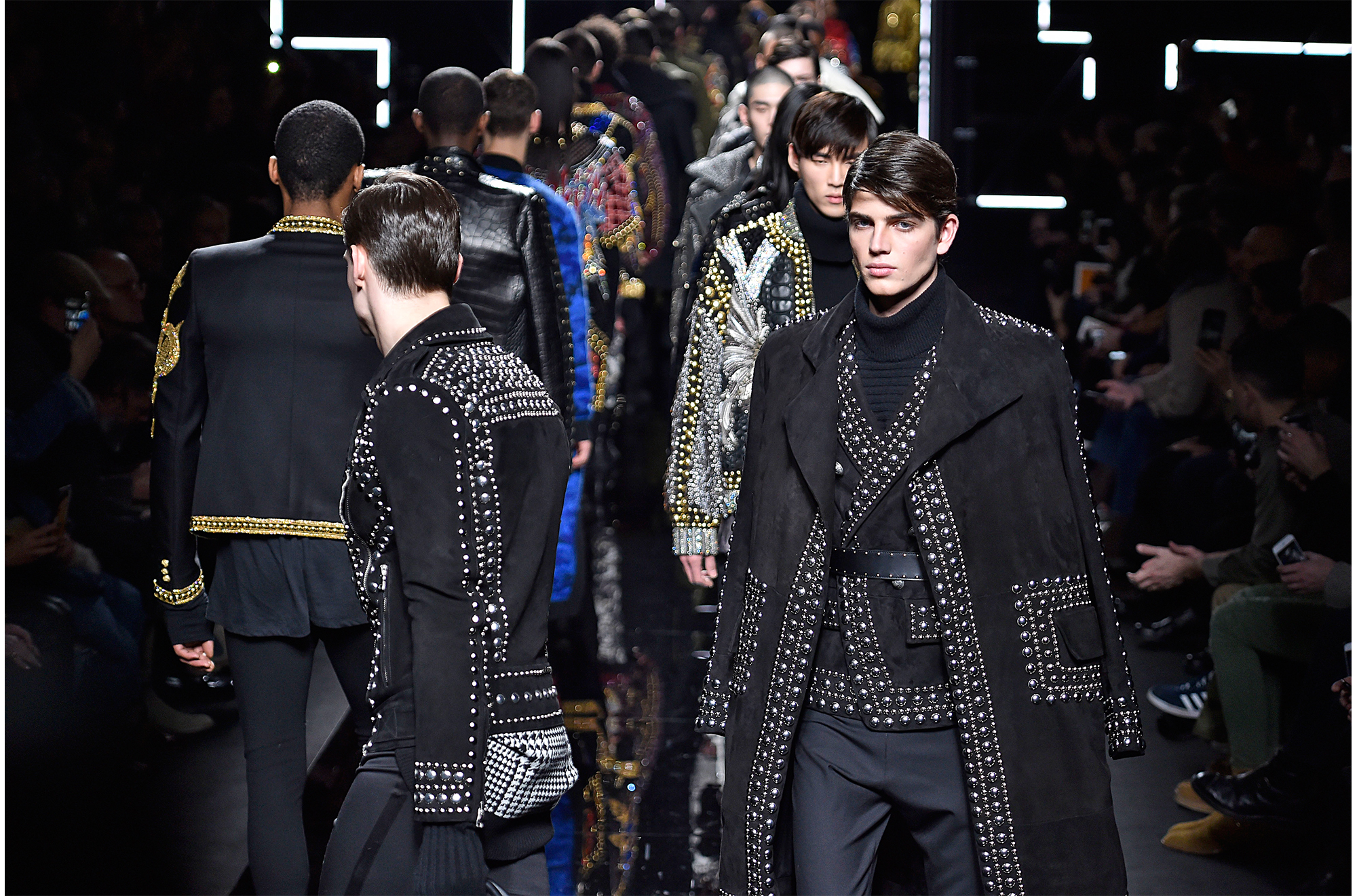 Balmain
Photo: firstVIEW
While many designers this season quite clearly stated the influence of politics and society on their collections, most in Paris did not. Red and black and that pervasive combination whose name we shan't mention again were notably present at Dries Van Noten. The space was like a bomb shelter and it was illuminated red, which, with the shadows and the crowd's silhouettes...you get the gist. I've always had a sneaking suspicion that all these designers get together each season during some uber-chic Bilderberg conference where, between pagan festivities, trends are set. Or perhaps some fashionable facsimile is circulated at strictly the highest levels of fashion—I'm talking level three security clearance correspondence, top secret, and this time last year, that facsimile said "black and red." It's a theory.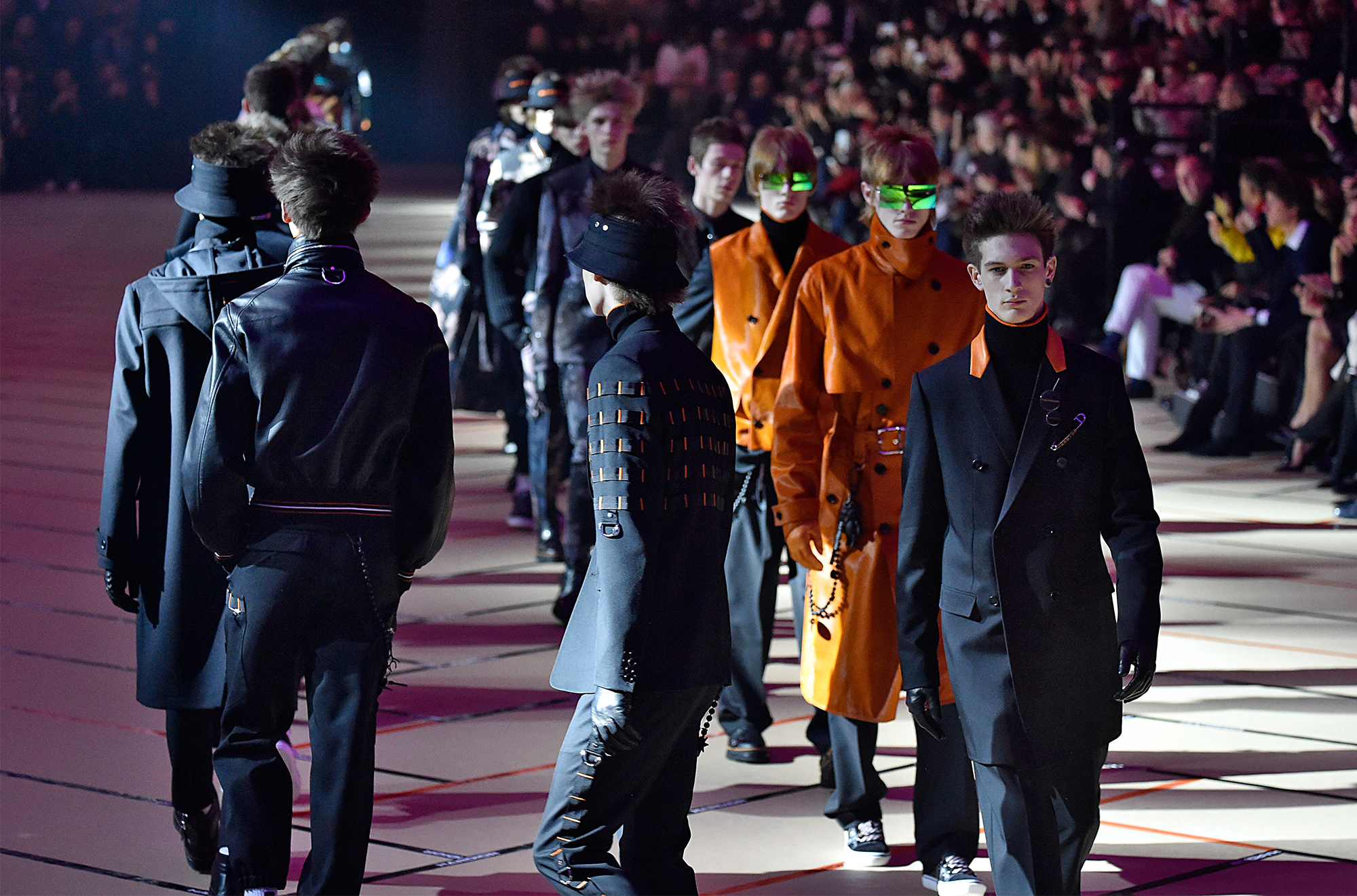 Dior Homme
Photo: firstVIEW
Whether this potentially revolutionary/reactionary use of red and black was a conscious decision in Paris is a key question. While perhaps the majority of shows in Milan were explained in varying degrees as a response to political and social angst, the shows in Paris were significantly less so. At Hermès, Véronique Nichanian delivered a collection inspired by rock and with a focus on proportion, and those two themes were notable in other collections, too. Proportions and gothic rock fused with a Freddie Mercury-esque exploration of the meaning of masculinity, another recurring theme of the Parisian shows, was presented by Ann Demeulemeester, and in fact, at Balmain, Queen's The Show Must Go On accompanied models along the runway as they wore a collection by Olivier Rousteing that was a celebration of rock stars everywhere. Comme des Garçons, Yohji Yamamoto, Valentino, and Haider Ackermann had similar influences, and at Dior Homme, Kris Van Assche's collection was entirely rock-centric, with the additional significant focus on tailored clothing. As streetwear continues its ascension and suits fall out of favor, there was a gauntlet thrown down by Dior, and Thom Browne's de- and re-construction of the suit was another notable instance of this resistance. There were some signs of a political discourse. At Balenciaga, Demna Gvasalia presented a reworked logo designed like the one used by Bernie Sanders during his 2017 campaign, and there was significant use of the "stars and stripes" in Riccardo Tisci's collection for Givenchy.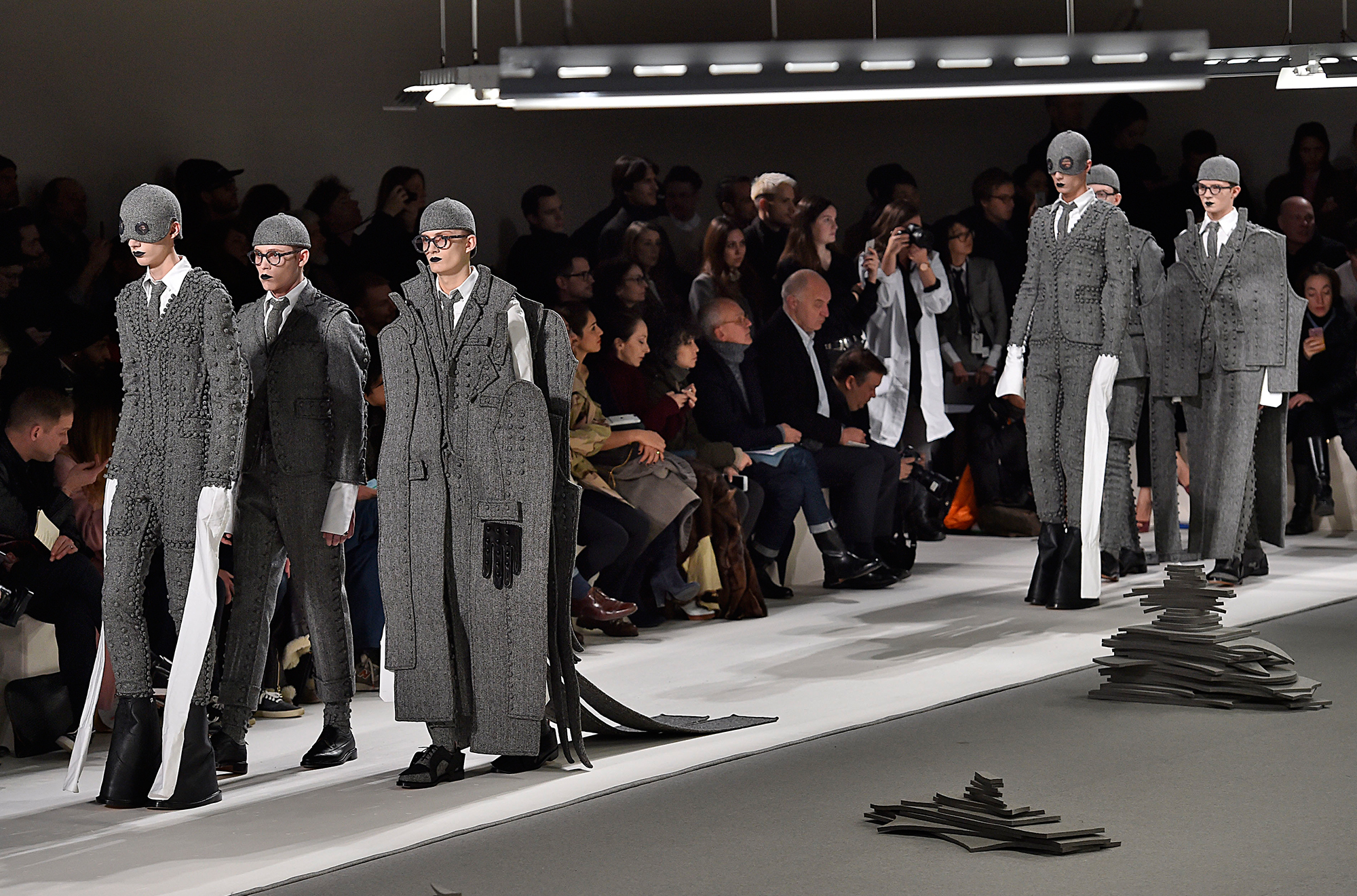 Thom Browne
Photo: firstVIEW
But overall, there was a fashionable myopia at work here in Paris. The shows here were in some ways less broadly retrospective than their Milan or London counterparts. This season, Paris looked to fashionable things for fashion inspiration, like art, music, and celebrity. Not an entirely surprising collaboration, since Louis Vuitton menswear artistic director Kim Jones is a streetwear savant, and Supreme is sitting pretty at the top of that game, but could anything possibly be further removed from politics than Louis Vuitton x Supreme? And while fashion fused with politics is relevant and exciting, Paris offers us fashion fused with fashion, or fashion squared, and that, dear readers, is supremely chic.

0 Comment