As I walked out of the Vetements "exhibition" during Paris fashion week, I was in a bit of a daze—something like waking up the morning after a long-haul flight to a far away place after an Ambien-induced slumber, wondering briefly where you are. Where is this? I mean, physically, for real, it was far away from any arrondissement I knew, but also fashion-ally, it felt a long way from home. The "exhibition" was held in a car park, and PR people greeted us dressed in those oversized but intentionally humdrum jackets designer Demna Gvasalia sent down the runway last spring. But he didn't have a show this season, which he announced scant few weeks ago. Apparently, he got bored. Well, sorry the system isn't entertaining enough, I guess, but it still feels a bit like the disruptive kid in class who is asked to hand in his homework. "Shan't!" the kid says, with his chest puffed up as he stamps his foot indignantly.
But "disruptive" is the watchword here, isn't it? It's all about the "disruptors." Fashion panels organized by creative media agencies with panelists like Eva Chen, Nicola Formichetti, and Zing Tsjeng have been discussing the disruptors for a few seasons, and Gvasalia is so disruptive. Ironically so, though. His clothes aren't aggressive. He isn't rebelling against the system through fashion like, say, Dame Westwood was/is. Gvasalia is rebelling against fashion through the system, apparently. For Balenciaga, he showed normal people, some families, walking through a forest wearing clothes that were so normal they were almost unimaginable. The only thing that truly belies his fashionable intentions is the price tags on his ugly anoraks (they are supposed to be ugly, okay?). The message in the collection was a hope for a life more normal, but how normal is paying a few thousand dollars for what looks like a secondhand ski jacket from the '70s? It's not. It's disruptive.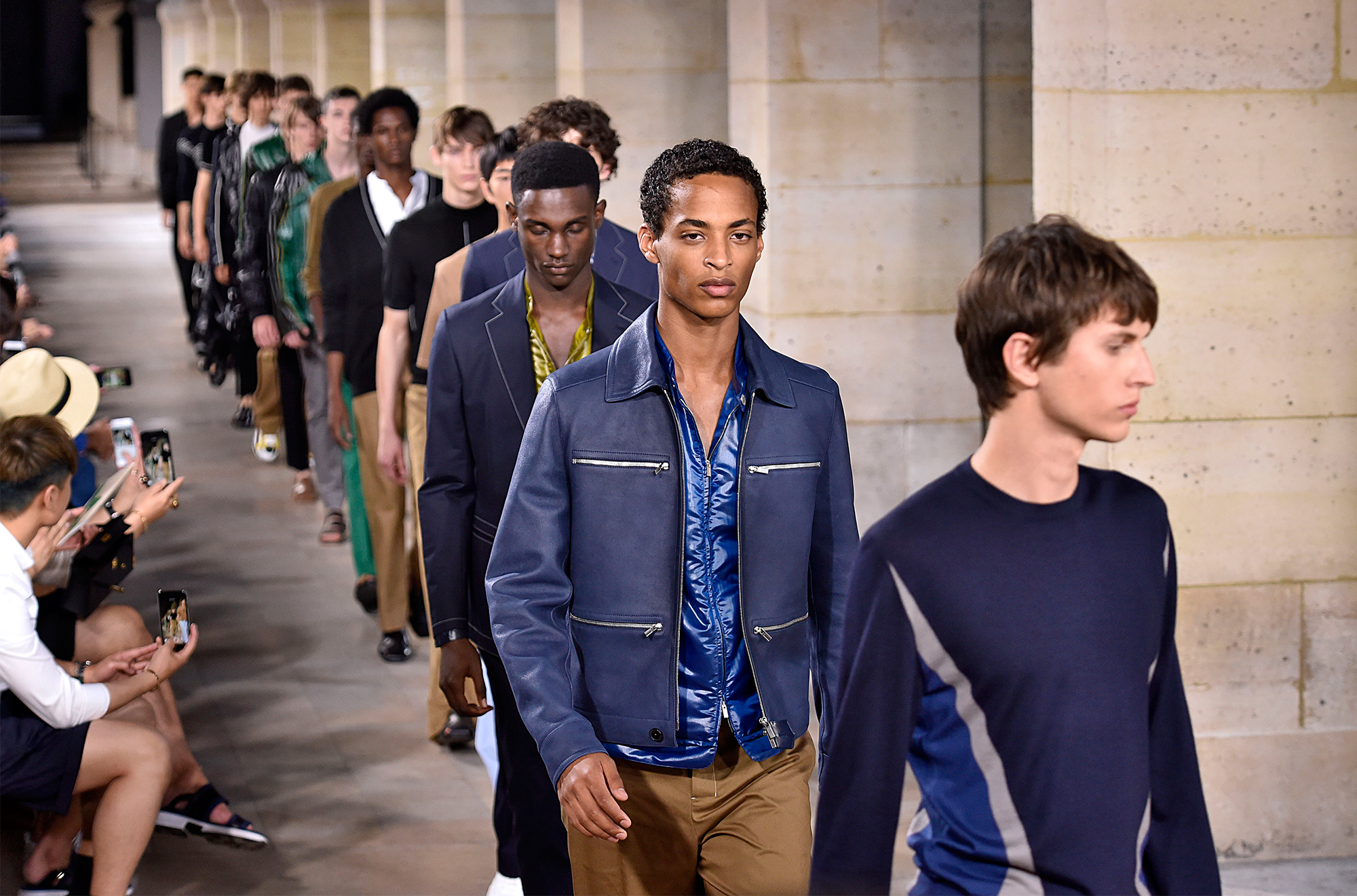 Hermès
Photo: firstVIEW
As I headed toward the Vetements exhibition exit (I'd done one circuit, filmed it for my #instastory and skipped the Grey Goose bar), I overheard someone say, "It's like he just keeps fucking us in the ass, and he's using sand instead of lube, and we keep coming back for more." I spun around, jaw on the floor. That's exactly how I feel! I thought.
When I walked through the door, I passed some editor friends. "Oh, you're leaving?" they asked. "How is it?" I told them, too dazed to infer any opinion, that it was the pictures from the lookbook, blown up to poster size, and hung on the wall. "No!" they all replied. They didn't believe me. No joke. And even when I insisted that I was telling nothing but the truth so help me god, they still looked at me with smirking suspicion. Lolz! We have not been dragged all the way down here for what could have quite easily been an email. *Nods solemnly* Yes. Yes you have.
To add insult to injury, the trek to Vetements' anti-event had made me late for Hermès—a taxi and I'd be too late, the train and I'd still be late, but I might make the show. I took the train and changed at Barbès - Rochechouart where I was profiled and almost robbed by two young men. Apparently the Barbès - Rochechouart metro station is notorious for "street" crime, and I was all fashion. It was not an ideal scenario.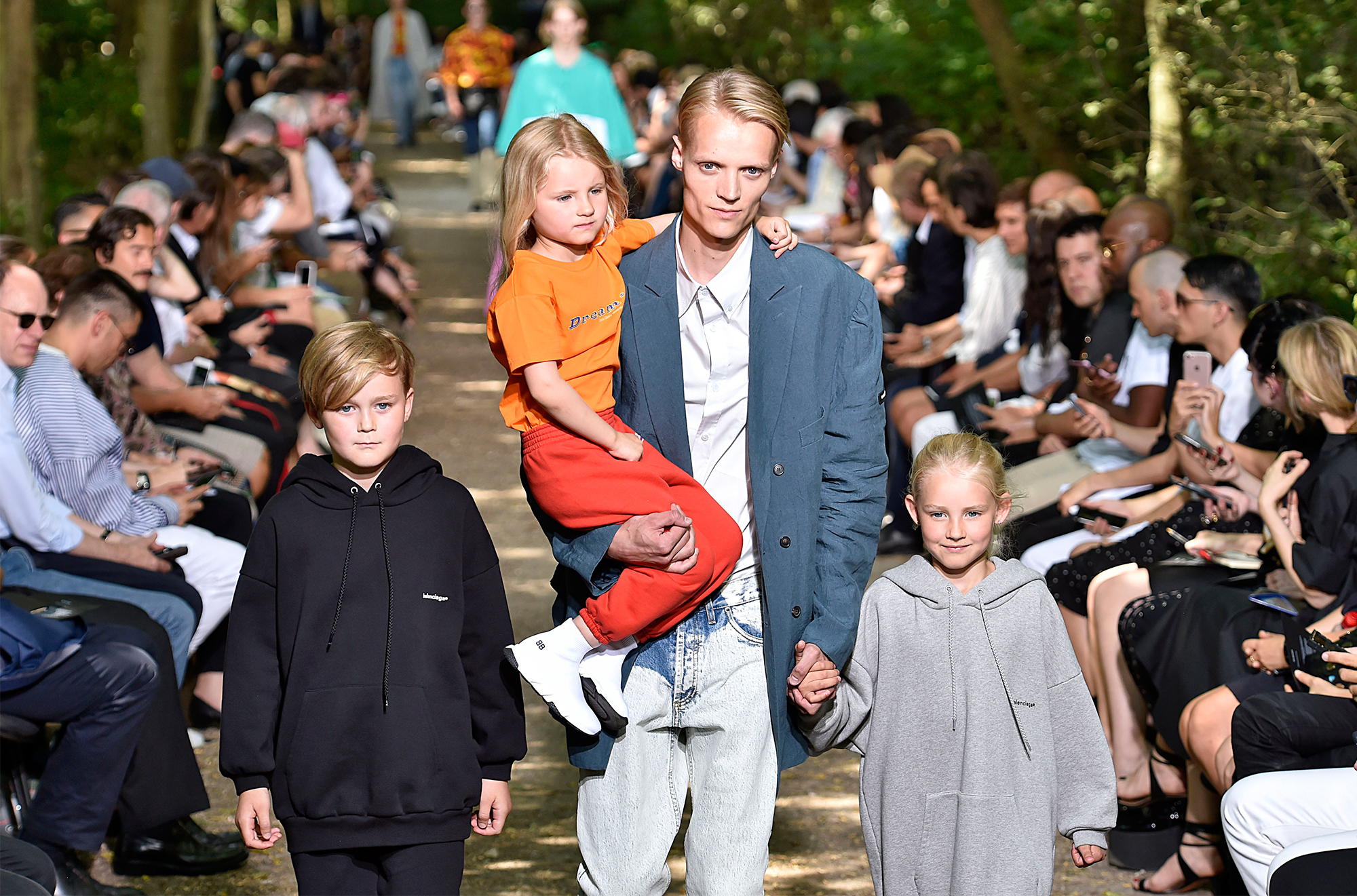 Balenciaga
Photo: firstVIEW
When I got to Hermès, I was back on safe ground, literally and figuratively—a Parisian courtyard in tony Saint Germain, where French men in pressed threads passed out champagne flutes on silver plates and men's creative director Véronique Nichanian presented a collection that was fabulous French luxury, consolingly chic, and reassuringly safe.
And those were essentially the two faces of Paris fashion week. On the one side, disruptive genius, and on the other side, safe luxury. Dior, for example, showed black and white and Dior Homme-gorgeous. Expected, yes, and nothing to write home about, just a solid collection of quintessential French luxury. Yes, there were a few foreboding graphics toward the end, but nothing disruptive. Lanvin was similarly safe. Lovely in lots of places, and items that will be bought and worn and loved for many more than a single season, but customers won't be queuing for first dibs on anything there. Valentino was strong as always, and a good friend and huge fan texted me from Los Angeles, barely before the show ended to say he wanted it all. I'm not even sure how he saw it so quickly. But there was nothing to shake fashion's foundations here. Hermès, Berluti, and even Haider Ackermann were beautiful, no question, but I wasn't blown away. I don't think that was their plan, though. I think their plans must've been to make beautiful, salable, wearable, luxury collections—job well-done.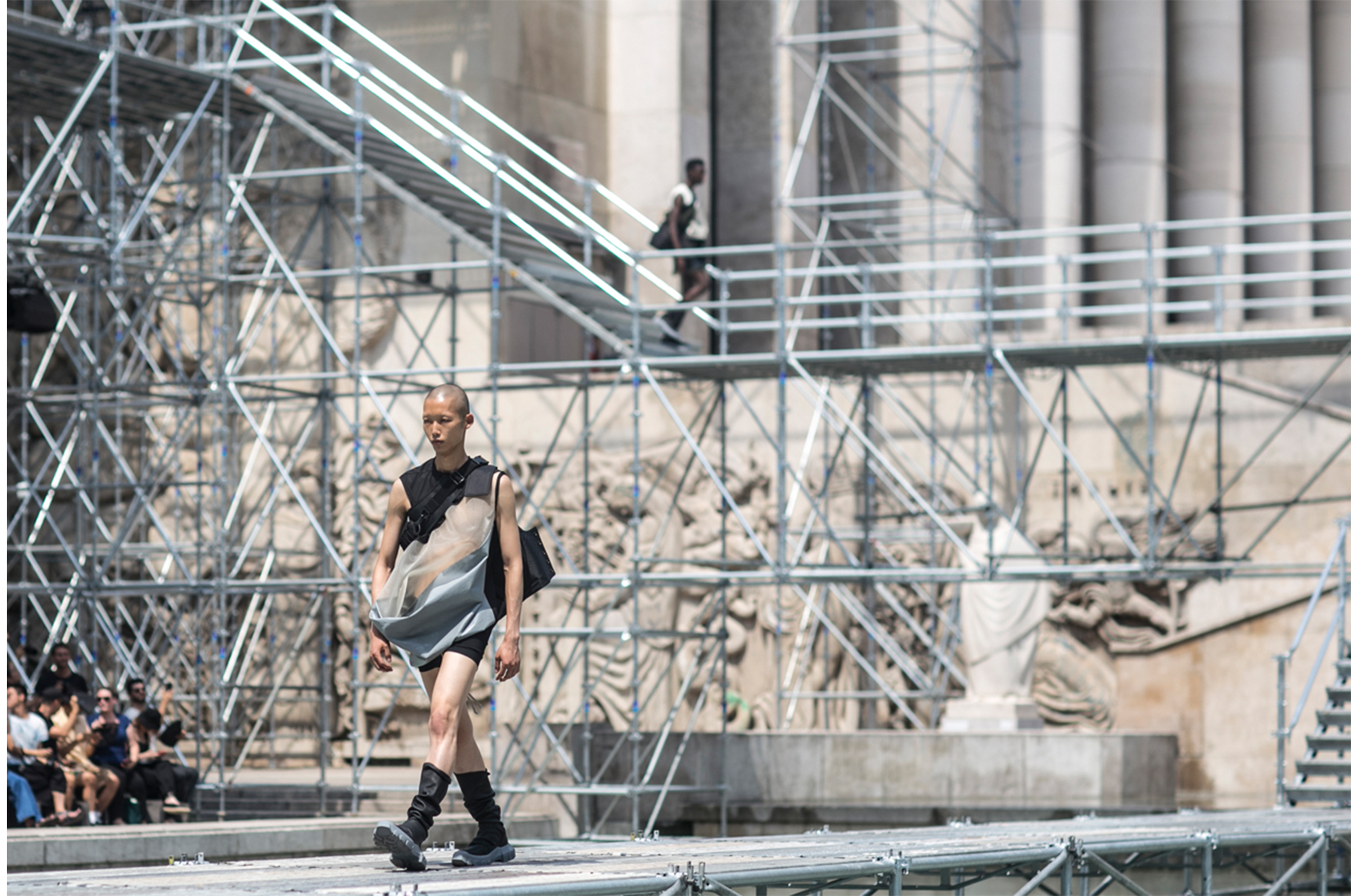 Rick Owens
Photo: William Buckley
And then Vetements with its anti-fashion show, and Balenciaga, who I swear intentionally staged its show in the middle of a fucking forest, miles away in the middle of fucking nowhere, where no one could fucking find it. Just disruptive. Newer designers like Facetasm, OAMC, and Heron Preston were beating their own unruly paths, while Rick Owens, Comme des Garçons, and Walter Van Beirendonck are always unruly, so some usual suspects, but still disruptors. And Louis Vuitton, who after that Supreme move might be hard-pushed to best it, still managed, in the face of all the brand's French fashion house heritage, to send skin-tight neoprene cycling shorts down the runway paired with strappy sandals and socks, an oversized suit jacket, and a denim bucket hat. Kim Jones could undoubtedly use an hour in detention to think about what he's done.

0 Comment