Fashion is officially over it. After last men's month, when almost every show took some stance toward Brexit and the whole tangerine Cheeto in the West Wing thing, shows this season chose to provide an escape, because, seriously, how much more can we take? God bless the French and President Macron, that 39-year-old breath of liberal air that pummeled Marine Le Pen and the National Front in a landslide victory little more than two months ago. Thank goodness that there are some voting majorities in the western world that still have some sense.
And actually, the Paris collections were the least reactive of the lot. In some ways, given the terror attacks the city's been subject to, and Le Pen's essentially alt-right positions that flooded French television and radio stations, riling liberals and rousing racists, you would think that collections being conceived during the tense run-up to such a high-stakes election would have been influenced more. Perhaps the liberal majority somehow knew they were just that, and there was a popular peace of mind.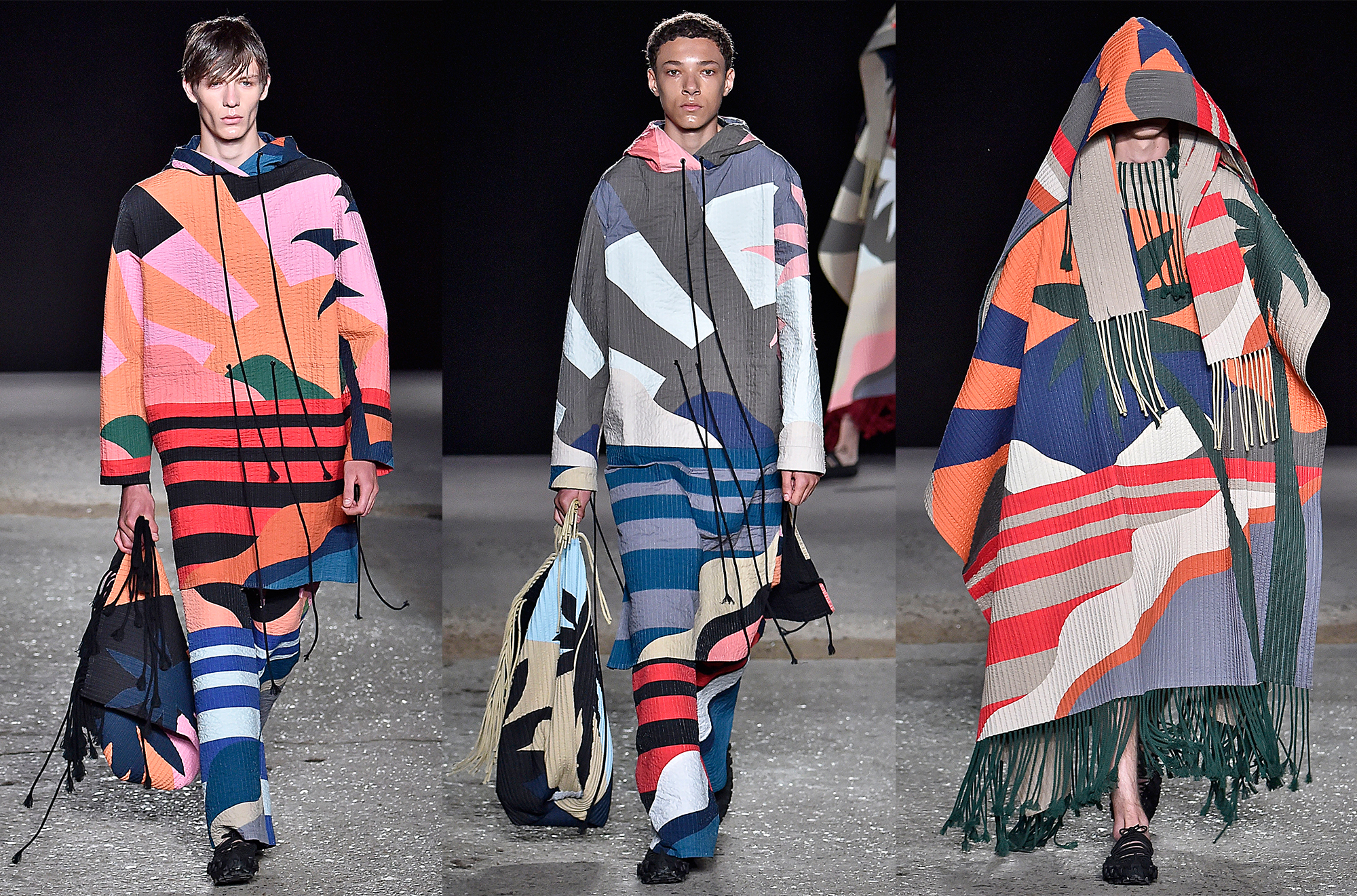 Craig Green
Photos: firstVIEW
One obvious influence on the shows this season was security. It was major, like Will Smith in Men in Black—all big men in black suits with earpieces and intimidating presences. I walked into 180 Strand for the Bobby Abley show and they were checking IDs and bags. I know I reference Mister Wooster from time to time, but he's such a love. He was in front of me and they asked him for ID—because, you know, terrorism—and he replied, so succinctly, "Are you fucking kidding me?" Basically, Do you know who I am? I did feel a bit sorry for him. Particularly since after that show, I left the Strand for Embankment station to catch a train to Topman and saw his Icelandic Glacial water ad on the track. He is a fucking icon, but to be fair, the doorman probably doesn't care much about that. In fact, the doorman, used to this sort of petulance, replied, as cool as a cucumber, "I'm not kidding, and if you use that kind of language again I won't let you in at all." I tried my best to keep a straight face—like a mix between I wasn't paying attention at all and I didn't just see the doorman discipline you like a naughty school boy and Ugh, the doormen! Don't they know who you are? I think I struck just the right balance. On the inside, I was chuckling. I love you, Nick.
Regardless of who or where we were, doormen opened every bag, and, arbitrarily but regularly, asked for ID from these fashion folk. It was kind of fun.

But particularly in France, that was really the only obvious effect of the tumultuous times. The big French fashion houses were basically business as usual—Valentino, Dior, Berluti, Balmain, Hermès, Lanvin—all undeniably chic, proposing heirloom options you could pass down through generations (or sell on The RealReal next season). There were collections like Demna Gvasalia's Balenciaga and Vetements, pining for some semblance of normality (can it be that it was all so simple then?), and while those were really the only two brands owning that message, it was a message that surfaced in many collections across the other fashion capitals.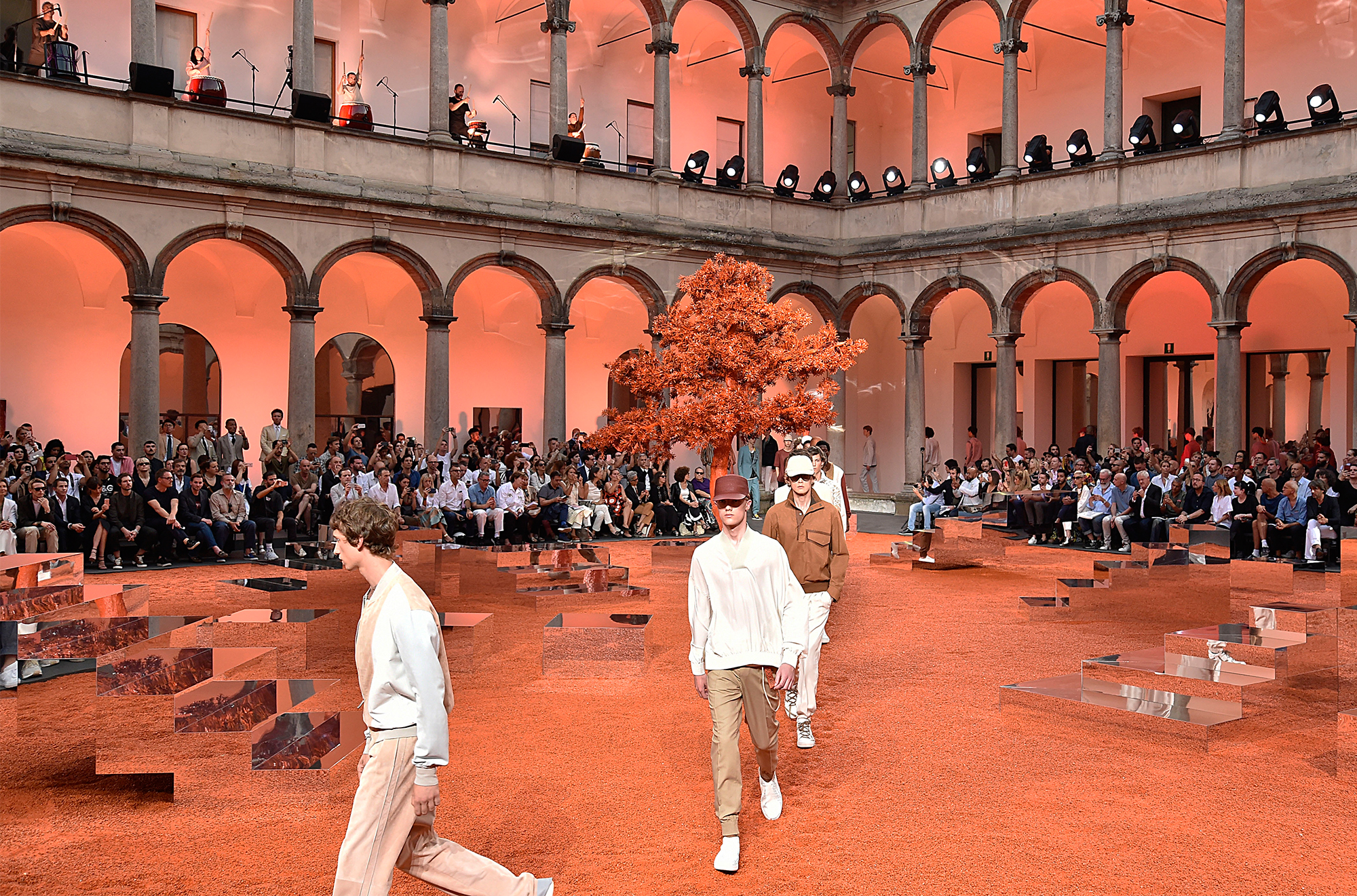 Ermenegildo Zegna
Photo: firstVIEW
London was first. Instead of that activist mentality we saw in January, the overarching angle here was we need a break. Personally, I'd just been gallivanting in Asia—India and Thailand—because my husband left me (long story—DM me), but also because I was so sick and tired of the relentless political assault. I have that News app on the iPhone, and it matters not where in the world you run to—if you bought the phone in America, you will get American news. I could always have deleted the app entirely, but it's a bit like that rash I had in college—I could've gone to the doctor earlier than I did, but then I wouldn't have had the guilty pleasure of scratching the itch. It's difficult. So instead I kept up with the Trump-y scandals and the suspicious, skulking images that every outlet, even Fox News, showed of that shady human. I was sick of it so long ago, and even the delusive idea that distance might temper the endless onslaught of politics was erroneous in every way.
And then Cottweiler, with its show so centered around escape—off-the-grid was how they intentioned it, and the parked caravans lining the runway in emphasis were incredible. "This is a reference to what's happening now," said designer Ben Cottrell. "It's always about expressing our mood, and with everything that's happening right now, we just wanted to get off the grid." Interesting. I saw a BBC2 documentary last night about Cambridge Analytica. There have been some conspiracy theories swirling about it for some time, but after an article in the Observer and then the documentary on BBC2, both reputable media outlets, alleging that the company essentially gathered data from your behavior online and then used that data to influence both Brexit and the Trump presidency, a desire to get off the grid is entirely understandable.

Other collections also suggested a need to get away from it all. Craig Green showed big prints of paradisiacal scenes so far away from politics. E. Tautz felt the same, and sent a calm, quiet collection down the runway. "Let's normalize things for a minute," said designer Patrick Grant. "Let's just focus on making some really beautiful clothes and not worry about everything that surrounds it. We just want a quiet life." No kidding.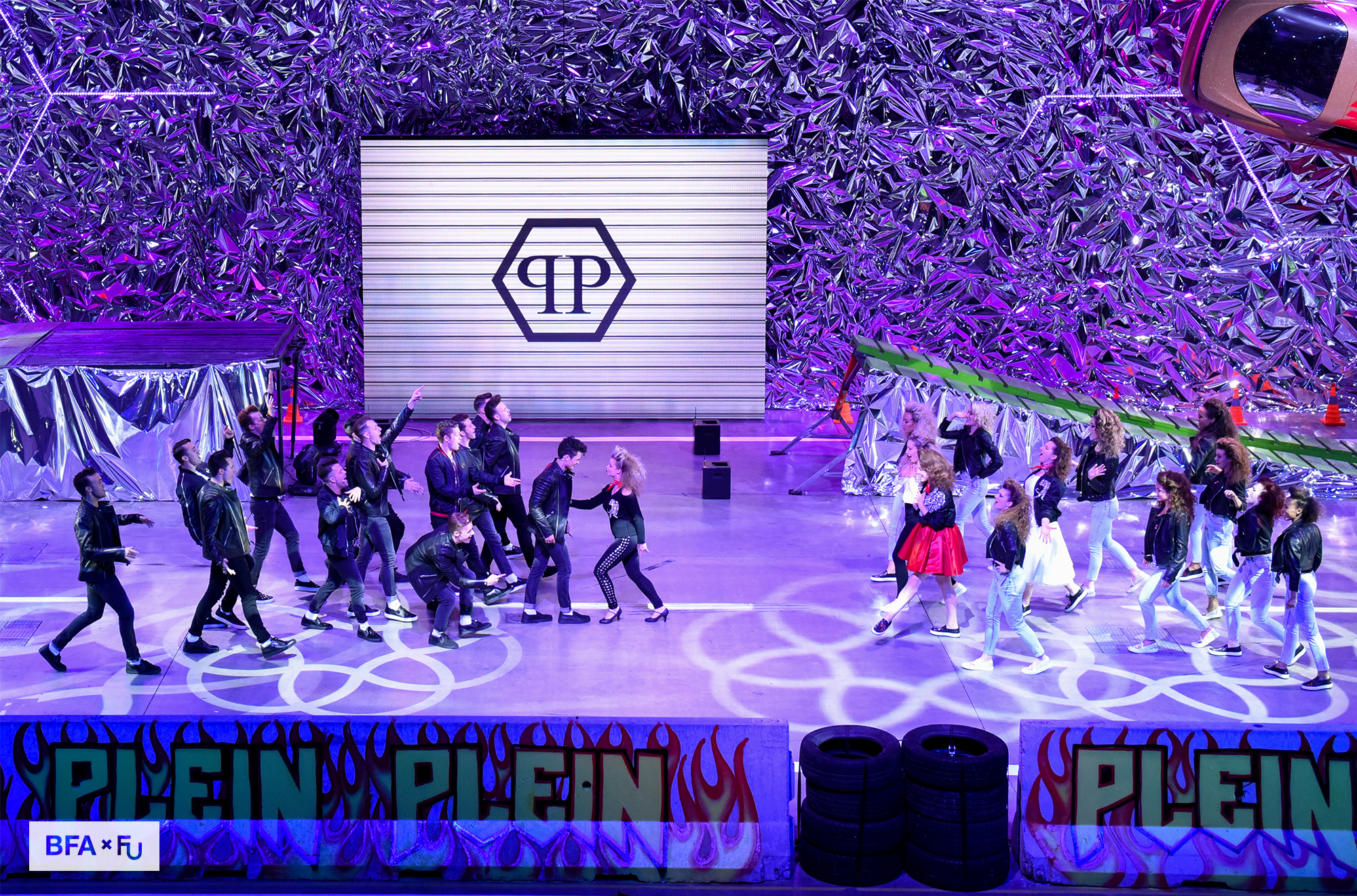 Philipp Plein
Photo: BFA.com. View more at BFA.com.
In Milan, we saw a similar effort to distance fashion from the political furor. Not in an ignorant way, but in a we've been ground down, let's take a minute kind of way. Marcelo Burlon summed it up nicely. "It's so boring to talk about the clothes," he said. "Let's talk about the world we created. There is no trouble, there is all love and music. See all these people, we all have love, we all want to smile, and we all want to dance. That is what is important right now. That is what we should all remember." Philipp Plein seemed to feel similarly, with three big-budget shows, three parties, and the entire cast of Grease: The Musical, performing hits from that classic that represents an age of innocence for many of those present.
Zegna transported us all to another planet! Imagine Mars with its arid, orange, sandy surface, and that's where Zegna went—somewhere so otherworldly that we could almost have escaped the trials and tribulations of Earth entirely. And No. 21's Alessandro Dell'Acqua, who last season was so inspired by the protests of college kids in the '70s, said this season was all about nonchalance. "It's too hard at the moment," he said. "I want it to be okay. I want the old days. I just want some space—I want to forget all these problems." Amen, sister. Amen.
0 Comment