"It's very Italian." Those three words, like some deep critique, were uttered so often in Milan, I thought it might have been some meme I'd missed. I often miss memes. I only just saw the "Salt Bae" sprinkle. I don't get it. What is that? Answers on a postcard, please. Turns out, though, "very Italian" isn't a meme. And it certainly ain't no deep critique. Rather, it's a thinly veiled insult. It's odd. Milan, and more broadly Italy, is respected the world over for its fashion—the country that gave the world Prada, Fendi, and Gucci. Did I mention Prada? But in fashion, Italian-ness is also associated with an aesthetic some people who presume themselves more high-minded than those actual fashion designers, who, you know, spent a significant part of their lives studying fashion design and now, you know, actually do it, find offensive. Those three aforementioned words could easily be uttered in excitement. A widening of the eyes at the word "Italian" and a genuine smile. You'd probably say instead though, "It's so Italian," with an unspoken "I love it" implied. Instead, "It's very Italian" is offered quizzically, with a tone something like a consternated question—constipated, more like.

Yes, many of the collections at Milan fashion week are very Italian—well, they are Italian, aren't they? And gaudy or garish as we think they may be, there's something inherently fun about it. Everybody lined up to take the metaphorical shit on Christian Audigier of Ed Hardy, and the brand basically died as a result. It's something like Times Square. When people move to New York, they love it. It's so New York—bright, busy, loud, chaotic—but as soon as some snot-nosed negative Nancy looks down that nose at them and says, "Ugh, I hate Times Square," that's that. Times Square loses all its excitement and one more prissy bitch is born.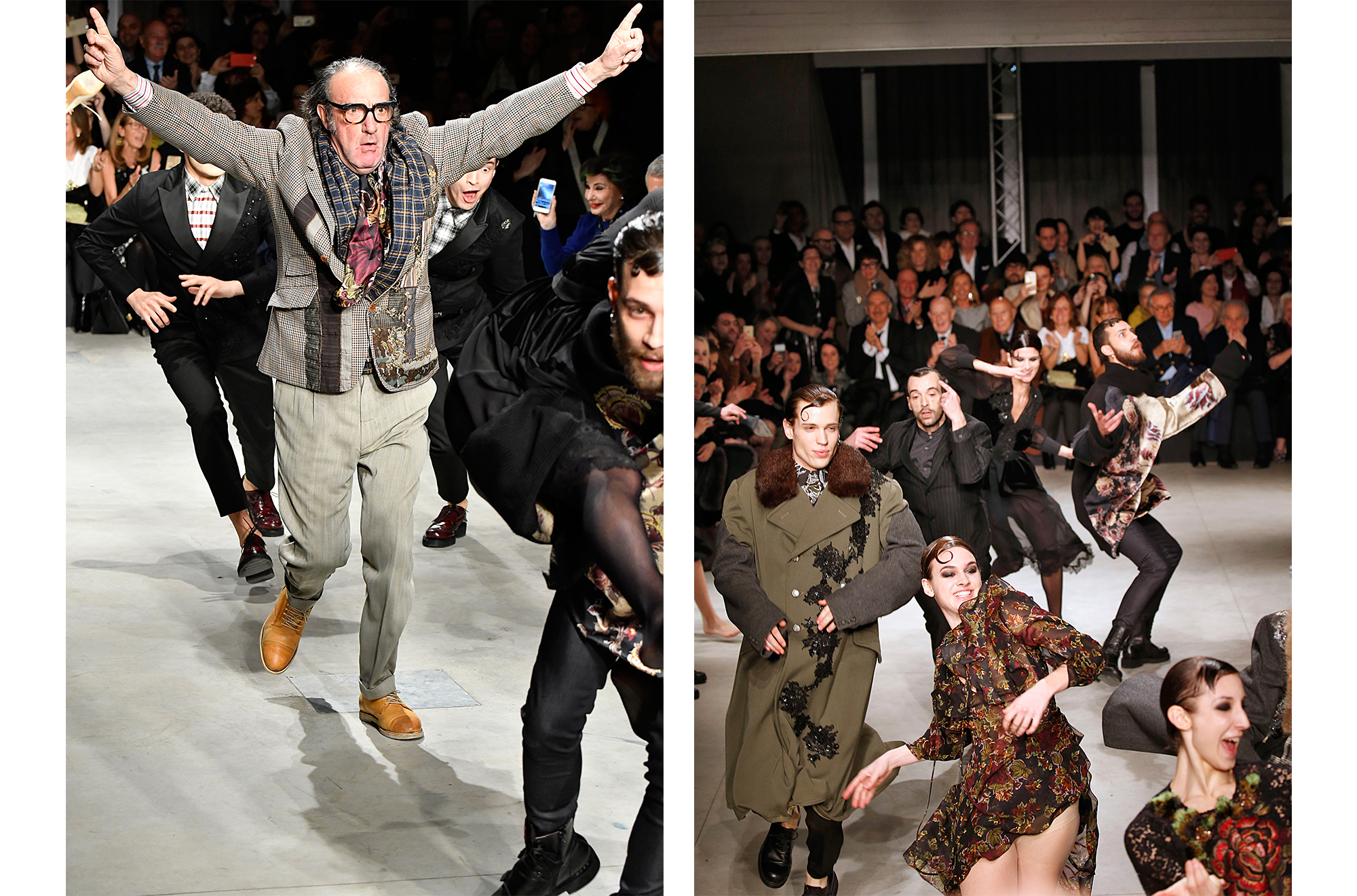 Antonio Marras
Photos: firstVIEW
I'll come out and say it so I'm not seen casting this first proverbial stone—I'm guilty, too. I left shows this season and thought the same thing, and there are others in the same space, who really just know that outside of Europe, some of this Italian-ness is a hard sell. Lots of these brands aren't offering what we at the tops of our fashion towers label "fashion." It isn't Lanvin, Comme des Garçons, or Balenciaga (we'll see those in Paris). What it is is Italian. It's loud, sometimes it's crass, but it loves you. It's like an Italian grandma who thinks you look skinny and wants to fatten you up with a big bowl of carbs. Actually, it's exactly that. Paris is nouveau cuisine—no carbs but looks as chic as Carine in a Céline slip dress smoking a slim cigarette and draped across the plate in front of you. Milan is a big bowl of spaghetti swimming in sauce—it doesn't look as pretty, but damn, it's still delicious.

And like that Italian grandma, the Italians actually care. They want to take care of you and they want you to enjoy what they do, not like the English, the French, or the Americans, who want you to like them because that's good for them. The Italians want you to like them because they hope it makes you happy. It's a very different mindset. Take Antonio Marras and the models, actors, and dancers who performed entirely unnecessarily, spinning and shimmying along the runway, making everyone in the room smile broadly. It didn't add anything to the clothes, which were fantastic, by the way, but everyone laughed. We had a good time. Personal friends of Marras also walked the show. It was inclusive. The show made you feel welcome and wanted and part of the family.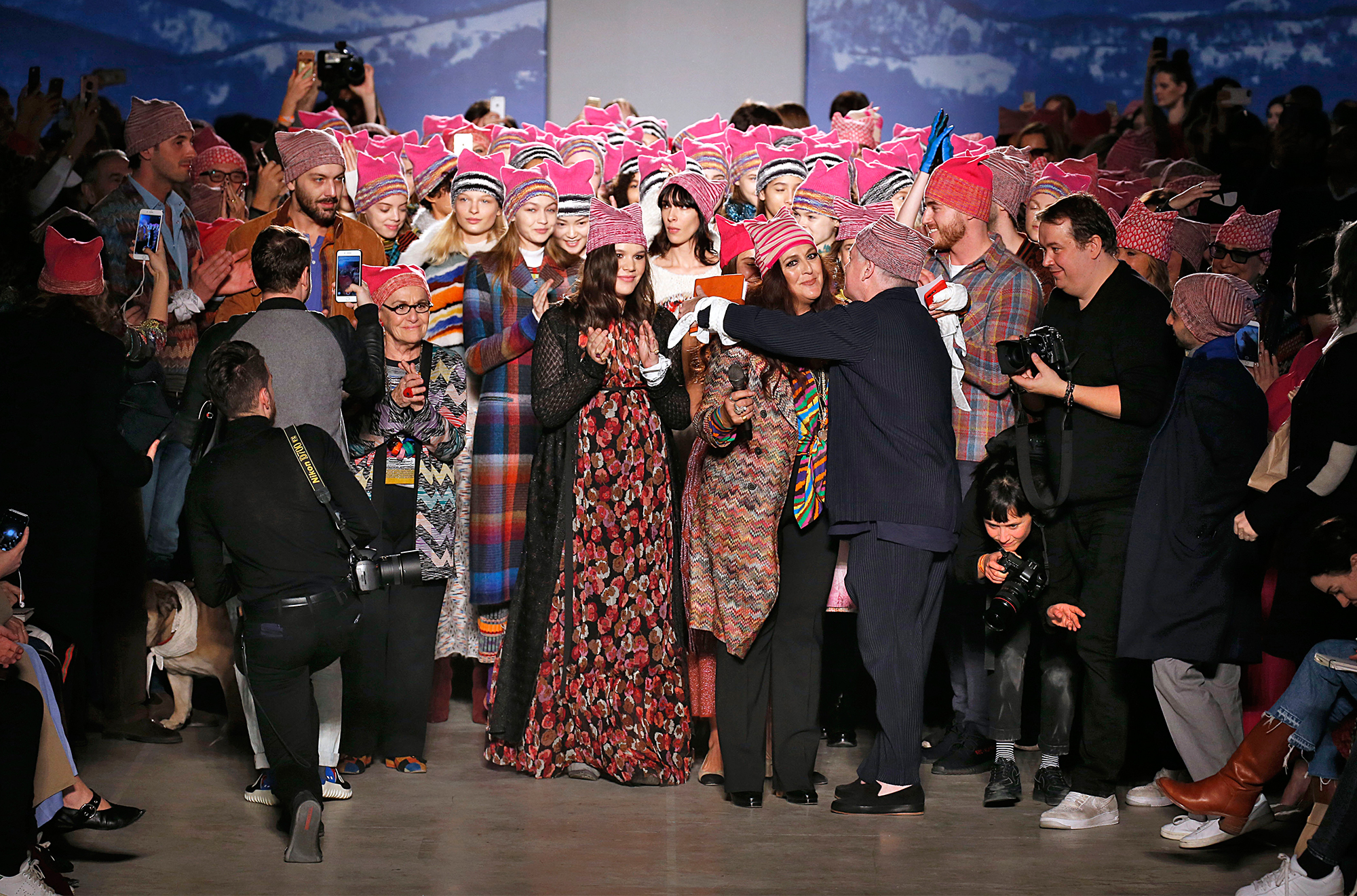 Missoni
Photo: firstVIEW
Then there was the performance at Stella Jean that straight up made me cry. I was in a room full of fashion peers, so no, I didn't just blatantly bawl, but if no one would've been any the wiser, I would have. It was the last full day of Milan fashion week, and long, frantic days with short blips of sleep interspersed definitely don't encourage emotional stability, but when I sat down in my seat and scooped up the show notes, I got about halfway through before I felt a lump in my throat—the crisis in Syria and the state of this planet we all call home, described in Jean's voice, was an invitation to feel the things she feels, and to be a part of that. As I finished reading, with images of refugee children drowning in the Mediterranean flashing in front of my eyes, a group of musicians entered the room and took their seats—two cellists and four percussionists. I swear, their rendition of "They Don't Really Care About Us" by Michael Jackson was about all I thought I could take. Models walked out and encircled the performers as the piece ended, and then, some kid who'd been sitting quietly amongst the ensemble all but unnoticed, stood up and sang Leonard Cohen's "Halle-fucking-lujah" to rapturous applause. I was in pieces. [See video above]

Then there was Angela Missoni's impassioned speech at her show, as she stood surrounded by her family. She gave everyone a hat and invited us all onto the runway in a show of solidarity with her and her family. Dolce & Gabbana's runway was populated partly by their clients, some carrying their children—family—like that Cosa Nostra closeness but without the crime.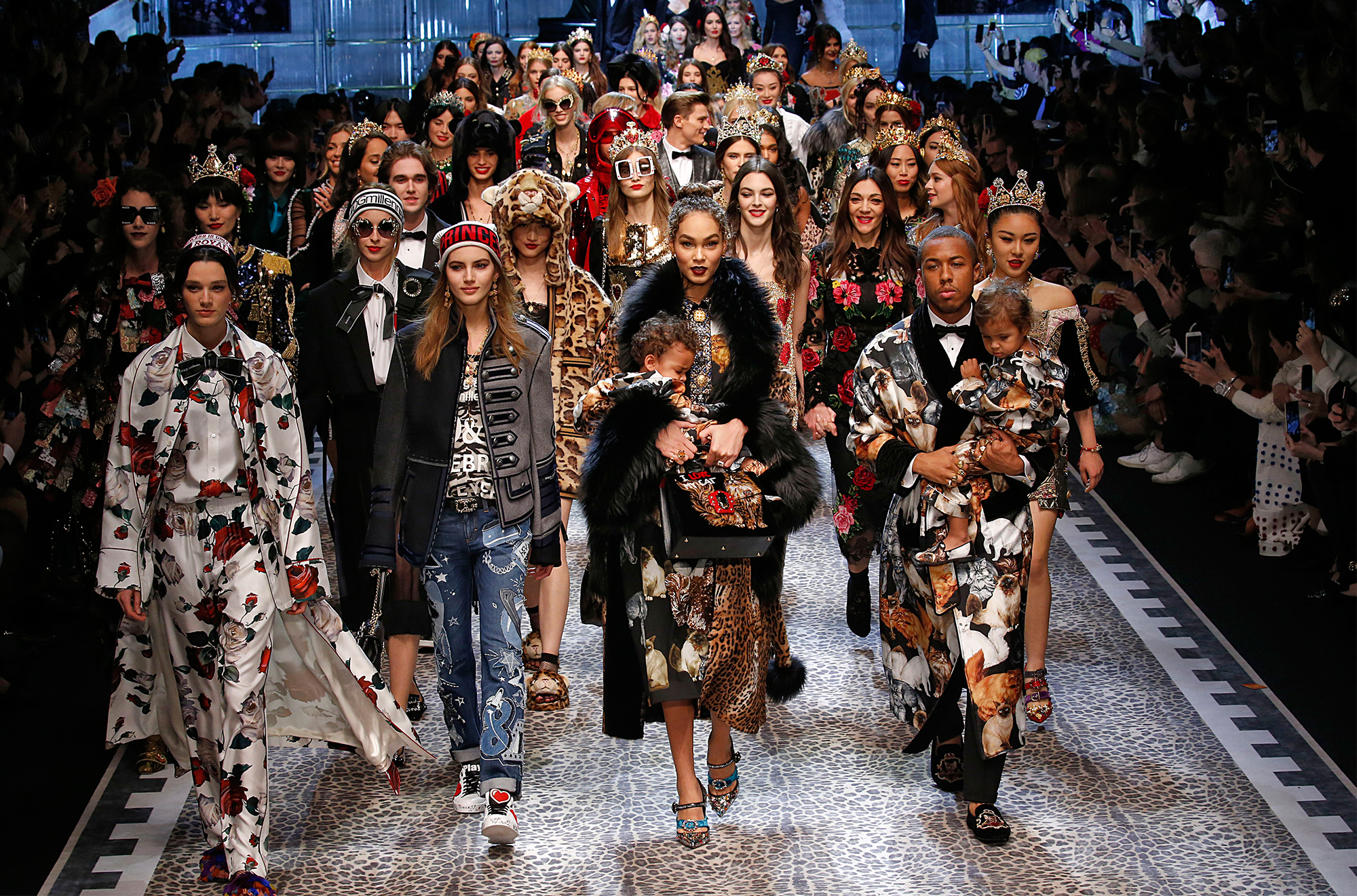 Dolce & Gabbana
Photo: firstVIEW
And I have to be more firm when I'm offered a post-show interview. I must insist on pre instead. Backstage in Milan, post-show is like being at a wedding when you're someone's plus one and you don't know anyone but your date's the maid of honor. No one pays you any attention and you just stand around and watch while real friends and family gather around the happy couple and lash congratulations all over them. It's a beautiful thing, and it's heartwarming to see, but when one-on-one time with the designer is finally granted, it falls flat.

Yes, sometimes Italian is a little OTT, and, as a critic, I have to acknowledge that, but there's a big difference between constructive criticism and crapping on someone's hard work for the hell of it. Let them have their fun. They must be selling something or they'd be stacking shelves instead.
0 Comment