Founded in 1977, Anna Molinari's Blumarine was, from the start, unapologetically feminine. The designer loves the rose, isn't shy to employ a leopard print, and has a deep, utterly romantic handle on colorful sequins and furs. She was also one of the first women to helm a brand in Italy—something to be proud of, even as women are still in the minority when it comes to presiding over fashion houses. Over the years, Molinari has worked with some of the most impactful stylists, models, and photographers of our era— Helmut Newton, Albert Watson, Grace Coddington, Cindy Crawford, and Naomi Campbell to name a few. All the while, the designer's ultra-feminine, and quite often sensual aesthetic reigned supreme. This year, Molanari celebrates the 40th anniversary of her enduring brand, and has launched a book, Blumarine: Anna Molinari (Rizzoli), to commemorate the moment. Here, the designer talks to Fashion Unfiltered about working with Helmut Newton, Italian fashion's evolution, and why thorns and beauty go hand in hand.

Ashley W. Simpson: Can you tell us a little bit about your background? When did you first develop an interest in fashion, and what was your style like growing up?
Anna Molinari: I was born and always lived in Carpi, one of the most important Italian textile districts. The town has many workshops, specialized in knitwear. My parents were the owners of a factory called Molly, which was created during the economic boom of the post-war period. It produced clothes for important national and international brands. My mother, Odette, was following the stylistic part with great talent while my father managed the administrative part. Very soon, it was natural for me and my twin sister, Licia, to be fully involved in all activities, learning to get to know both creative and technical aspects of the production. In those years, I developed my aesthetic sensibility and my style that has always reflected my way of being and personality.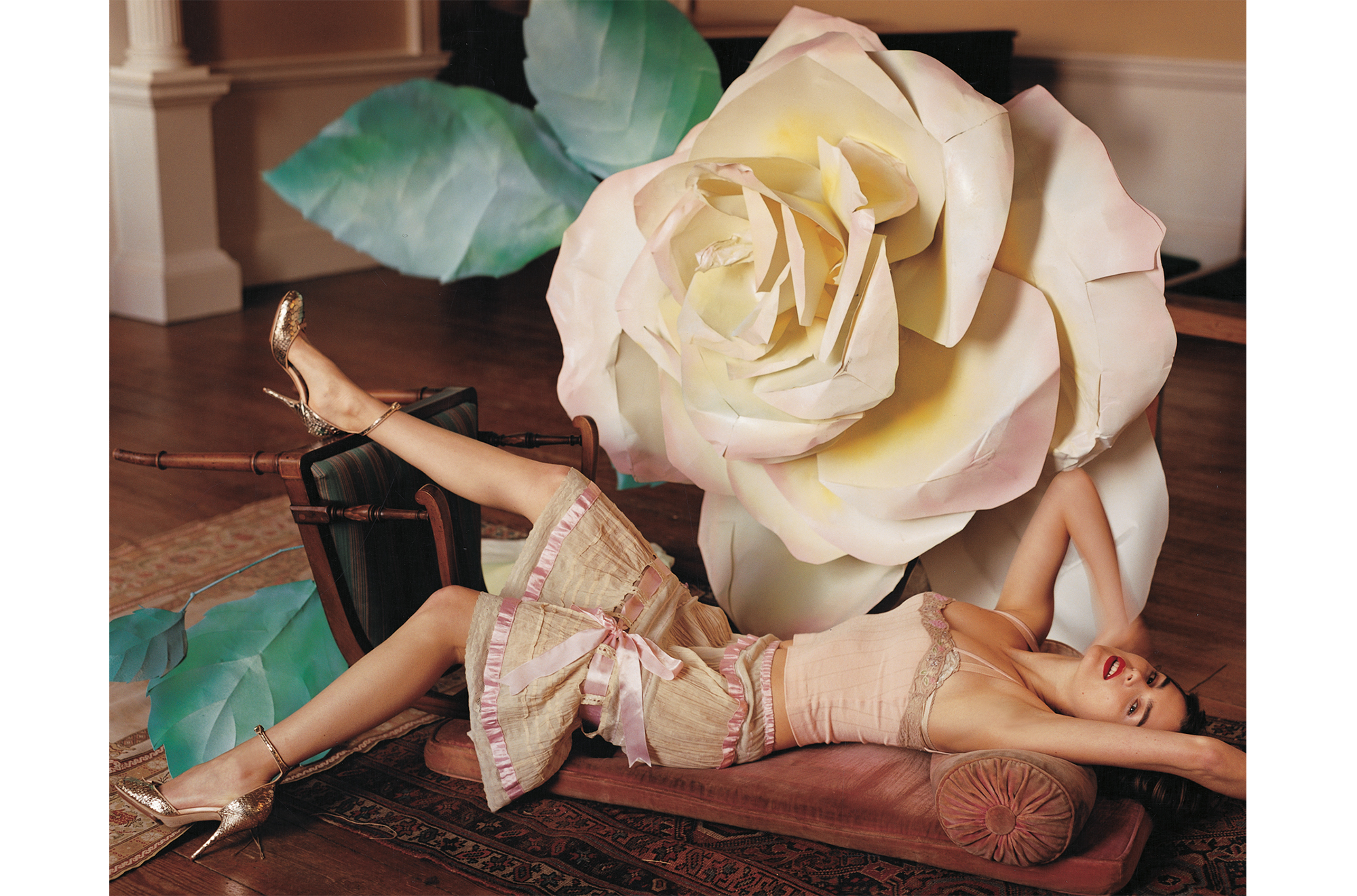 Spring 2004
Photo: Tim Walker / Courtesy of Blumarine
AWS: Starting at the beginning, tell us about the birth of the Blumarine. Do you remember the first piece you made and what things were like at the start?

AM: In 1977 I felt the need to start my own business with my husband, Gianpaolo, who had gained experience in the banking system. Looking at the sea in Forte dei Marmi in Tuscany, we decided to create Blumarine, with a strong feminine and romantic identity. The name of the brand came from our common love for the color blue and for the sea. Our first bestseller was the T-shirt with an embroidered logo in Swarovski crystals. During a summer in Sardinia, we saw it on many girls, so we became aware of our first success. We had a great desire to achieve our ambitions and despite all sacrifices and hard work in overseeing all aspects of the business, we were enthusiastic of this new adventure.
AWS: What was the fashion climate like in Italy at the time of launching in 1977? What about the culture more broadly?
AM: There was a lot going on. Many Italian designers were already recognized and it wasn't easy for a woman designer to find her own way. However, there was the opportunity to have constructive and fervid dialogues between designers, and I was able to work with great stylists such as Walter Albini and Franco Moschino, who were both great teachers for me.
AWS: When did you start using the iconic rose and what drew you to it?
AM: Since I was a child, my mother gave me the love of flowers and I always preferred the most noble and perfect among all: the rose. I loved its thousand shades, its correlation to passion and seduction as well as its delicacy and harmony—that has defined my style and my way of interpreting beauty. My collections have always been characterized by floral elements in prints and embroidery for an explosion of delicate or bright colors.
AWS: How do you define the Blumarine woman? Who is she? How does she identify? And how has she changed over the years?
AM: The Blumarine woman loves to dream, is amazed by beauty, and likes to live her life fully in its most romantic way. At the same time, she has a strong personality, wants to take risks, and chooses freely her own style that is seductive and feminine, but never excessive. Like a rose, with time, she's learned to live with her fragility and sensitivity, understanding also that thorns are part of her existence.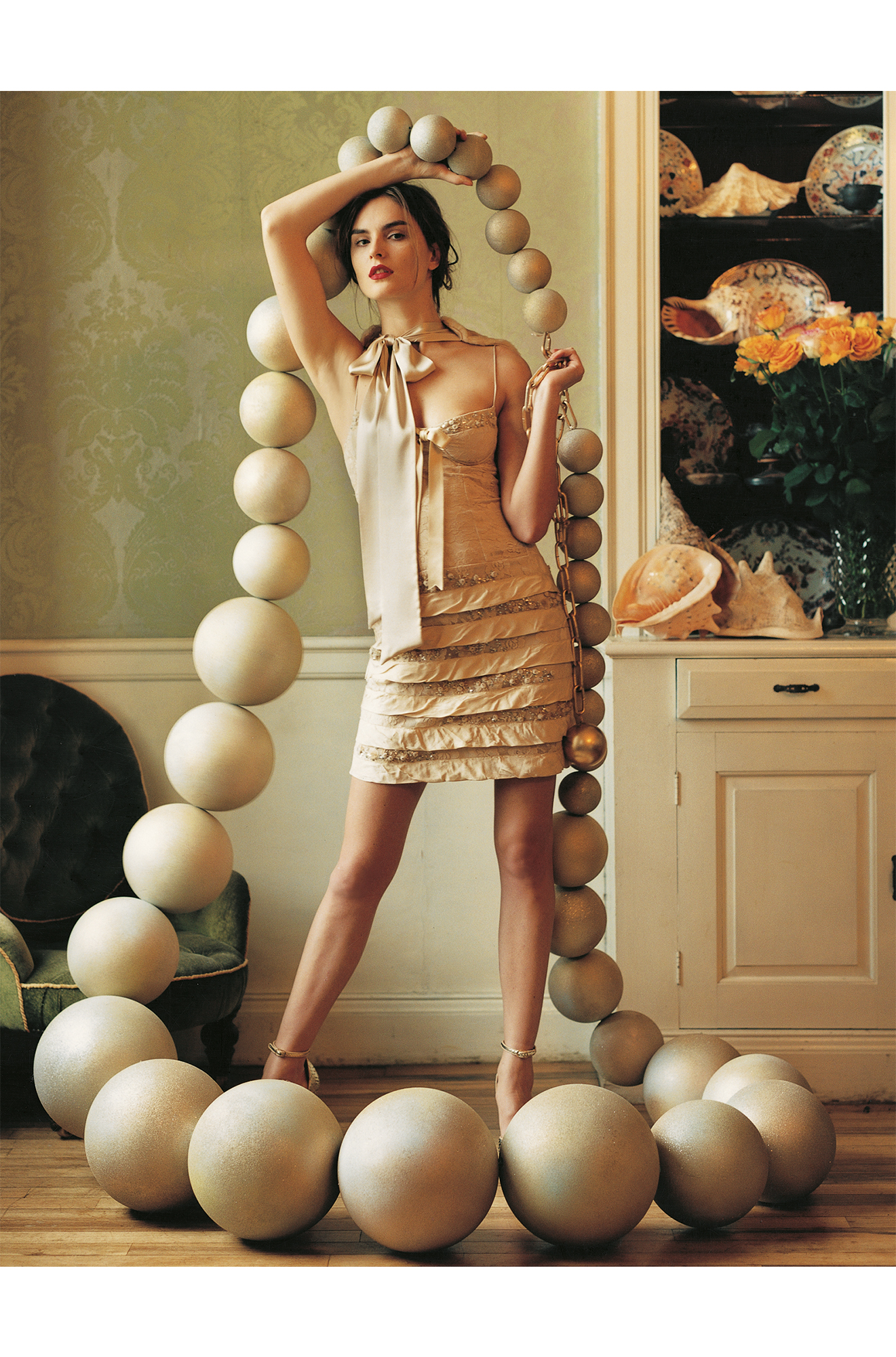 Spring 2004
Photo: Tim Walker / Courtesy of Blumarine
AWS: Can you talk about the creation of the many iconic Blumarine images throughout the decades?

AM: I think there has been a great match between my vision of fashion and the ability of photographers and models to interpret my style. The vision of a romantic and feminine woman has always been central, with sophisticated and valued accents as per Watson as well as a more disruptive cut in Newton's pictures. Even the later campaigns by Ellen von Unwerth, Tim Walker, Craig McDean, Patrick Demarchelier, Camilla Akrans, Inez van Lamsweerde and Vinoodh Matadin, and the most recent one by Luigi & Iango have highlighted different aspects of my aesthetic sensitivity, although they shared the same visual and identity coherence.
AWS: What was it like working with Helmut Newton in particular?
AM: It was for sure a special experience. It wasn't easy to compromise between his aesthetic choices (that were often nonconformist in the balance of masculine and feminine and in showing the seductiveness of women) and mine, which were more mild and romantic. Today, I can say that he had a pioneering vision that is still current.
AWS: Did you have favorite models to work with or any favorite memories of working so many incredible women?
AM: I remember when the great photographer Helmut Newton used to always bring with him, while shooting Nadja Auermann and Eva Herzigova, high heels and silicon prosthetics to enhance the seductiveness of the models in extreme.
AWS: Do you have a favorite campaign image?
AM: I love Watson's picture that sees the beautiful Carré Otis in Venice admiring the lagoon. It's a romantic image with a game of contrast of lights that enhances the red dress worn by the model.
AWS: What are your thoughts on Italian fashion today? And how has the fashion industry changed throughout the span of your career?
AM: Today, the fashion market is increasingly polarized between exclusive luxury and the conformity of fast-fashion chains that are continually adjusting to seasonal trends. The mid-range is the one that, over years, has suffered the crisis the most and has had to reinvent its product and positioning. Personally, I always believed in the necessity of innovating, but also of remaining faithful to the brand's identity and values, while maintaining the high quality of the products and research of materials and manufacturing.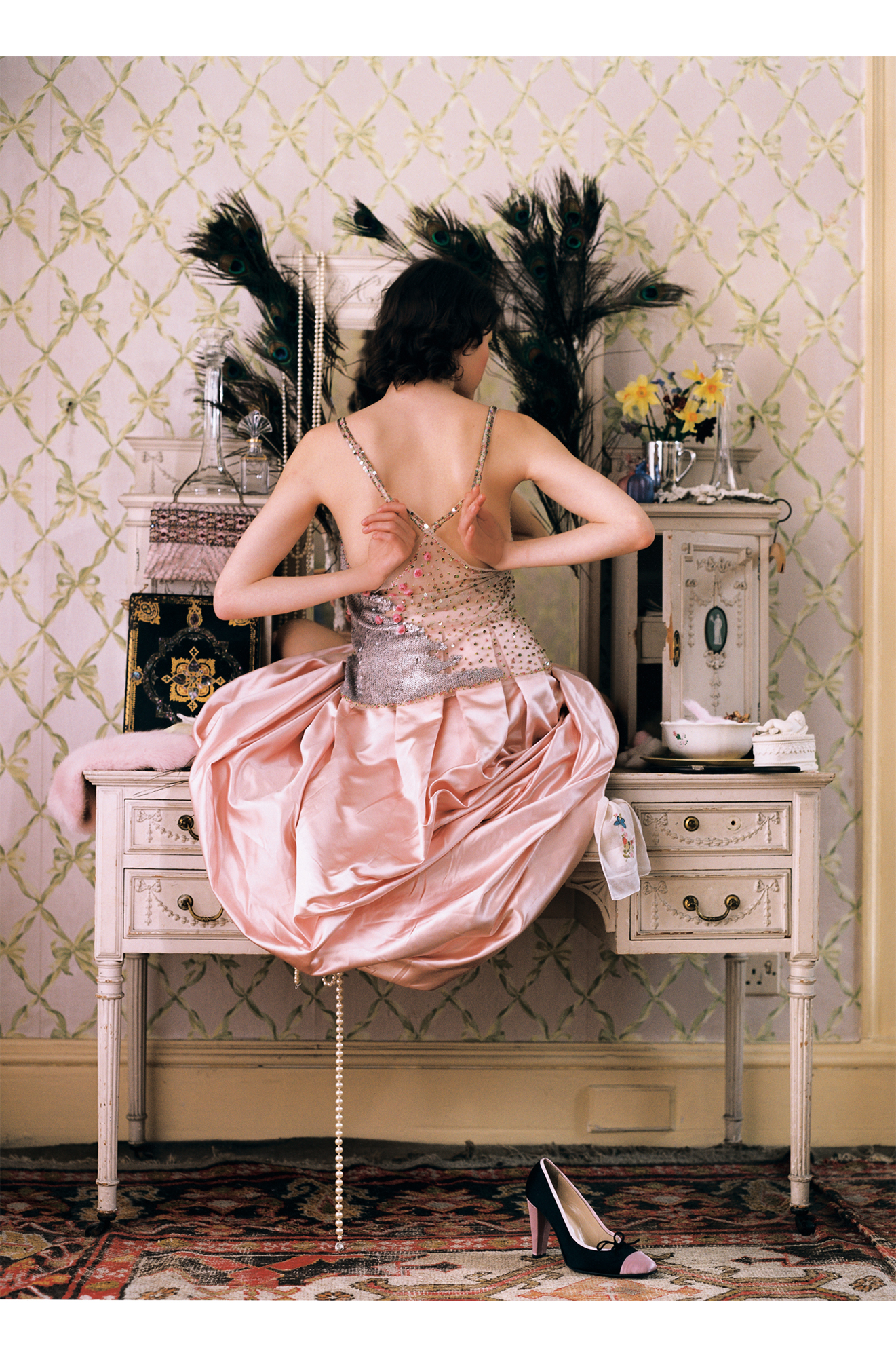 Fall 1999
Photo: Tim Walker / Courtesy of Blumarine
AWS: Has the Blumarine woman changed for you?

AM: Over the years, I left in part my dreamy romanticism to express a concept of beauty adapted to a certain period, the needs of a life full of personal and professional relationships. Seduction and femininity are still important, but are declined in an eclectic and personal way.
AWS: Can you talk about your Italian identity and how it impacts your work?
AM: I truly feel my Italian identity and its cultural and artistic expressions have continuously influenced my constant search for beauty. It was influenced also by the unique manufacturing capabilities that express themselves in the sophistication of the work combined with continuous innovation in the design. In Carpi, my dad worked also in the construction sector, contributing to the creation of important architectural works including the Hotel Touring, which is still our property. This building is the expression of the most prestigious hospitality of Carpi, since the post-war period. In recent times, it has been renovated in order to guarantee the most modern comfort, while respecting the original structure.
AWS: What's in store for your and Blumarine's future?
AM: I still have many projects and dreams to achieve and collaborations I would like to undertake to explore new sectors. Forty years represent an important goal, but also a new beginning.
0 Comment