"If you're putting too much time into [creating], then you're kind of missing out on what's actually going on," said conceptual filmmaker, performance artist, and designer Jennifer Elster from the confines of her studio, The Development. "I create because that's how I live my life. I've never not created, because that's also how I deal with tragedy. Even though I'm very happy, I'm still traumatized over what's going on with politics. So, of course I'm going to express that, but at the same time, I also know that it's good to be really [socially] active right now."
The Development, where Elster works and holds "happenings," is filled with art (including photographs of her styling collaboration with David Bowie, and mementos from a film she made with Yoko Ono), and her J. Elster line of leather accessories, which launched in 2016 with a pop-up store co-hosted by Helena Christensen and Reserved Magazine.
"It is really for empowering women and being obsessed with perfection," she said of the line. In a time when most people are hyper-attuned to socio-political imbalances, Elster's collection speaks to the (sadly) radical notion that women are strong. The series of leather goods, which includes a variety of pouches, neck and wrist pieces, masks, and an oversized ruffle, are sleek, though the edges are left raw. The only adornment is her signature.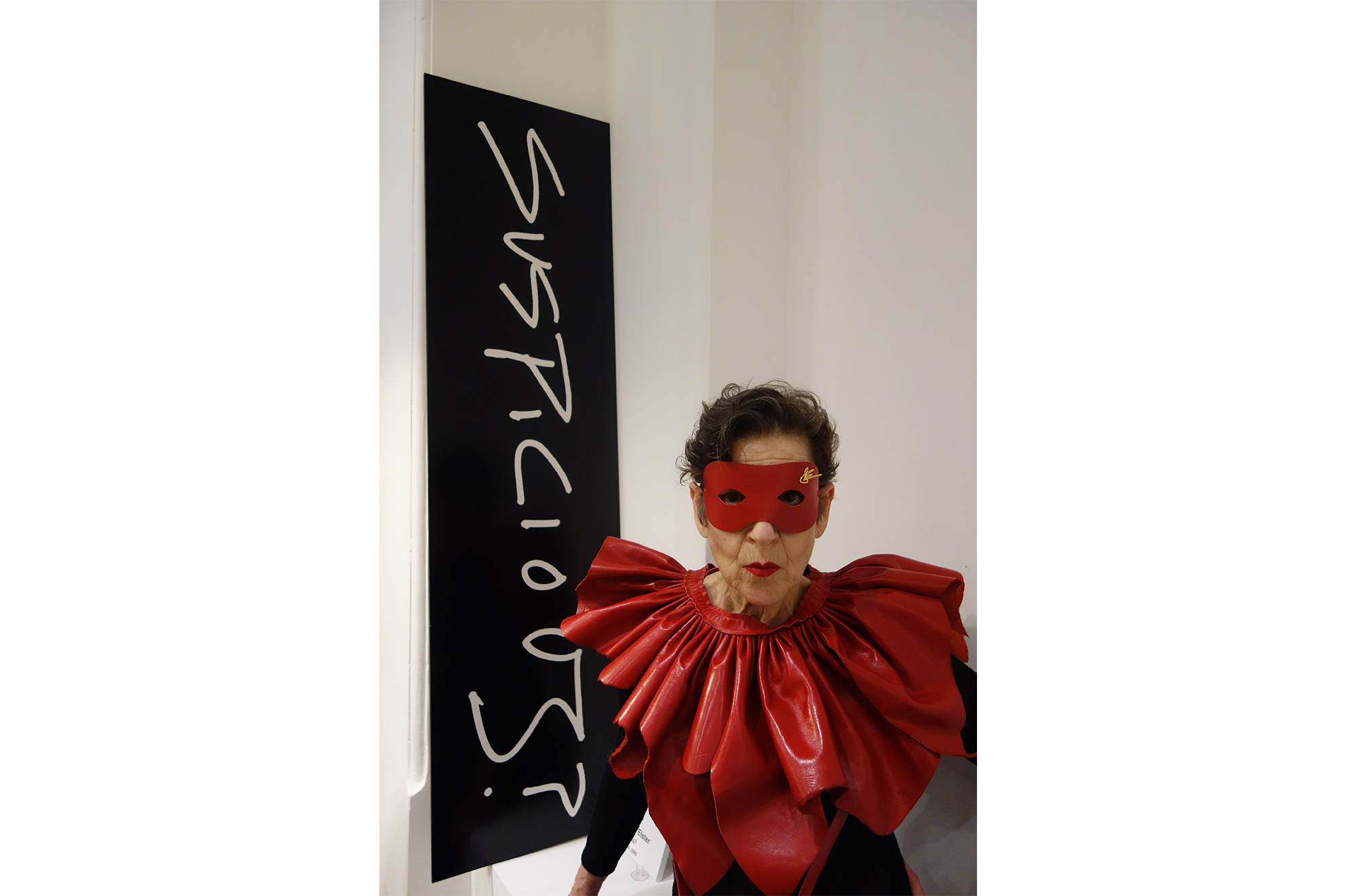 Tziporah Salamon in the Spring 2017 campaign
Photo: Courtesy of J. Elster
"In a certain way, it's a sculpture," she said of her accessories. "But it's a sculpture to be worn for the purposes of being worn as an accessory. It is definitely fashion. But what I'm not doing is playing into the fashion timelines…I'm not doing any of that. I'm just doing it as it goes."
At the heart of her collection is a series of pouches, which was initially developed when Elster was working on one of her films and found herself constantly looking for small, misplaced belongings, like her keys or phone. "Mostly, I'm an artist, and I make films," she explained. "The pouch collection was something that I started to construct for my own purposes, really." But the pouches, which come in a range of sizes, are much more than mere functional accessories. "It's a bag collection and it's also a statement about modern women—a really positive statement, which is: We're frigging busy."
In addition to being an artist and designer, Elster has a background at fashion magazines, having worked as a stylist at publications like The Face and Dazed to put herself through NYU. "I worked in fashion when I was young and I worked on many, many shoots," she said. "I would be called if somebody wanted to come up with a concept that was completely intense."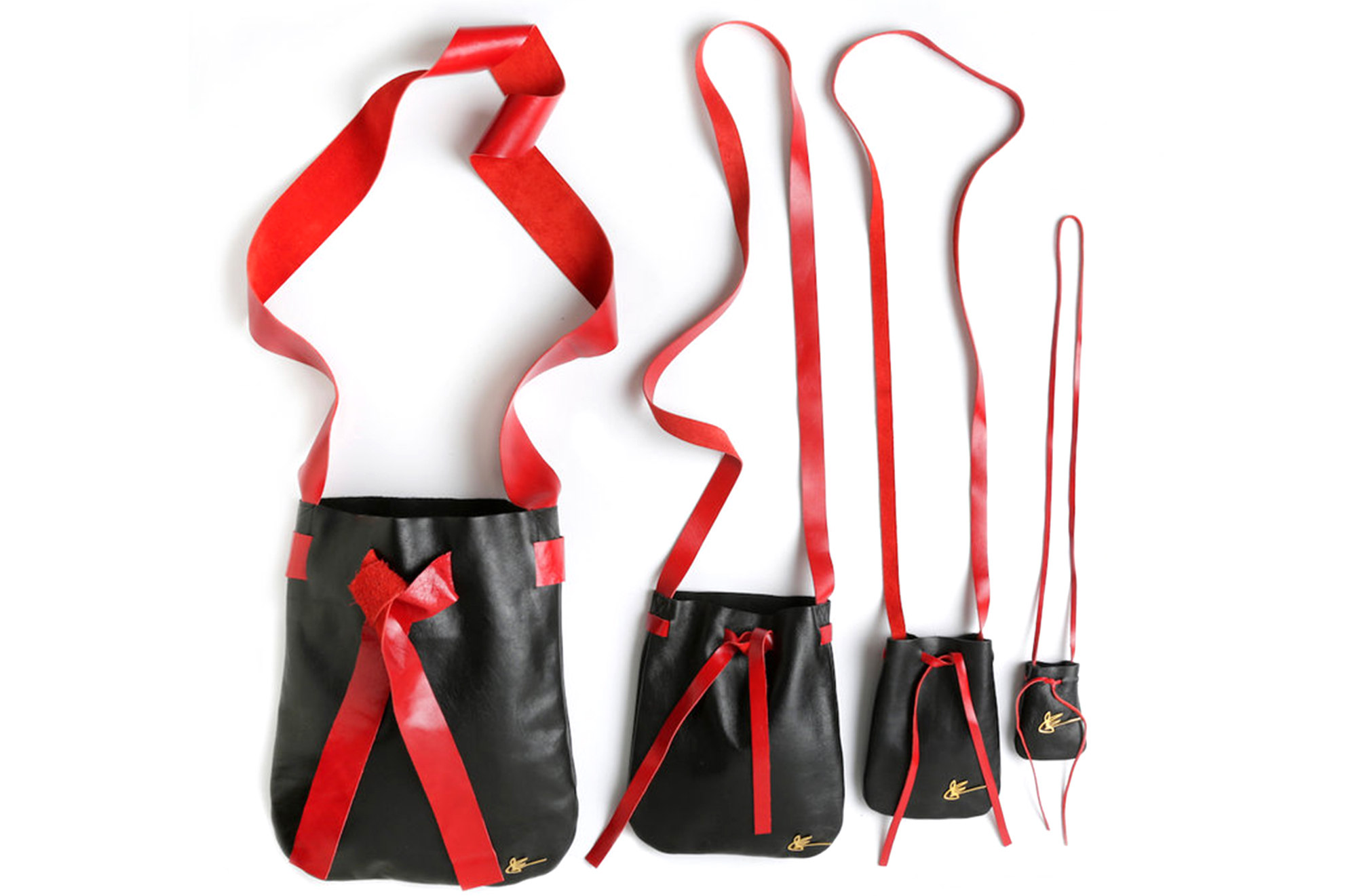 The Love Collection
Photo: Courtesy of J. Elster
Ultimately, Elster retreated from fashion into art and filmmaking, eventually writing, producing, directing, and starring in her own movie. However, she continued to design out of the public eye—something that began to change last year when she staged her show, The Retrospective of an Extroverted Recluse, which featured clips from her upcoming film series "...In The Woods" (whose participants included the likes of Moby and Terrence Howard) and the performance piece "Gender Execution," which depicts a performer wearing a black cloth over its head and parts of its torso, blacking out gender identifiers.
Elster has since found a way to bring all aspects of her work together, screening her films at pop-up shops for J. Elster, featuring fashion shows at the happenings she holds at her studio, and even her latest collection campaign, which features the Bill Cunningham-approved style icon Tziporah Salamon. She is also continuing to showcase her work publicly, with an upcoming live performance of her piece "Cemetery: Is Death?" at the New Museum.
"I'm so proud of this collection, because I really did not expect to do this. But, I've really enjoyed it…and I'm looking forward to kind of bringing this out more to the people," she mused. "So much of my conceptual work is about being a strong woman. So it's nice to share your strength with people too."
The J. Elster collection, which ranges in price from $120 to $2,500, can be found online, here. Elster will be performing at the New Museum on May 12.
0 Comment