Since Georgian-born Demna Gvasalia hit the ground running with his Fall 2014 debut collection for Vetements, the question of whether his subversive brand is "cool" has been debated ad nauseam. In less than five years, Gvasalia, a graduate of Antwerp's Royal Academy of Fine Arts who cut his teeth at Louis Vuitton and Maison Martin Margiela, has managed to turn the fashion world completely upside down. He made streetwear a whole new kind of fashionable, collaborated with 18 brands in a single collection, and has produced hot ticket items like BIC lighter booties, DHL T-shirts, and a recreation of that big, blue IKEA bag, the latter of which he did for Balenciaga, the other label he helms. Vetements is both absurd and real, and it's infused with a seedy irony that has earned it a cult following.

Gvasalia's latest collection for Vetements—a word that literally means "clothes" in French—wasn't so much about the clothing as it was about the types of personalities we assume with our respective wardrobes. After attending the show, Fashion Unfiltered's editor-in-chief, Katharine K. Zarrella, noted that the collection didn't just acknowledge our reality, but held a mirror up to it. And perhaps that's what Gvasalia's aim has been all along. At his Spring 2017 outing, held at a shopping mall, the designer told us Vetements is "really about what we put on, and what we express by putting it on."
As the industry continues to struggle to wrap its head around Vetements, one thing remains clear: It's its own brand of cool. "It's cool because it's funny! It's also uncomplicated, irreverent, and perhaps a bit of a piss take, but Gvasalia and co. are in on the joke, and I have to image that Vetements' core consumers are in on it, too," wrote Zarrella. And while many have criticized Gvasalia for recycling old ideas (particularly those put forth by Martin Margiela), Alla Eizenberg, a designer and lecturer at Parsons, suggests that that's precisely his point. "Fashion is about the new," she said. "He is trying to say that there is nothing new anyway."
At tonight's CFDA Awards, Gvasalia will receive the highly coveted International Award, joining the ranks of past honorees like Maria Grazia Chiuri and Raf Simons. This isn't just validation from the American fashion industry, but an embrace. "Vetements is very much an homage to American contributions to our wardrobe," added Eizenberg. "Most of the brands that collaborate with Vetements are American, and a lot of what drew Demna to fashion was the post-Soviet awakening to American brands." Tonight, America will salute back.
Here, ahead of the awards show, we look back at the five most memorable shockwaves Gvasalia has sent across the fashion circuit. Consider this your SparkNotes version of his controversies, triumphs, and everything in between.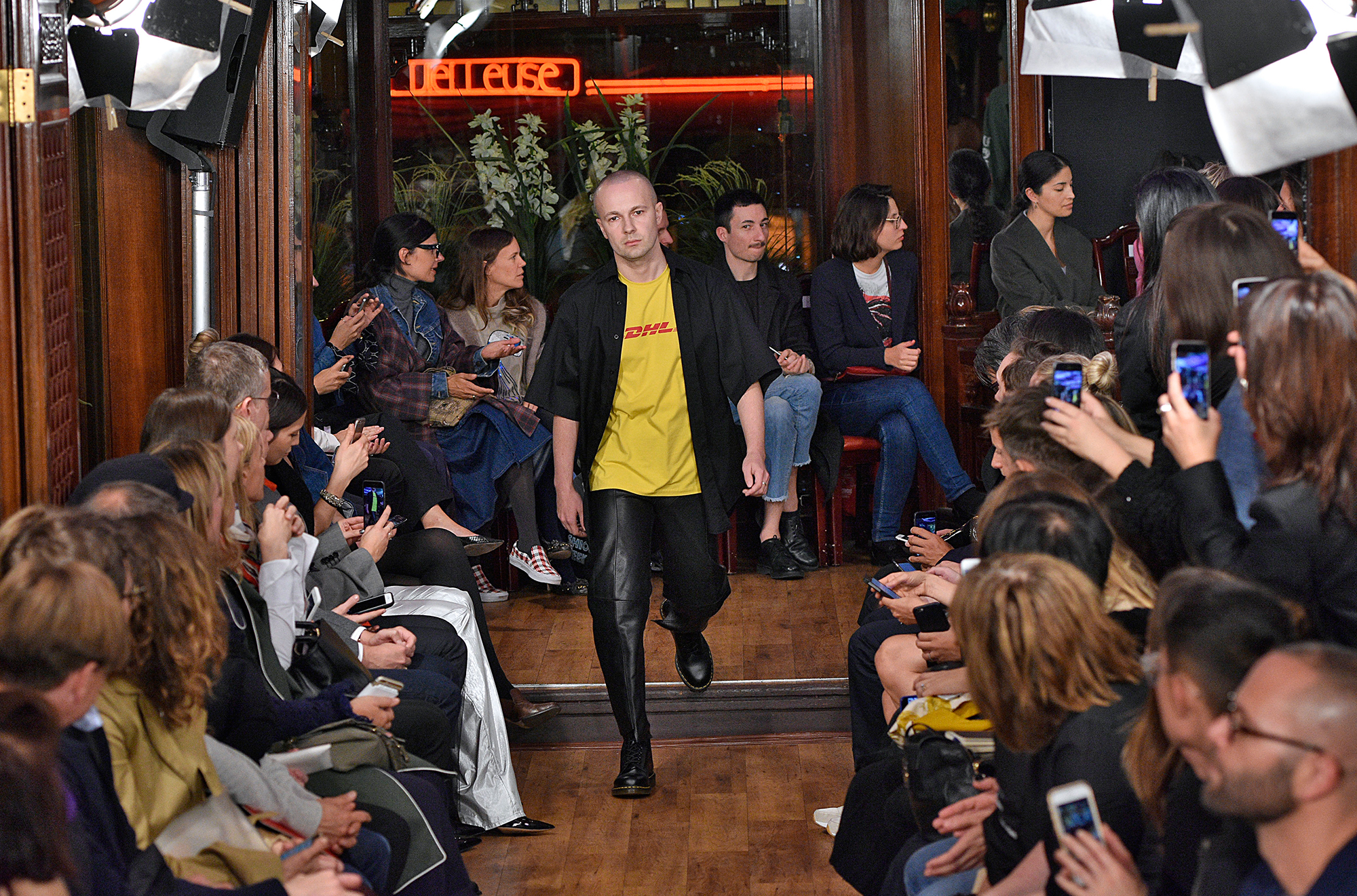 Vetements Spring 2016
Photo: firstVIEW
That time he unveiled that famous $330 DHL T-shirt.

Vetements' Spring 2016 collection opened with a yellow T-shirt printed with the DHL shipping logo, which later retailed for several hundred dollars. Critics deemed it a type of anti-fashion subversion, while followers of the label copped the item like hotcakes. "They are hacking the fashion system and they're credible [enough] to make these statements of capitalist kitsch," a trend analyst told The Guardian at the time. The shirt also played into the resurgence of the logomania of the '90s, but unlike what we saw in decades past, Gvasalia's take was about the ordinary, rather than making ostentatious statements of luxury. But despite all the questions the shirt raised, Gvasalia had a laid-back attitude about the whole thing. "I never actually thought about it, but I find it quite interesting and positive that a yellow T-shirt with a red print can raise so many questions. But I don't care about answering those questions," he told Refinery29.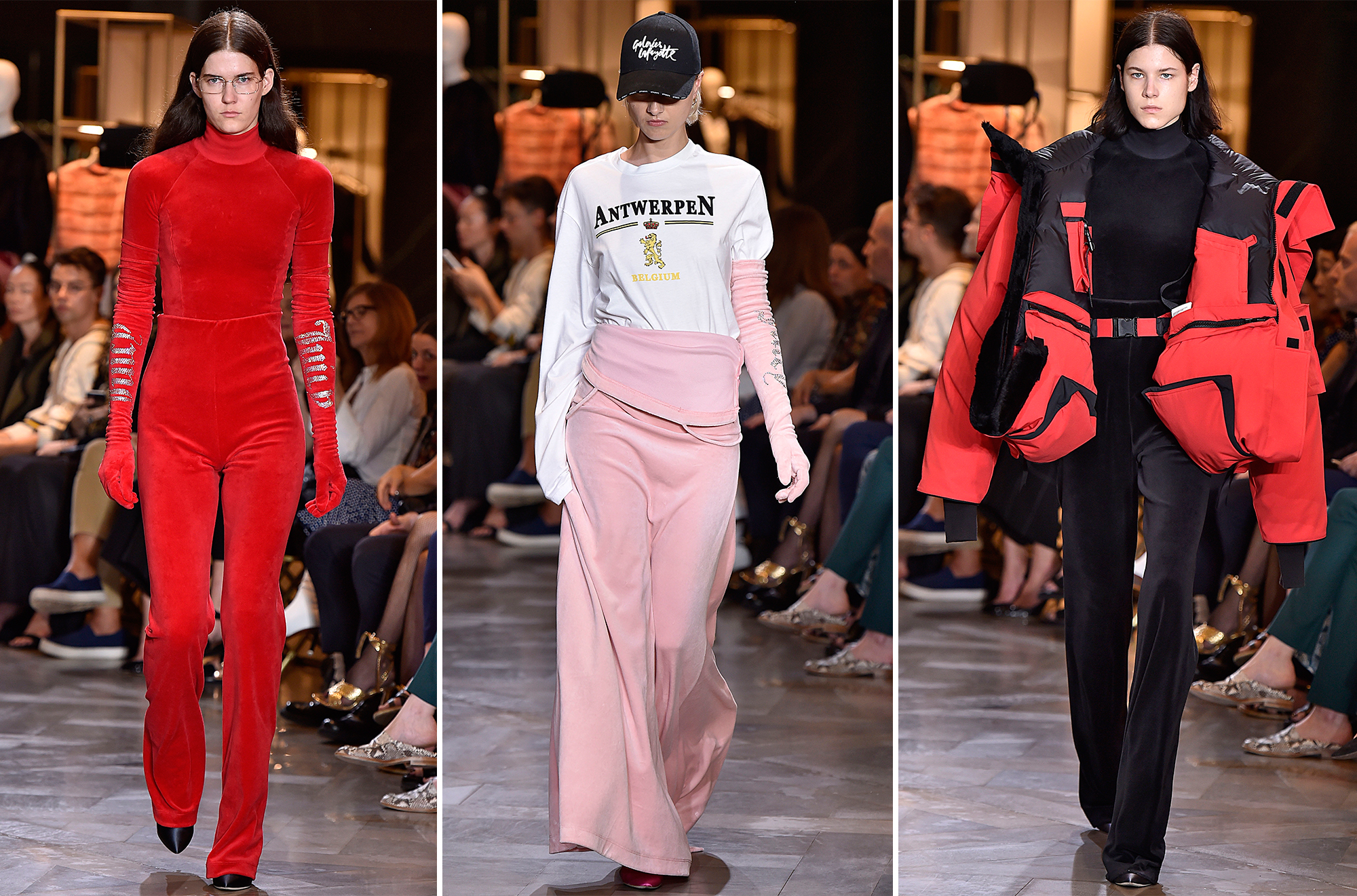 Vetements Spring 2017
Photos: firstVIEW
That time he collaborated with 18 different brands.

For Spring 2017—shown in Paris during couture—Vetements collaborated with 18 other brands including Champion, Juicy Couture, and Dr. Martens, taking classics from each label and giving them the Vetements treatment. "The idea was always to take the iconic, the most recognizable product from their brand, and put it into a Vetements frame, whether in terms of shape or construction," he told The Cut. The collab also included a pair of pair of "bare-butt" Levi's jeans that retailed for $1,990. As a whole, the collection challenged the notions of appropriation, and made us think long and hard about brand identity.
That time he admitted he wouldn't pay for his own designs.
Vetements has put out some irreverent clothing, and the prices are just as much of a statement as the garments and accessories. Even more so considering Gvasalia himself once told The Telegraph that he isn't "crazy fashion enough" to pay for his own designs. "I'd rather go on holiday," he said. "I feel like it brings more use. Holidays are important. Holidays and quality time on your sofa." (We're glad to know his priorities are in order.) He's conscious of the fact that a great deal of his fans—and even his friends—can't afford to buy a pair of jeans for $1,990, but said his aim is not to serve the 1 percent, but rather to be able to offer different things "so the people who can't afford to buy a leather jacket can buy a trench."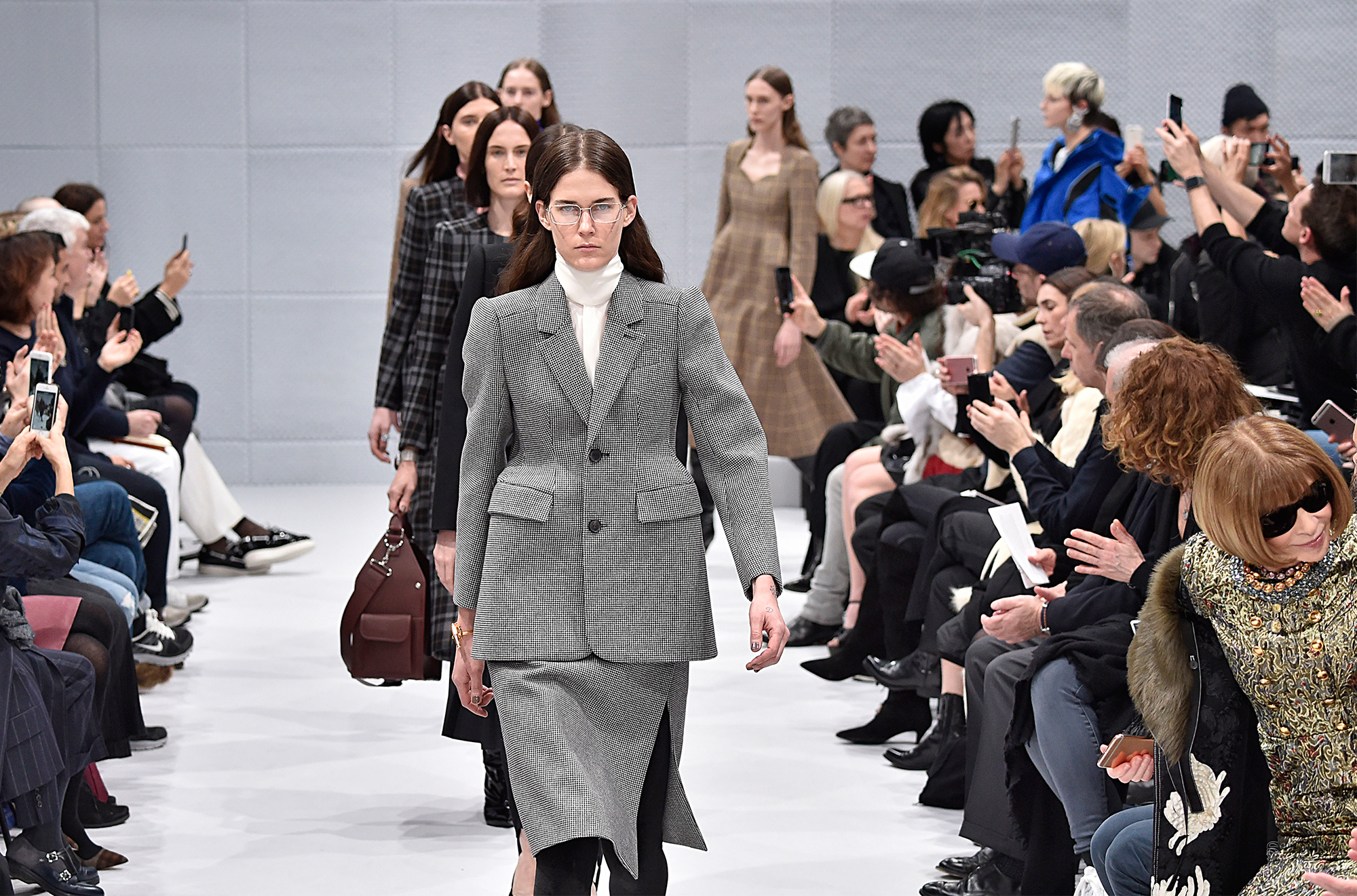 Balenciaga Fall 2016
Photo: firstVIEW
That time he replaced Alexander Wang at Balenciaga.
Last March, Gvasalia debuted his first collection for Balenciaga. "Demna's unique approach, nurtured by sociological observation, made him a natural fit," François Pinault, CEO of Kering, Balenciaga's parent company, said in a statement. His appointment led many to wonder how a designer who puts hoodies and jeans on the runway could carry on the legacy of one of the most important couturiers in history, but throughout his tenure, Gvasalia has injected the label with a unique modernism while still working within the ethos of Cristóbal Balenciaga. "He liked to work with reality, and flatter it," he told Vogue of the late French founder. "I'm trying to work with that."
That time he said goodbye to Paris—for good.
Earlier this year, Vetements' CEO Guram Gvasalia (Demna's brother) announced that the brand was moving its headquarters from Paris to Zürich, citing growing pains, taxes, and a general disenchantment with the French city. "Paris kills creativity. Its environment with the 'bling bling' is destructive. I'm done with the whole showing-off in fashion and the superficial glamour," Guram told Swiss newspaper Tages-Anzeiger. What's more, just last week, Vetements announced that it would pull out of the Paris calendar all together, with Demna telling outlets it had become "boring" and "exhausting."
0 Comment